SF African Americans unload on AHF over Wiener mailer
Monday Apr 22, 2019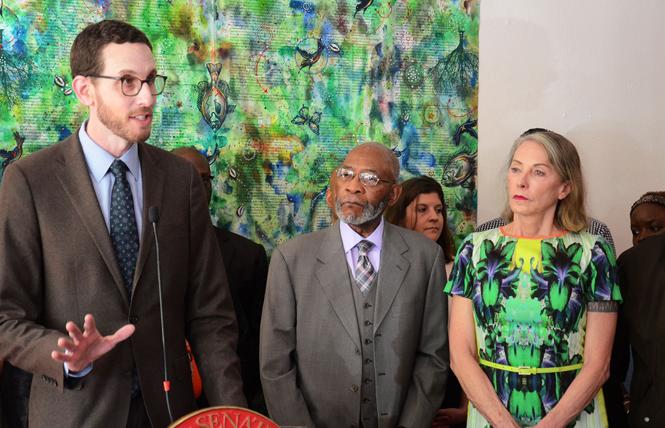 San Francisco African American community leaders ripped into the Los Angeles-based AIDS Healthcare Foundation Monday for the agency's use of a race-baiting mailer to oppose gay state Senator Scott Wiener's housing legislation.
AHF and Michael Weinstein, its president, sent mailers and ran television ads featuring gay African American civil rights icon James Baldwin in an effort to portray Wiener's bill as "urban renewal," and a 1963 quote attributed to Baldwin that says, "San Francisco is engaging in ... something called urban renewal, which means moving the Negroes out. It means Negro removal ..."
The mailer states Senate Bill 50, authored by Wiener (D-San Francisco) would "continue to displace existing working- and middle-class communities." The flyers arrived in mailboxes last week. Wiener said at his news conference that the TV ads are still running.
African American leaders stood united behind Wiener at the April 22 news conference at the African American Arts and Culture Complex.
"As president of the San Francisco branch of the National Association for the Advancement of Colored People, I stand here today that we don't need anyone to pimp African Americans' pain for purely political gain," said the Reverend Amos Brown. "And the person behind this measure should understand we don't have permanent friends or permanent enemies. But we won't stand by what we consider an insult to the African American community."
In opening the news conference, Wiener pointed out he authored SB 50 with 15 co-authors from around the state, both Republicans and Democrats. He said the housing crunch in the state is "not a red issue and not a blue issue."
"California has a housing deficit of 3.5 million homes," he said.
SB 50, according to Wiener, will legalize more housing, including affordable housing, near public transportation. He said it has "the strongest" anti-displacement, anti-eviction, and anti-demolition protections for residents.
"It's about adding, it's not about substituting," Wiener said.
He criticized AHF and Weinstein for taking advantage of "despicable history in San Francisco," referring to redevelopment that decimated the city's predominately black community in the Western Addition. Brown said the problems started in 1948 over the city's public policies at the time.
"It's a terrible scar that will always be there," Wiener said of past redevelopment. "Our African American community has been trying to recover ever since."
He called AHF's mailers "unconscionable."
Jacqueline Flin, executive director of the A. Philip Randolph Institute San Francisco, a national organization that Randolph started with gay civil rights leader Bayard Rustin in 1965, said that Wiener has long helped with outreach with her organization, including helping people in public housing and seniors in the Western Addition to register to vote.
"We are strong in San Francisco," Flin said. "Our community will not be fooled by ... race-baiting tactics, using our black faces and our black history to manipulate the truth."
Andrea Shorter, an African-American lesbian who sits on the San Francisco Commission for the Status of Women, also spoke in support of Wiener.
"SB 50 is a way forward," she said. "What we've seen in this particular episode from Mr. Weinstein and his organization is nothing less than atrocious. It's insulting to our character, insulting to our history, and insulting to our intelligence."
District 5 Supervisor Vallie Brown also criticized AHF's mailer. Brown was one of two supervisors who stood up against the board vote of a resolution against SB 50.
"When I first saw this flyer, I thought, 'How dare you?' The Western Addition has started to heal from what happened during redevelopment. This type of fear-mongering is the same thing Trump says," Brown said, referring to President Donald Trump.
Housing is a Human Right, a housing advocacy division of AHF, issued a statement Monday.
"On Tuesday, April 16, Wiener sent out a chain of 13 tweets. The tweets came only hours after the Los Angeles City Council voted unanimously to oppose his bill, SB 50. Just before the vote, LA Councilman Paul Koretz said the bill was a 'handout for developers.' LA Councilman Mike Bonin said: 'I've got a neighborhood, Del Rey — mainly low-income, mainly Latino community — that would be ravaged by this. There's not enough protection in there,'" the statement read.
"The vote was a major blow to SB 50 — only a week earlier, the San Francisco Board of Supervisors voted to oppose the bill. Coalition for Economic Survival Executive Director Larry Gross praised the San Francisco supervisors' vote," the statement continued. "Describing SB 50 as a 'trickle-down economic bill,' he said it 'will undermine affordable housing, increase gentrification and displacements, and will destroy the quality of life for low-income and working families.'
"The AHF mailer featuring Baldwin makes the same points offered by Koretz, Bonin, and Gross. It notes that 'SB 50 is a handout to greedy developers,' that the bill will continue to 'displace existing working- and middle-class communities,' that the bill will 'displace working-class communities of color,' that 'SB 50 bans cities from rejecting big residential luxury developments containing only a small number of affordable units,' and that the 'trickle-down housing bill would accelerate the consequences of gentrification in California.' These issues must be addressed in any discussion about housing policy and, specifically, about SB 50," AHF's statement read.
Updated, 4/22/19: This article was updated with comments from AHF.
Comments on Facebook