Isbell moved to alternate seat on SF rent board
Friday Apr 19, 2019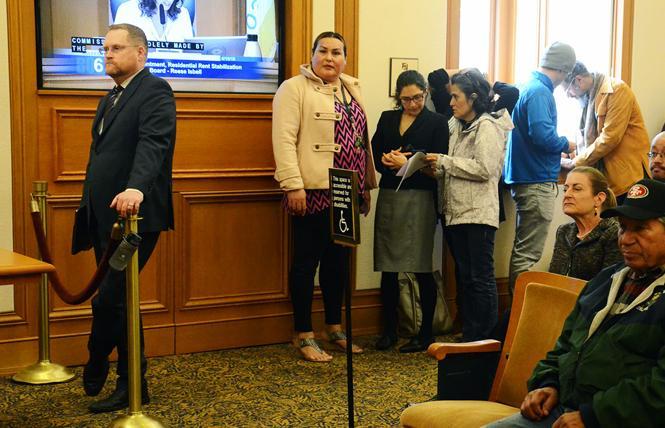 Mayor London Breed on Friday reversed course and moved Reese Aaron Isbell, who she swore in to a tenant seat on the San Francisco Rent Board last month, to an alternate seat on the panel.
The move means a possibly contentious vote by the Board of Supervisors set for Tuesday likely becomes moot.
"I'm no longer in the same position," Isbell told the Bay Area Reporter Friday.
Isbell, a gay man, had replaced longtime rent board commissioner Polly Marshall, to the ire of tenant advocates, who said the mayor did not consult with them before naming Isbell to the seat March 29.
Breed also swore in Kent Qian Friday to the seat previously held by Isbell on the rent board. Qian, a tenant, is a deputy city attorney for the Oakland City Attorney's office. He had served as an alternate for Marshall on the rent board for the past seven years.
Breed spokesman Jeff Cretan said the moves mean strong representation for tenants on the panel that oversees how much property owners can annually raise rents on rent-controlled units and resolves tenant complaints against their landlords.
"Both Reese Isbell and Kent Qian, two strong tenant advocates who the mayor has appointed to the rent board, will bring strong expertise and fresh perspectives on how to expand the rights of tenants as we work to build more housing and keep people secure in their housing," Cretan wrote in an email to the B.A.R. late Friday afternoon.
Isbell, who has tangled with his own landlord over adding his husband to his lease, said he is happy with the new position. As an alternate, he can vote on commission matters if Qian is absent. Isbell can be active in all other aspects of the board, he said.
"I'm excited to be working on the rent board in this form," he said.
Some progressive members of the Board of Supervisors had questioned Isbell's credentials, mainly because he is not an attorney. The supervisors rules committee Monday recommended that Isbell be unseated from the rent board. While the full board could not force Breed to reappoint Marshall, they could have removed Isbell with a super-majority vote of eight supervisors.
Until Friday, Breed had stood by her choice of Isbell for the voting seat, but apparently changed her mind and moved him to the alternate position.
The supervisors had been expected to take up the matter at their April 23 meeting. That now appears to be unnecessary.
Like with his appointment to the full seat, Isbell said he is subject to the 30-day rule — like other commissioners — whereby the supervisors can call a hearing to discuss the matter. Now that he's been sworn in as an alternate that appears unlikely.
Isbell said he's already reached out to tenant groups.
"They seem pleased," he said.
Longtime tenant advocates Tommi Avicolli Mecca and Deepa Varma, who wrote an op-ed on the issue in the B.A.R. this week, thanked tenants for organizing and expressing their concern.
"We will now have two experienced tenants rights lawyers to represent us on the rent board commission," they wrote in an email, referring to Cathy Mosbrucker, who was reappointed Friday to a tenant seat. "This couldn't be more important in San Francisco right now, given the continuing displacement and affordability crisis. We appreciate this change of heart from the administration. However, we are still concerned about the breakdown in the process, and look forward to a more direct relationship in the future, in which the mayor consults with tenants rights groups about commission appointments, as mayors have done for the past 40 years, regardless of political affiliation."
Updated, 4/19/19: This article was updated with comments from tenant advocates.
Comments on Facebook