LGBT SF General staffers air grievances
Wednesday Apr 17, 2019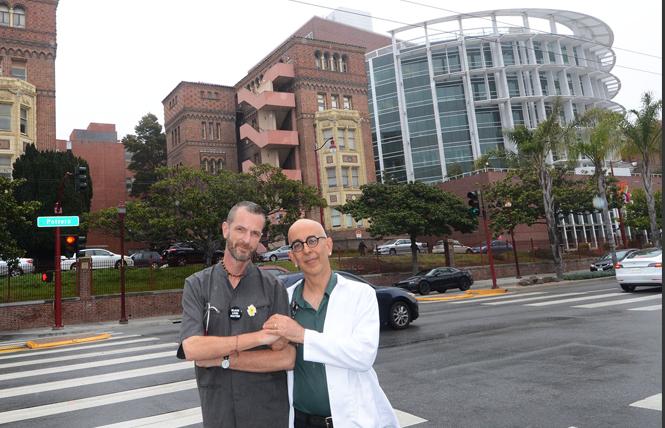 In recent months two out staffers at San Francisco's public hospital have come forward to air their grievances with management of the Mission district facility. One has filed a whistleblower complaint alleging retaliation against them, while the other has complained about being placed on investigative leave after criticizing how his minority colleagues are treated.
The staffers' complaints come as they help lead a campaign to force city leaders to change the name of Zuckerberg San Francisco General Hospital and Trauma Center. The hospitals' registered nurses and their union, Service Employees International Union Local 1021, are trying to qualify a ballot measure for the fall election that would remove the name of Facebook founder Mark Zuckerberg from it.
He and his wife, Dr. Priscilla Chan, secured the naming rights for the hospital with a donation of $75.5 million to its foundation. The name change prompted criticism from the start and has only intensified as the Silicon Valley firm has been embroiled in one controversy after another.
The complaints about Facebook have run the gamut from the collection of personal data without users being notified and the spread of disinformation during the 2016 presidential campaign to refusing to allow drag queens and transgender people to use their preferred names on their profiles and the rejection of ads by LGBT groups such as the GLBT Historical Society.
"Facebook has a lousy track record of respecting transpeople and drag queens' privacy and has continued to block users who are reported for reclaiming the word dyke and even blocked the historical society as a 'political ad,'" noted Sasha Cuttler, a genderqueer nurse who began working at the hospital in 1987 and has been its collaborative alliance for nursing outcomes coordinator since 2009.
Cuttler, 58, has been a vocal critic about the hospital name change since it was announced in 2015. In a recent interview with the Bay Area Reporter, Cuttler expressed hope in seeing the naming issue be decided by the city's voters this fall.
"We're going to be seeking to get a referendum on this for the November ballot to let the voters decide," said Cuttler, since "they, the people, are the real owner operators of that hospital."
Guy Vandenberg, 56, a gay man who has worked at the hospital as a nurse in its AIDS clinic since 2004, has also been advocating for a name change to the hospital. In an interview at his home not far from the medical center, Vandenberg went so far as to refuse to use its official name.
"San Francisco General Hospital is our hospital. The people established it in the 19th century, then rebuilt it and expanded it," he said, referring to bond measures voters passed to pay for upgrading the facility. "It will always be San Francisco General Hospital. We thank Mr. Zuckerberg for his donation, but he doesn't get to put his name on it in a private agreement."
Rather than having hospital administrators decide what its name should be, the public should be the arbiter for what to officially call it, contended Vandenberg.
"Otherwise where does it end? The Chick-fil-A operating suite next?" asked Vandenberg.
He was referring to the fast-food chain that has been the focus of protests by LGBT groups and advocates because of its founder's contributions to anti-gay causes. Last week, the news of the chain opening at Norman Y. Mineta San Jose International Airport drew condemnation from LGBT leaders in the South Bay.
As for the hospital, Vandenberg said a billionaire shouldn't be given the right to put their name on a public institution with no say from the public.
"It's public. It is ours. It is our responsibility," he argued. "It is our common interest, so we have to pay for it and care for it."
Administrators of the hospital, which is jointly overseen by the city's Department of Public Health and UCSF, continue to defend changing its name and point to the benefits that have come from the financial support of Zuckerberg and Chan.
"For more than 150 years, our hospital's mission has been to serve the people of San Francisco, regardless of immigration status or ability to pay. We serve more than 108,000 people annually, and operate the city's only Level 1 trauma center, receiving the victims of stroke, accidents, and violence," stated Dr. Susan Ehrlich, CEO of the hospital. "We are committed and dedicated to our mission."
As for the couple's donation, Ehrlich stated that the hospital continues to be honored that they "thought highly enough of our hospital and staff, and the health of San Franciscans, to donate their resources to our mission."
The "generous gift" from Chan, who was a resident physician at the hospital, and Zuckerberg, noted Ehrlich, went toward acquiring "state-of-the-art technology we use every single day to save patient lives, and by providing continuing support of renovations, improvements in patient care and education. In acknowledgement and appreciation of that gift, our hospital now carries their names."
Naming, she added, "is an important convention in philanthropy that encourages additional donors, and our hospital relies on the support of the community, the city and county of San Francisco, and generous private philanthropy."
A number of the city's supervisors, however, are supportive of the nurses' effort to place the ballot measure before voters and are hopeful the union will be successful in garnering the signatures needed to qualify it. Gay District 8 Supervisor Rafael Mandelman told the B.A.R. this week that he is thinking of sponsoring an ordinance at the board that would restrict naming city facilities after living individuals.
"San Franciscans in general want to call it SF General rather than Zuckerberg hospital," said Mandelman. "The larger issue is naming civic buildings after living people, no matter how philanthropic they are."
Workplace repercussions
Both Cuttler, who has a Ph.D. in nursing, and Vandenberg believe their advocacy around the naming issue have led them to be retaliated against by hospital leadership. In complaints filed in January with the federal Department of Labor and the Occupational Safety and Health Administration, Cuttler alleged that after he began speaking out against the naming rights four years ago he was told "to stand down" from doing so by UCSF Vice Dean Sue Carlisle.
Another of his supervisors cautioned him not to do "anything political" during his work hours, which Cuttler objected to since he considers his concerns about Facebook's use of its users' data in medical research is related to his job at the hospital. In 2016 he also raised objections to how the hospital was reporting patient fall data, believing it was trying to conceal the information about injuries patients received from falls.
His complaints allege that, in retaliation, Cuttler was removed from the leadership of the hospital's falls task force, another advisory body, and denied multiple promotional opportunities in 2018. The complaints also state that Cuttler has been marginalized and ostracized at work and that "the retaliatory harassment continues to the present."
One example cited stems from last March, when during a meeting of the Nurse Executive Committee, Cuttler spoke favorably about a new LGBT initiative at the hospital he had been selected to teach. He added that he was encouraged to see his union and the hospital administration "find common ground in the current political climate."
The complaint contends that, in response, Chief of Nursing Terry Dentoni said, "We don't need or want your help," which Cuttler found to be humiliating in front of his peers.
"She may not intend to be or may not be personally homophobic or transphobic. But, um, but the effect of saying something as nasty as that is to just to make it clear that you only speak when spoken to," Cuttler said. "It's going back to that, you know, the old sexist thing about nurses just need to shut up and listen to the experts about it."
In addition to his public criticism of the hospital name change, Vandenberg believes his speaking up about equity and racial justice issues at work led to him being placed on investigative leave last month. While he is still being paid, Vandenberg is unsure for how long he will be out of work and worries about who is handling the 800 patient caseloads he oversees.
"I could not think what I would have done wrong," he said when notified by his supervisor of having to attend a hearing with his union rep.
For 13 years Vandenberg had received the highest rating employees could receive, he said, but stopped being evaluated when a new manager came on board in 2017. He then was given an evaluation the week of the hearing that said he needed improvement.
Following the two-hour meeting, during which Vandenberg said he was only given vague reasons for what he had done wrong at work, he was placed on indefinite leave and barred from the hospital grounds other than for his own health care needs.
"It is pure speculation on my part for why I am on leave," he said. "The university wouldn't say why."
In a letter he sent April 1 to Dr. Diane Havlir, chief of the UCSF Division of HIV, Infectious Disease & Global Medicine, and to the union, Vandenberg criticized how the matter had been handled.
"None of the allegations raised against me that prompted this investigation are of a nature that would warrant the kind of drastic action management has taken," he wrote, noting that he has been "actively defending the reputation of UCSF and the privacy rights of our patients by advocating for the removal of Mark Zuckerberg's name from the hospital. I have upheld the core (PRIDE) values of our university in everything I did, and this was reflected in the performance evaluations I received."
Due to both issues involving personnel matters, spokespeople for the hospital declined to comment in regard to the concerns raised by Cuttler and Vandenberg. At the time that Cuttler filed his complaints, spokesman Brent Andrew told several local media outlets that the hospital "follows all applicable federal, state and local labor laws and does not retaliate against employees under any circumstances. We will cooperate fully with all investigations into this matter."
Comments on Facebook