LYRIC to highlight programs at open house
Wednesday Apr 10, 2019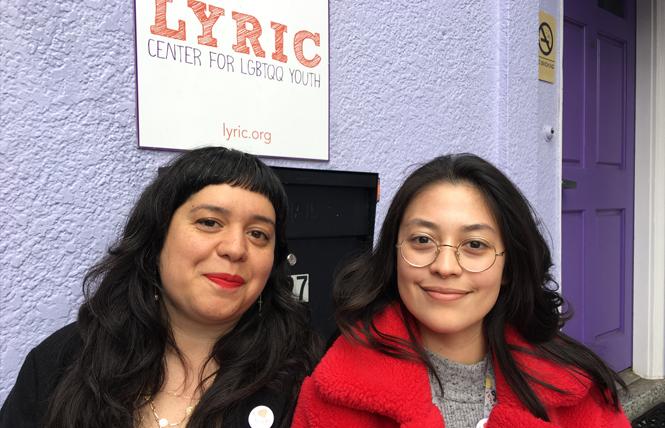 More than 100 people are expected to attend the 31st annual open house for the Lavender Youth Recreation and Information Center set for Thursday, April 25. This year's theme is "Bloom: Revolutionary Power from the Margins" and is free and open to all.

LYRIC's mission is to "build community and inspire positive social change through education enhancement, career training, health promotion, and leadership development" with LGBT, queer and questioning youth, their families, and allies.

At the event, LYRIC opens the doors of its Edwardian home in the Castro to introduce its programs and services to community members, said Natalia M. Vigil, 35, communications and development manager.

Vigil, who identifies as queer, joined the agency five years ago, following other positions working as a youth advocate in the city. The evening will feature art galleries and performances by LYRIC youth and an opportunity to meet the staff and learn about the organization's history.

"I like to think that at LYRIC we have created the container where youth can highlight their voices and stories," Vigil said in an interview with the Bay Area Reporter at her Castro office. She is the co-founder of Still Here, a performance and community dialogue project that explores the experiences of LGBT and queer youth raised in San Francisco.

Several years ago, Araceli Nunez, 25, was introduced to the agency at the open house. They became a client, then an intern, and then joined the agency full-time as its communications coordinator. Nunez, who identifies as queer and nonbinary, said LYRIC gave them "a space where my experience and identities did not have to be left at the door" as they did in other parts of their life.
Nunez also said the organization was a "space where I could learn about other peoples' experiences and where I could make connections and build community."

At the upcoming event, LYRIC staff will recognize three of its community partners: the Asian Women's Shelter in San Francisco; the Young Women's Freedom Center in Oakland; and the San Francisco AIDS Foundation.

LYRIC was founded in 1988 as "an anchor institution where vulnerable, predominantly low-income LGBT youth of color collaborate with peers and adult allies to promote social justice in their communities." Last year, LYRIC engaged 500 youth in direct services and reached 2,418 youth through its outreach efforts.

Its annual budget is about $2.4 million, according to its financials that are posted on its website.

The open house takes place from 5:30 to 7:30 p.m. at 127 Collingwood Street in the Castro. Food and drinks will be served. For more information, visit www.lyric.org.
Comments on Facebook