Lightfoot easily wins Chicago mayor's race
Wednesday Apr 3, 2019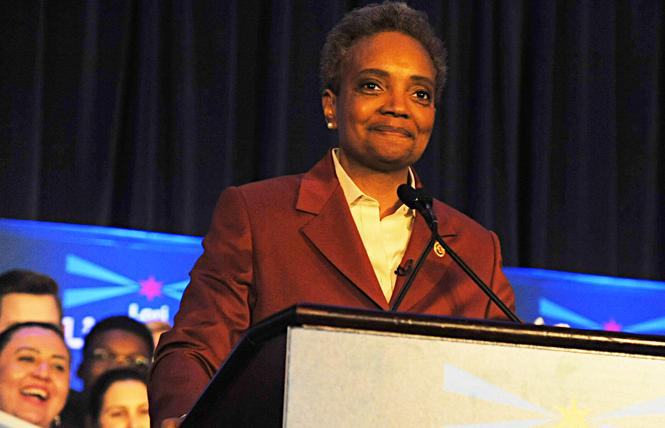 Former federal prosecutor Lori Lightfoot cruised to victory in the Chicago mayoral election Tuesday, making history as the first African-American woman and out LGBT person to become chief executive of America's third largest city.
A lesbian also won the mayor's race in Madison, Wisconsin.
In Kansas City, Missouri, a lesbian placed in the mayoral primary and will advance to the general election in June.
But it was Lightfoot's victory in the Windy City that generated headlines from coast to coast Tuesday night. She easily defeated political insider Toni Preckwinkle, also an African-American woman, with 74% of the vote, according to unofficial returns.
Lightfoot, 56, had never held elected office. During the campaign she promised to rid City Hall of corruption and help low-income and working-class people she said had been "left behind and ignored" by Chicago's political ruling class.
Lightfoot takes office in May.
In an email to the Bay Area Reporter, Tracy Baim, co-founder of the longtime LGBT weekly paper, Windy City Times, and currently publisher of the Chicago Reader, wrote, "This is an astonishing accomplishment for Lori Lightfoot, and is especially thanks to the decades of LGBTQ activists and elected officials who helped pave the path she strode."
Baim added that the city's first major out elected official was Judge Tom Chiola some 25 years ago.
"There are now dozens of LGBTQ elected officials in this state, and each has helped build on the accomplishments of the ones before them," Baim added. "Now the real work begins."
San Francisco leaders also reacted to Lightfoot's win.
Gay District 8 Supervisor Rafael Mandelman, in an email to the BAR, wrote, "It's historic to have a queer black woman leading the third largest city in America. Congratulations Mayor-elect Lightfoot."
In a prepared statement, San Francisco Mayor London Breed said, "All across our country, more and more black women are showing what they can do in positions of leadership, and each of us who is elected opens the door for even more young girls and boys to follow in our paths. I'm excited what this election means for the people of Chicago and I want to wish the new mayor of Chicago luck as she takes office."
Just two out lesbians have served as mayors of a top 100 city — former Houston Mayor Annise Parker and current Seattle mayor Jenny Durkan. Parker is now president of LGBTQ Victory Fund. In a news release, the group said that there are 38 out LGBTQ people serving as mayors in American cities large and small.
"A black lesbian taking power in the nation's third largest city is a historic moment for so many communities that are too often ignored in American politics," Parker said in a statement.
"Chicago's enormous influence on the national dialogue provides a platform for Lori to promote more inclusive solutions to the challenges facing our cities and nation — and to be a credible messenger as well," she added. "Lori will certainly remain focused on the issues facing Chicago. But as the highest-ranking LGBTQ person ever elected mayor of an American city — a title she takes from me — she is also now a key leader in the movement to build LGBTQ political power nationwide."
In Madison, a progressive university town, Satya Rhodes-Conway beat longtime Mayor Paul Soglin by 62% to 38% in a runoff election and will become the first out mayor in the city's history.
In Kansas City, mayoral candidate Jolie Justus placed in the primary and will now advance to the general election in June.
Later this month, lesbian mayoral candidate Jane Castor competes in a runoff that will determine the next mayor of Tampa, Florida.
Comments on Facebook