Castro's Firewood Cafe closes
Wednesday Apr 3, 2019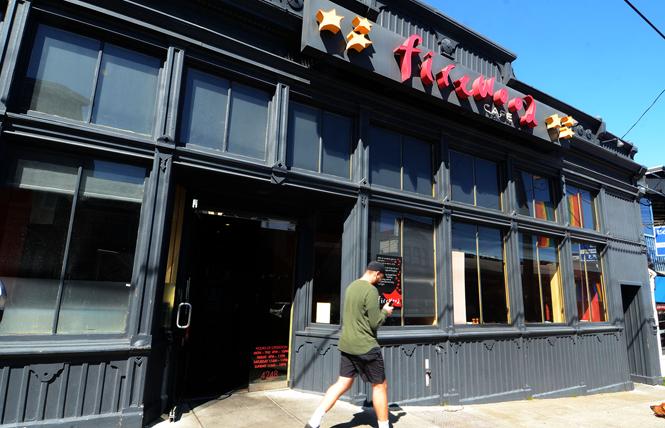 The popular Firewood Cafe in the Castro, known for its seafood, pasta, and pizza, quietly closed April 1 after 22 years of operation.
The eatery, located at 4248 18th Street, posted a brief farewell note on its front door, though it did not give any reason for the closure.
The Bay Area Reporter was able to reach owner Kevin Caso, who said that the writing had been on the wall for awhile due to a slowdown in business. Caso declined to comment further.
In recent weeks the cafe had remained closed during the day and had been open only for dinner.
Firewood Cafe is part of a chain that included locations in Oakland and San Francisco international airports. A woman who answered the phone at the Oakland airport location Tuesday said the restaurant was now operating under a new name. The airport's website listed it as East Bay Cafe. SFO's website did not have a listing for Firewood Grill, which had been its name there.
The Castro location had been the company's flagship, opened in 1997 by brothers Garrett and Glenn Meyers. According to its website, the company's philosophy was that "freshly prepared food doesn't have to be expensive."
In its heyday, Firewood's Castro location had been popular among local residents. On March 31, its last day of business, many lined up to say goodbye.
"This is terribly sad," said David A. Diaz, a 53-year-old gay man who was at the cafe last weekend. "Firewood has been a dependable and friendly, affordable place. Martha, the cashier, has been there for many years and she's always been welcoming. She remembers longtime patrons." (Martha's last name wasn't available.)
Diaz noted that Firewood Cafe was a favorite hangout for people in the recovery community.
"As a member of the recovery community, Firewood has been very important," he said. "It's provided a place to gather before and after meetings, many of which are held at Most Holy Redeemer Catholic Church right across the street. More than just a place for fellowship, it's been a place where we could host people's recovery milestones. We often reserved the back room for those kinds of celebrations."
Another patron, Bart Snowfleet, said the cafe was "a neighborhood fixture."
"I'm sorry to see them go," said Snowfleet, a 59-year-old gay man. "The food was good and the staff was friendly. A great place to stop in before or after seeing a film at the Castro Theatre. They will be missed."
Dave McKague, 66, told the B.A.R. that he and his partner had been coming to Firewood Cafe for several years.
"We've always enjoyed the food," McKague, who is gay, said. "We've enjoyed the friendly staff, the great service, and the atmosphere. Too many businesses in the Castro are closing and that isn't good. We wish something could be done to keep this place going. We wish something could be done to preserve the Castro that we love."
The Firewood Cafe's website stated that more locations are coming, but no information was offered as to where they might be. It was unclear if the information was current.
In other Castro business news, the popular nightclub the Cafe, located at 2369 Market Street, closed last Sunday, though it's temporary. The Cafe is undergoing extensive renovations and is expected to reopen in June, according to Hoodline. The remodel will increase the size of the club, and will most likely extend into the space formerly occupied by the now shuttered restaurant Bisou, located next door. The Cafe shares its space with a Subway sandwich shop. It is not known how, or if, the remodel will affect Subway.
The owners of the Cafe did not respond to a request for comment.
Updated, 4/3/19: This article has been updated to include the correct given name of Bart Snowfleet.
Comments on Facebook