Business vandalism, tire slashing plague Castro
Wednesday Mar 27, 2019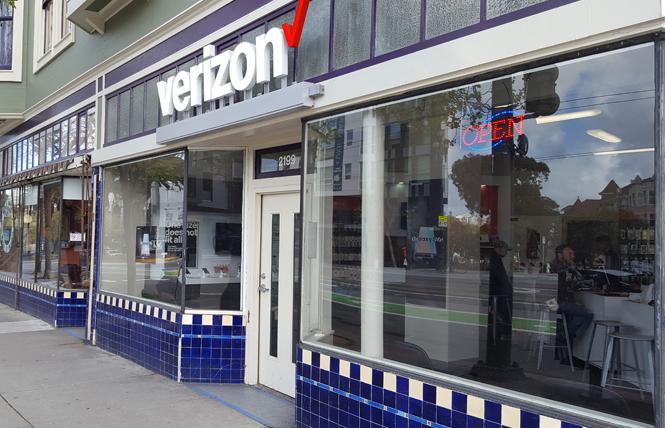 Since February, there have been more than half a dozen small businesses in the Castro and Upper Market area that have had their glass windows and doors smashed, according to local merchants.
Multiple incidents of tire slashing in the Castro have also recently been reported, according to authorities. No suspects have been arrested and the incidents are under investigation, a San Francisco Police Department spokesman said.
According to local sources, small businesses affected by the vandalism include the Academy (2166 Market Street), Max Muscle Nutrition (3600 16th Street), Duboce apartments (181 Sanchez Street), the Castro Republic (2295 Market Street), a Verizon store (2199 Market Street), and the under-construction German beer garden Willkommen (2196 Market Street).
According to Hoodline, incidents of broken glass were reported at Dinosaurs (2275 Market Street) and Verve Coffee Roasters (2101 Market Street).
A co-owner of the Academy, a social club, spoke to the Bay Area Reporter this week about the incident and the impact on his business and others. Nate Bourg, a gay man, said the social club's surveillance footage captured a white male in his late 20s on March 3 around 6:45 a.m. reach his hand through the iron gate a few feet from the front door and throw a rock at the door.
"He was walking by himself and he looked around to see if anyone was watching. From the video he looked like he could have been intoxicated, but it's hard to tell," Bourg said. "Then he reached through the gate and threw a rock at the window."
The glass front door suffered severe damage and will cost upward of $1,000 to fix. It has not been replaced yet and the owners are considering a wood door. Bourg called police and gave them the surveillance footage.
"I think the police took it seriously enough, but I am not sure this epidemic is really being taken seriously as a collective pool, but obviously [the police] have a lot of challenges," Bourg said. "It's happening all over the neighborhood and small businesses can't afford to make these big repairs."
He added that in many incidents, the business owners have to pay out of pocket for the damage due to insurance not covering the cost, having high deductibles, or not wanting their premiums to increase.
The vandalism has caused some businesses to close for days at a time, Bourg said. He believes the incidents are adding to the slew of vacant ground-floor retail spaces in the Castro and Upper Market area as well as adding to the number of homeless people sleeping in businesses' doorways.
"It's creating a sad state of commerce and life on the block and allowing for encampments and negative behavior to take root. When businesses are thriving and work together and support one another, it's more likely that the block is safe and where people want to come," Bourg said.
Greg Carey, chief of the volunteer group Castro Community on Patrol, told the B.A.R. that it is important for small businesses to install surveillance cameras. The cost of high quality surveillance technology is fairly inexpensive, Carey said, and can help police find the suspects.
"Not having evidence to tie these things together, whether it's several people or one, without some kind of evidence it's really hard to tie down," Carey said.
According to a spokesman for SFPD, authorities are "looking for witnesses and more surveillance footage and images of the suspect or suspects."
Prior to the Academy, a rash of about five businesses got hit near the end of February, all in the same night, according to Carey. Of those were Max Muscle Nutrition and the Verizon store. The manager of Max Muscle, Joe Mendoza, a straight man, said the front door was broken from someone throwing a rock at it around 6 a.m. Surveillance footage captured the incident.
"It took a really long time to replace," Mendoza said. "We had a cardboard door on there for months. It looked ugly and was kind of a headache."
Police came and Mendoza said they did take the situation seriously and reached out to the business on multiple occasions after the incident, but that it's hard "for them to do anything about it."
He also said he consistently sees the Castro foot patrols, police officers who patrol the area.
An employee of the Verizon store, an authorized retailer owned by Victra, who asked not to be named, said two of the Verizon windows were broken and then boarded up with wood. He said in the year that he has worked for the business it has been robbed three times. He believes that it was the same person who smashed the windows of the five businesses in one night.
"We did lose business because of it," the employee said. "It's a tragic incident."
Aside from the multiple glass breaking incidents in the area, people's car tires have also been reported being slashed. Officer Joseph Tomlinson with SFPD said a couple of weeks ago, about 10 people in the Castro district had their tires slashed, nearly 20 tires, in one night and that police are "reviewing as many surveillance tapes as possible" that caught the assailant in the act.
"There has definitely been an uptick of vandalism in the area," Tomlinson said.
A spokesman for District 8 Supervisor Rafael Mandelman's office said they are working closely with SFPD to help mitigate the issue.
"Our office has been in close contact with the SFPD about the recent vandalism incidents in the Castro. We know that these incidents are currently being investigated and have requested additional patrols in the neighborhood to ensure public safety and dissuade any further vandalism," the spokesman said. "People who live, work and own businesses in the Castro should feel safe in our neighborhood and we are continuing to work with local merchants, residents and the SFPD to make sure that that is the case."
Additionally, a trans woman who has a public nuisance stay away order from the Castro district because of threats of violence she made to several merchants has had her stay away order renewed. Patrick McClellan was arrested in March 2016 after being the source of numerous police calls over the past several years, the B.A.R. previously reported, including death threats to people in the Castro. In April 2016, she was issued a three-year stay away order.
Recently, her restraining order was extended through March 2020 for entering the protected areas multiple times, according to Carey. McClellan's attorney with the San Francisco Public Defender's office did not respond to a request for comment.
The Castro Republic and Duboce apartments did not respond to requests for comment.
Update: 3/29/2019: This article has been updated to include a comment from the offie of District 8 Supervisor Rafael Mandelman.
Comments on Facebook