DMV defends leather license plate rejection
Wednesday Mar 27, 2019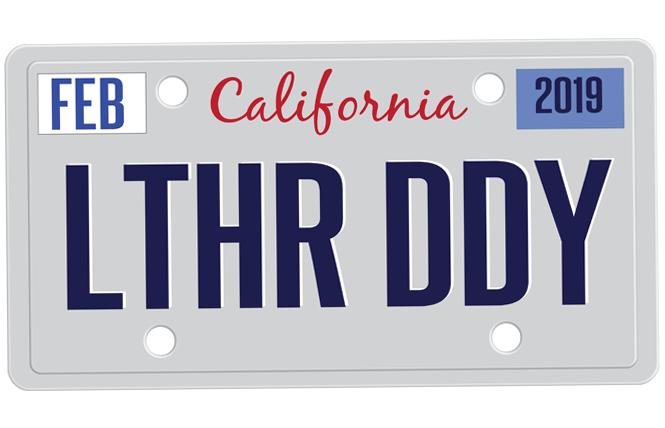 California's Department of Motor Vehicles is defending its rejection of a vanity license plate that would have been shorthand for "leather daddy."
As the Bay Area Reporter first reported in February, the state agency rejected San Francisco resident Robert Haynes' request for a "LTHR DDY" vanity license plate for his 2015 Kawasaki Vulcan motorcycle. In explaining its decision in a letter to Haynes in January, it did so due to the phrase's "sexual connotation" and how it can be read "as a term of lust or depravity."
A shocked Haynes contacted the office of gay state Senator Scott Wiener (D-San Francisco) for help in getting his vanity plate approved. In his own letter to the DMV, Wiener castigated the agency for basing its decision on homophobic notions of what a leather daddy is. He demanded that the DMV approve Haynes' vanity plate.
But in a March 13 response to Wiener, acting DMV director Kathleen K. Webb doubled down in defending the agency's decision. And she disclosed that the agency had twice before rejected vanity license plate requests using the "LTHR DDY" configuration.
"Unfortunately, based on DMV's personalized license plate review process, established by statute ... and implemented through regulations, the term 'Leather Daddy' is commonly used in a sexual context," wrote Webb, who took over leading the DMV at the end of January.
She added that the agency "has no discretion when a configuration carries a sexual connotation and is required to refuse the application."
Her letter cited California Vehicle Code Section 5105, which includes the stipulation that the DMV shall refuse a license plate configuration that "has a sexual connotation or is a term of lust or depravity."
In addition, Webb insisted that the agency's decision was not based on homophobia or bias against the LGBT community, as Wiener had alleged last month in an interview with the B.A.R.
"I want to assure you that DMV is supportive of personalized license plate applications that celebrate or promote the diversity of California culture, including the LGBTQ community, and our actions in this case do not reflect a biased or insensitive act of discretion," Webb wrote in her letter to the senator. "It is not unusual for license plate configurations to have different meanings to different people. Often terms considered benign to one group are hateful to another."
Thus, in the case of Haynes' application, Webb said the DMV acted in a manner consistent with state law.
"When a common meaning of a term conflicts with these rules, the department has no choice in the matter," she wrote.
Wiener is scheduled to meet with Webb Thursday, March 28. He told the B.A.R. Monday that he was dissatisfied with her written reply to his concerns and will be requesting that she approve Haynes' vanity license plate.
"It is completely unacceptable," said Wiener. "They continue to take the position that our community is inherently about sex and sex only. While sexuality is a part of every community that is not the only thing our community is about. That is the problem here, that is the disconnect."
Due to the controversy over Haynes' application, Webb did inform Wiener she had instructed DMV staff to change the way the agency responds to those whose vanity license plates are rejected.
"The current version uses terms that appear in law; however, given the concerns you raise, I am directing staff to update the language on DMV letters to terms more appropriate in a contemporary context," wrote Webb. "It was never our intention to convey a negative or insensitive judgment of Mr. Haynes or the LGBTQ community."
As for Wiener, he defended his weighing in on the matter in face of criticisms he had received that he should be focused on more important issues like the state's dual homeless and affordable housing crises.
"People ask why spend any energy on a leather daddy license plate. It is not just a license plate but a bigger issue of how the agency views our community," said Wiener. "When people request a vanity plate it is also about expressing who they are. Our community should not be cut out from that process."
Comments on Facebook