News Briefs: Rainbow flag co-creator seeks funds for Stonewall 50 project
Wednesday Feb 27, 2019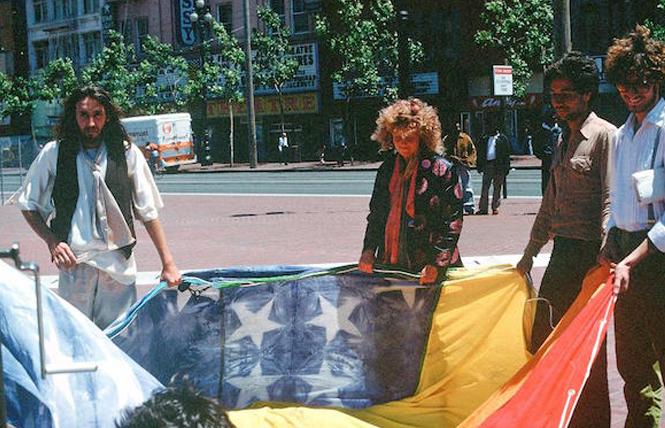 The woman who co-created the original 1978 rainbow flags with the late Gilbert Baker and another gay man has started a crowdfunding campaign to recreate that iconic LGBT Pride symbol for schools, community centers, and other groups.
Lynn Segerblom, a straight woman who lives in southern California, first came to media attention last year when she described her role in creating the 1978 flags for that year's San Francisco Pride parade.
Segerblom doesn't deny that it was Baker who was instrumental in turning the rainbow flag into a global symbol for LGBT people. But in a first person account published last March in the Los Angeles Blade LGBT newspaper and in a yet-to-be-released documentary, Segerblom contends the first rainbow flags were collaboratively designed and made by herself, Baker, and their friend James McNamara, who died of AIDS in 1999.
"It really is a three person, not a one person, flag making. Everybody played their part and then some," Segerblom, 62, told the Bay Area Reporter in a phone interview last year from her home in Torrance, southwest of Los Angeles.
Baker died in March 2017.
In 1978, Segerblom was known as Faerie Argyle Rainbow. She and Baker were roommates back then and also became co-chairs of the Decorations Committee for the 1978 Gay Freedom Day events (what is now known as San Francisco Pride).
According to Segerblom and gay San Francisco resident Adrian Brooks, sizes of the hand-dyed, eight-stripe versions with lame stars will vary. Segerblom plans to create flags for the Los Angeles LGBT Center, the city of West Hollywood, and the Boys and Girls Club of America.
Segerblom launched the crowdfunding page earlier this week with a goal of raising $10,000. On the page, she said that she also wants to create what she said would be the first-ever hand-dyed trans flag, which would be given to creator Monica Helms to carry in the New York City Pride parade in June, which commemorates the 50th anniversary of the Stonewall riots.
In a Facebook message, Helms said she was aware of Segerblom's project and is in support of it.
Segerblom encountered some blowback last year from Baker's friends after she went public about her role in co-creating the original flags.
Longtime LGBT rights activist Cleve Jones was close friends with Baker and wrote about the history of the rainbow flag in his memoir "When We Rise." He told the B.A.R. last year that Baker deserves to be remembered as the person who turned the rainbow flag into the symbol it became for the LGBT community.
"It was Gilbert, and Gilbert alone, who conceptualized the rainbow flag as the flag for our community and our movement," said Jones. "While many, many people, including many women, assisted him in those efforts, no one can claim to be the co-creator of the rainbow flag as the symbol for our community."
Jones said he remembers Segerblom well and described her as "an absolute sweetheart." Nonetheless, he said she was "one of many people who assisted Gilbert. All of Gilbert's artworks were monumental and required lots of people."
According to the GoFundMe page, Segerblom wants to create four special hand-dyed rainbow flags for this year's Stonewall 50 celebrations and two for 2020, which would be the 50th anniversary of the first Pride parades in many cities, including San Francisco. In 1970, LGBTs held a march down Polk Street and a small "gay-in" in Golden Gate Park.
Money is needed to cover fabric and supplies, a washer and dryer, and team production, the page stated.
For more information, or to donate, visit https://www.gofundme.com/historic-pride-flags.
Last chance to vote for Besties
Time is running out to vote in this year's B.A.R. readers' poll, the Besties, with the online survey closing Sunday, March 3, at midnight (Pacific Time).
The popular contest allows readers to share their favorite LGBTQ-owned and LGBTQ-allied people, places, and things in the Bay Area. Categories run the gamut from arts and culture to nightlife to travel destinations.
There are also nominees for community, shopping, and dining.
Readers who complete at least 75 percent of the ballot will automatically be eligible for prizes. (See the ballot for detailed information.)
Prizes include a three-night stay at Nantucket Whale Inn in Half Moon Bay, a $500 shopping spree at Cliff's Variety, a pair of tickets to see Megan Mullally and Stephanie Hunt as Nancy and Beth at Feinstein's at the Nikko May 4, and a pair of tickets to see Randy Rainbow at the Masonic April 20 (sponsored by Live Nation).
To vote, visit https://www.surveymonkey.com/r/besties2019
Carnaval to hold Mardi Gras celebration
The organizers of San Francisco's annual Carnaval celebration have announced they will hold a Fat Tuesday party March 5 that will span 20 venues throughout the Mission district.
According to a news release, attendees are encouraged to begin the night at 6 at Mission Sports Bar, located at 2565 Mission Street, and party-hop to different venues that will be listed on a map at www.carnavalsanfrancisco.org/events.
Some of the participating sites are Blondie's Bar, Laszlo, Make-Out Room, Cha Cha Cha, and Zoe's Bar and Restaurant. Several Carnaval parade contingents are expected to perform at some of the establishments.
Attendees are invited to wear costumes, masks, and beads in celebration of Mardi Gras. The parties are free and open to the public, with a percentage of sales from each venue donated to CANA, a nonprofit that funds much of the artistry behind the main Carnaval parade and festival in May.
Kendell joins Pack the Courts campaign
Kate Kendell, the former longtime executive director of the National Center for Lesbian Rights, has accepted a position as interim campaign manager for Pack the Courts, a national persuasion campaign urging Democrats to expand the courts after they take control of the White House and Congress.
Pack the Courts, a 501(c)4 tax-exempt organization, is a project of the 1/20/21 Action Fund.
"Kate Kendell is a genius and a rock star," Aaron Belkin, executive director of Pack the Courts, said in a news release.
Kendell said she was especially concerned with the Supreme Court.
"I've admired Aaron for a long time, and to now have the chance to work closely with him is a thrill," Kendell said in the release. "The U.S. Supreme Court is in crisis and our most cherished values are imperiled by five justices who, for the next 30-40 years, will do all they can to deny justice and undermine democratic institutions. If I can be a part of a strategy to avoid the worst of that carnage, I am all in."
Kendell did not respond to a request for comment asking about specifics of the persuasion campaign.
Comments on Facebook