LGBT senators split on AG vote
Wednesday Feb 20, 2019
The two LGBT senators split their votes on the confirmation of William Barr to be U.S. attorney general. Senator Tammy Baldwin (D-Wisconsin) voted no; Senator Kyrsten Sinema (D-Arizona) voted yes.

The Senate vote on Barr's confirmation February 14 was 54-45. (Senator Richard Burr of North Carolina did not vote.)

Baldwin issued a statement saying that, while she considered Barr to be a "serious nominee with public service experience," she was concerned about the "hostility" he expressed last year toward the special counsel's investigation into Russian interference in the 2016 presidential election.

Barr, who served as attorney general under President George H.W. Bush, sent a memo to Deputy Attorney General Rod Rosenstein in June of last year offering his advice about the special counsel's probe. Barr said Special Counsel Robert Mueller "should not be permitted to demand that the president submit to interrogation about [the president's] alleged obstruction" of the investigation.

Baldwin said she also had some "serious concerns" about "whether Mr. Barr would continue to move in the wrong direction with efforts to roll back equality for LGBTQ Americans...."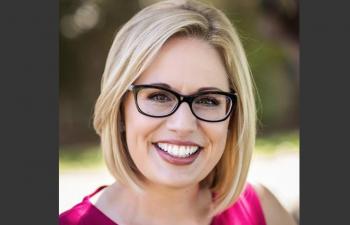 Sinema released a two-sentence statement saying she evaluates every presidential nominee based on "whether he or she is professionally qualified," and that she believes Barr "meets this criteria."

LGBT groups largely opposed Barr's nomination. Lambda Legal Defense and Education Fund, the National Center for Lesbian Rights, Equality California, Equality Texas, and 30 other organizations signed onto a letter to the Senate Judiciary Committee to oppose Barr's confirmation.

"Mr. Barr has asserted that LGBT people are not worthy of being treated as equal to others," said the letter, citing a speech he gave as attorney general and a law review article he penned about a lawsuit seeking equal access to a gay student group at Georgetown University. Most recently, the letter said, he wrote an opinion piece in the Washington Post, praising former Attorney General Jeff Sessions for withdrawing "expanded statutory protections based on gender identity that Congress had not provided for in law."

The Human Rights Campaign also opposed Barr's nomination, saying he has a "disturbing record of hostility toward non-discrimination protections for LGBTQ people."
Comments on Facebook