News Briefs: Trans vocal symposium coming up for singers
Wednesday Feb 13, 2019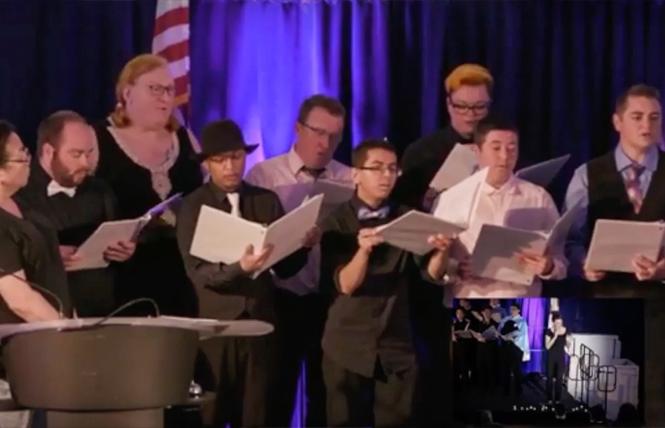 A free vocal symposium for transgender people will be held Saturday, February 23, from 2:30 to 9:30 p.m. at Community Music Center, 544 Capp Street in San Francisco.
"Trans and Singing" is a day of presentations and discussions on transgender singing for voice teachers and singers of all genders. The CMC Voice Department and New Voices Bay Area TIGQ Chorus are hosting it, with funding provided by a CMC partnership grant.
Last fall, CMC launched New Voices Bay Area TIGQ Chorus, a mixed voice, tuition-free vocal ensemble for self-identified trans, intersex, and genderqueer singers.
"Community Music Center's intention is to create a great choral ensemble and to provide a safe, creative space for transgender, intersex, and genderqueer singers to make music, learn, and create community together," Julie Rulyak, CMC executive director, said in a news release.
The chorus not only strives to create musical spaces for the local TIGQ community, but also to encourage voices that have been silenced or shamed to grow and be heard, the organization said in the release. Made up of singers from beginners to professional, the chorus performs music from diverse traditions.
"As a transgender singer and conductor, I have experienced first-hand the barriers that TIGQs face to musical participation," said Reuben Zellman, director of the New Voices chorus. "Singers tend to be rigidly and often thoughtlessly sorted by sex. Yet, TIGQ vocal stories are often more complex."
While there is no cost to attend, registration is required and can be done at http://tinyurl.com/trans-and-singing.
Wiener introduces sex worker bill
Gay state Senator Scott Wiener (D-San Francisco) has introduced a bill that would protect sex workers from arrest when reporting violent crimes or come forward as a witness or victim of a specified violent and serious crime.
Senate Bill 233 also provides that the possession of condoms may not be used as evidence to arrest someone for engaging in sex work. The San Francisco Police Department and district attorney's office several years ago developed a policy that bans documenting condoms as evidence of prostitution locally.
The violent or serious crimes that Wiener lists in his legislation include sexual assault, human trafficking, stalking, robbery, assault, kidnapping, threats, blackmail, extortion, and burglary.
"We're all worse off when crime victims do not feel safe coming forward," Wiener said in a news release. "This legislation is about protecting victims and increasing public safety."
Wiener and the bill's supporters pointed out that treating condoms as evidence of sex work exacerbates an already unsafe work environment because it discourages sex workers from practicing safer sex.
"Predators view sex workers as easy targets because the illegality of their work makes the police a natural threat; abusers know sex workers will never go to the police, and they take advantage of that," said Pike Long, deputy director of St. James Infirmary, a nonprofit occupational health and safety clinic for sex workers where Wiener announced his legislation Monday, February 11.
SB 233 will be set for a hearing soon.
Meeting on street homelessness
Saint Francis Homeless Challenge, a group founded by queer nonbinary former San Francisco mayoral candidate Amy Farah Weiss, will hold a meeting to talk about street homelessness Thursday, February 21, from 6 to 7:30 p.m. at Manny's, the gay-owned cafe and discussion space at 3092 16th Street (at Valencia).
Weiss noted in a news release that more than 400 city residents have signed a petition calling for safe organized spaces, or SOS.
While the city's leaders work to activate Proposition C resources (which have not yet been released to be spent), windfall money from an education fund, and other local and state funding to expand housing subsidies, supported housing units, Navigation Centers, and other types of supported transitional shelter, Weiss said safe organized alternatives are needed.
There are "1,000-plus people sleeping in crisis conditions on our streets and sidewalks each night," Weiss said in the release.
Weiss added that the state adopted new building codes in December that allow San Francisco and other cities and counties experiencing a shelter shortage crisis to legally use "tiny homes," mobile homes, tents, and transitional villages as part of a triage approach to alleviate the health and safety concerns around street homelessness.
There is a suggested donation of $10 for the event, and free tickets are also available. For more information, contact info@saintfrancischallenge.org.
Strut celebrates black LGBTQ history
Strut, the men's health center in the Castro that is a program of the San Francisco AIDS Foundation, will celebrate Black History Month Friday, February 22, with an evening of music, art, and performances by Bay Area African-American artists.
The event will be held from 6 to 9 p.m. at SOMArts Cultural Center, 934 Brannan Street in San Francisco. Helping curate the program will be members of the DREAAM Project and Black Brothers Esteem. DREAAM is a Strut program for GBTQQI men of African descent age 30 and under. BBE is a program of SFAF for African-American gay, bi, and same-gender loving men.
For more information, visit http://www.strutsf.org.
Civil grand jurors sought for SF
The San Francisco Superior Court is seeking volunteers for civil grand jury service for the 2019-2020 term.
"As chair of the court's civil grand jury committee, I would like to encourage San Franciscans who want to make a difference in our city to apply to become a member of the civil grand jury," Judge Susan M. Breall said in a news release. "The civil grand jury offers the opportunity to contribute to our community by examining city government to identify inefficiencies, to suggest reforms, or to highlight things that are not working well. This is a unique and exciting way to become involved in city affairs."
In order to serve, volunteers must be U.S. citizens; at least 18 years of age; have lived in San Francisco for at least the past 12 months; have no felony convictions; and be able to communicate in English.
The civil grand jury is independent and selects its own topics for investigation. The term runs from July 1 through June 30. After an initial screening, volunteers are interviewed by the judges on the civil grand jury committee who select a pool of 30 jurors. From that pool, 19 jurors and 11 alternates are randomly selected.
Breall said that a combination of diverse backgrounds, skills, and interests makes for the most effective grand juries.
"San Francisco is a vibrant and diverse city," Breall said, "and we want our civil grand jury to reflect that diversity."
Applications and detailed information are available at http://civilgrandjury.sfgov.org.
The deadline to apply is May 17.
Scholarships for low-income travelers
Hostelling International USA has announced its Explore the World Travel Scholarships for low-income travelers.
The $2,000 scholarships are for trips that include an educational component, such as learning another language, volunteering, or studying abroad. People must be 18-30, among other eligibility requirements.
This year, 15 Bay Area young people from Alameda, Contra Costa, Marin, San Mateo, and San Francisco counties will be selected to receive the scholarships, granting them the opportunity to travel with an educational or service program.
Awards are split into two payments: an initial $1,000 payment prior to departure and the remaining $1,000 after return. Travel must be completed between May 15 and August 31.
The application deadline is March 2. For more information, visit https://www.hiusa.org/programs/travel-scholarships/explore-the-world.
Comments on Facebook