Gay, black comedian's new film debuts in Oakland
Wednesday Feb 13, 2019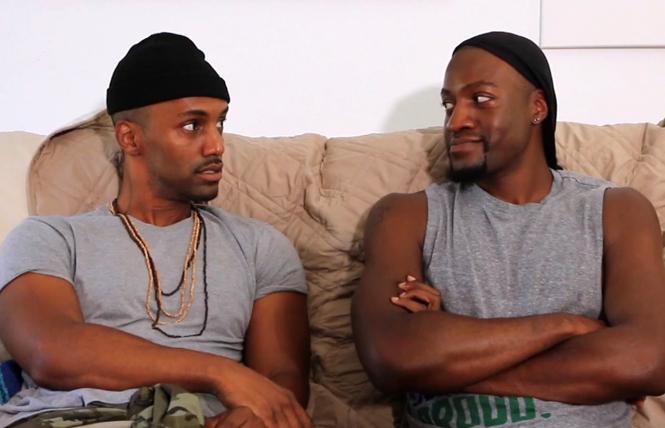 As one of the first out black men in stand-up comedy, Sampson McCormick has created a short film that's anything but a laughing matter.
"A Different Direction" is centered on issues of mental health, highlighting an unpopular narrative in black queer cinema.
Played by McCormick, the protagonist of the 22-minute film is Frankie Bailey, a 30-something writer and photographer struggling to make ends meet while yearning for respect from his overbearing, religious mother. After a heart-to-heart with his best friend, Travis Mitchell, played by gay actor Darryl Stephens ("Noah's Arc"), Frankie is forced to face his internal demons.
"The creative inspiration [partially] came from a dysfunctional relationship I had with my mother," McCormick told the Bay Area Reporter during a phone interview. "A lot of us, whether LGBT or black, have problematic relationships with our parents that are unresolved."
McCormick hopes the themes of "A Different Direction" can be a tool to aid important conversations around reclaiming mental health and building healthy relationships within and outside of oneself.
As a screenwriter and director, the 33-year-old comedian said he wanted to develop a script based on experiences he's witnessed within the black LGBTQ community. "A Different Direction" is his fifth scripted film.
"As a gay man, we see it a lot, being in relationships with family that aren't good for us; and sometimes we have to step away from that," McCormick said. "Nobody wants to feel like they're abandoning their family in any capacity. It's about creating a dialogue around what a healthy relationship should be."
McCormick produced this film, which took six months to complete, out of his own pocket. "Anything that takes that long and is that short," he said, "not only is it meticulous, it's a passion project."
McCormick called the film "very relatable" and "very black."
"I realize that our complexities as minorities are missing from the screen," he said. "There are too many stories that simply focus on sex or us being victims of our various circumstances.
"[That] is not the case with the majority of people of color and LGBTQ people, who find the courage to take on our challenges and move forward as best we can in our lives," he added. "That part of the story needs to be told more often."
He's often bothered by Hollywood's casting decisions, McCormick admitted.
Recent breakout films "Call Me By Your Name" and "Moonlight" (the 2017 Academy Award winner for best picture) centered on gay male characters, but were portrayed by heterosexual actors. And last summer, cis female actress Scarlett Johansson withdrew from playing a transgender woman in the upcoming "Rub & Tug" film after backlash from the LGBTQ community.
"Imagine if one of us would've been in a film like 'Moonlight,'" McCormick said. "All these black gay films, except for a couple by [gay film director] Patrik Ian Polk, most of the people who play those roles are straight, and I think that's awful."
While filming "A Different Direction," McCormick said the entire production staff was either black, LGBTQ, or female.
"As 'progressive' as Hollywood is, we still have a long ways to go as far as diversity and inclusion," he added.
"A lot of folks wait for [black gay films] to get on HBO or something. But if they want to see our stories, they have to support them at this grassroots level," said McCormick. "In order for us to really see our stories, we have to show up for them in whatever capacity we can."
"A Different Direction" will have its Bay Area premiere during Black History Month at the Oakland LGBTQ Community Center, 3207 Lakeshore Avenue (entrance on Rand Avenue) Saturday, February 16, at 7 p.m. Tickets are $10 and can be purchased at https://bit.ly/2E6kDpz. Visit http://www.sampsoncomedy.com for more information on the film and upcoming comedy events featuring Sampson McCormick.
Comments on Facebook