Acting AG says LGBTs aren't protected by Title VII
Wednesday Feb 13, 2019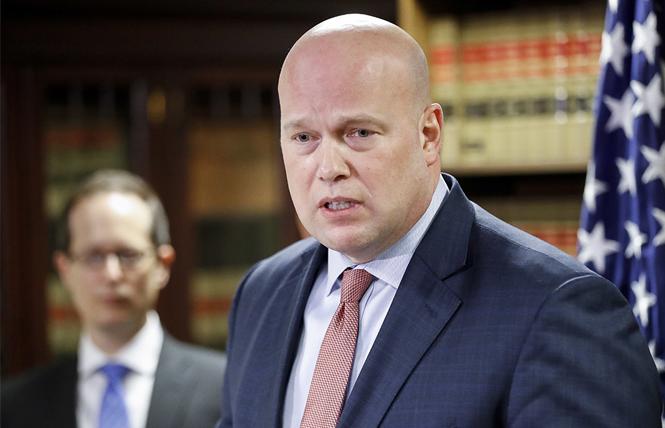 During a House Judiciary Committee hearing Friday, acting U.S. Attorney General Matthew Whitaker stood by the U.S. Department of Justice's decision to argue that federal civil rights law cannot be read to include protections for LGBT people.
Congresswoman Debbie Mucarsel-Powell (D-Florida), whose district includes heavily LGBT Key West, used her five minutes of hearing time to note that in October 2017, the DOJ withdrew an Obama administration memo that advised that the Title VII section of the Civil Rights Act, which prohibits discrimination based on sex in the workplace, could be read to encompass anti-transgender discrimination.
"The new memo," said Mucarsel-Powell, "instructs the Department of Justice attorneys to now argue that federal law does not protect transgender workers from discrimination. Are you familiar with both memos?"
"Yes, I am familiar with those memos that do not extend Title VII to LGBT [word could not be heard]," said Whitaker.
"At the time of the reversal, were you serving as chief of staff for Attorney General [Jeff] Sessions?" asked Mucarsel-Powell.
Whitaker acknowledged that he was chief of staff from October 4, 2017, until November of last year, when President Donald Trump fired Sessions.
Asked whether he believes LGBT people should face discrimination in the workplace, Whitaker said, "I personally believe discrimination of any kind shouldn't happen," but he added that he thinks the "plain reading" of Title VII does not provide protection for LGBT people and that DOJ's responsibility is to "merely enforce the law."
"If Congress wants Title VII to extend to transgender people, you can change the law," said Whitaker.
Whitaker was before the House Judiciary Committee February 8 as part of the committee's oversight responsibility. Many Democrats on the committee sought to determine to what extent Whitaker may be using his position to convey to Trump information from Special Counsel Robert Mueller's investigation into Russian interference in the 2016 presidential election. Whitaker refused to disclose any information about his conversations with Trump but did state that he did not brief the president or any "senior" White House staffers about Mueller's probe. He also said he hasn't "interfered in any way" with the investigation.
Gay Congressman David Cicilline (D-Rhode Island) used the hearing to point out that, prior to being appointed the acting attorney general, Whitaker told a law professor in June 2017 that he was hoping for a Trump administration appointment and that a replacement for Sessions could kill the Mueller investigation by reducing its budget.
Congressman Jamie Raskin (D-Maryland) noted that Whitaker, as a U.S. attorney in Iowa, tried to prosecute the state's first openly gay state senator on "trumped up" charges of abusing his position. Raskin noted the charges were dismissed by the jury in about an hour.
Whitaker has only days left as acting attorney general. The U.S. Senate is expected to confirm former U.S. Attorney General William Barr to return to the position. The Senate confirmed Barr Thursday, after this article went to press.
Lambda Legal Defense and Education Fund and 30 other LGBT groups opposed Barr's confirmation, saying he has a track record of "impeding and resisting civil rights."
Updated, 2/14/19: This article was updated to include that the Senate confirmed William Barr as attorney general.
Comments on Facebook