Apothecarium acquired by Canadian wellness company
Monday Feb 11, 2019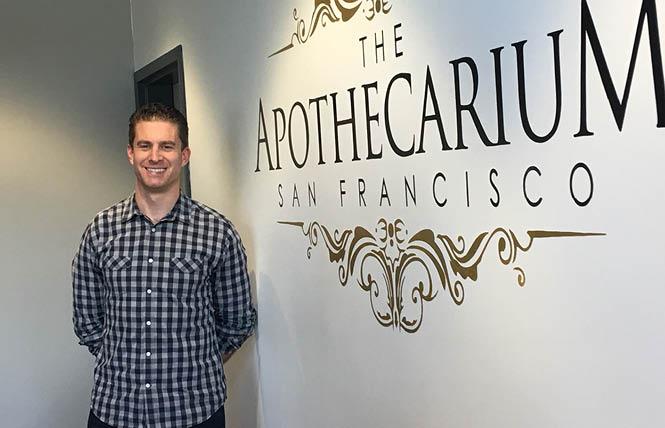 The swanky San Francisco-based cannabis dispensary the Apothecarium has entered into an agreement to be acquired by a publicly traded Canadian corporation, making the dispensary's 200-plus employees among the first local industry workers to benefit from the corporate takeover of the cannabis industry.
The acquisition, valued at $118 million in cash and stock, was announced Monday, February 11, in a joint news release by the Apothecarium and TerrAscend, a Toronto-based biopharmaceutical and wellness company that is focused on the cannabis market and operates a number of other entities, including a manufacturer and distributor of hemp-derived products.
The transaction is pending approval from regulators in California and Nevada, according to the Apothecarium.
The Apothecarium was founded in the Castro in 2011 by three first cousins and two family friends. Architectural Digest named it the best-designed dispensary in the country shortly after its flagship store at 2029 Market Street opened. It has also been a favorite of Bay Area Reporter readers in the paper's Besties readers' poll.
The Apothecarium also has two other dispensaries in San Francisco and one in Las Vegas.
In a prepared statement Apothecarium CEO Ryan Hudson said, "teaming up with a larger company means that we will be able to bring the Apothecarium dispensary experience to more people, in more cities around the country."
"Our customers won't see major changes inside our dispensaries," he added.
"I'm especially happy that so many LGBTQ folks, women, and people of color have chosen to be part of the Apothecarium's team," said Hudson, who is straight.
All full-time employees will receive shares of stock in TerrAscend Corp., traded on the Canadian Securities Exchange (TER), and over the counter on the OTCQX (TRSSF). This includes its cannabis consultants, aka budtenders.
Additionally, the release said the Apothecarium's CEO and leadership team will be staying on in their current roles.
Hudson said he was also very proud of the firm's philanthropic efforts, having donated over $425,000 in cash to local nonprofits and another $300,000 worth of in-kind donations for support groups and other community efforts over the years.
Currently, the Apothecarium has job openings for budtenders in San Francisco and for a team leader at its Castro location.
Additional information about the jobs at the Apothecarium is available on its website, http://www.apothecarium.com.
Updated, 2/11/19: This article was updated to indicate the acquisition is pending regulatory approval.
Comments on Facebook