Bay Area Cannasseur: Speed dating for lesbians who like cannabis
Wednesday Feb 6, 2019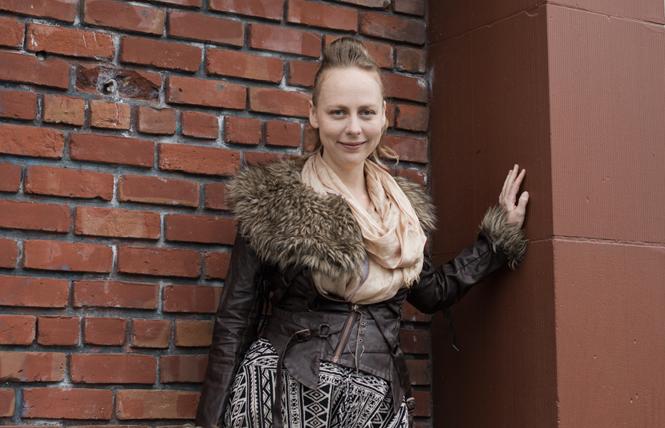 Attention: lesbian stoners.
If you're single, there is still time to potentially meet a compatible partner before Valentine's Day.
Jazmin Hupp is the founder of the burgeoning national organization Women Grow, a group of female cannabis aficionados that has attracted over 50,000 people to its meetings and events.
Hupp, 35, is about to launch Cannabis Conscious Speed Dating, a February 10 event focusing on women who like women who like cannabis. Tickets to the event, to be held in a cannabis-friendly space in Oakland, are $40.
"You can efficiently meet a dozen potential dates in the same time it takes to schedule one," said Hupp in a recent phone interview.
"Cannabis consumption doesn't define me," explained Hupp, "but I'd rather share a joint than a pint.
"As a polyamorous bisexual, when I went to speed dating events I found they catered mostly to straight singles," Hupp added. "That paradigm is limiting to people like me."
Not only were there few, if any, events focusing on the queer community, when the element of cannabis was added in, "there was nothing" to facilitate introductions among queer women who use pot, she said.
At the upcoming event, 40 women will have the chance to meet one another. Half the spots are already reserved.
"We're testing the format," said Hupp, who is starting what she hopes will be a series of speed dating events.
At the party, attendees are asked to bring their favorite cannabis. The first 30 minutes of the event will be spent with women sharing their favorites with "new friends," Hupp said. Water and tea will be provided. Event sponsors will offer pointers on making the event "fun and easy," she added.
People will next be seated in "starting pairs." Unlike regular speed dating where people are expected to introduce themselves for a dozen rounds, this event will ask people to answer "a thought-provoking question" that will hopefully launch a conversation, Hupp explained.
After a few minutes, everyone meets someone new. A final half hour will leave time to get acquainted with people you've met, she said. Then within 24 hours of the event, participants will receive the email address of anyone who has consented to sharing that information.
For Hupp, producing events has been her bread and butter in recent years. After launching Women Grow five years ago, she also began producing events in other areas that interest her, including yoga, meditation, and psychedelics.
"You could say I'm on a spiritual journey," she said.
On the same day she is holding the speed dating for cannabis party, Hupp is also launching another new event, in which women get together to "activate rage and cleanse emotional trauma."
Working in the cannabis sector has been challenging, said Hupp. Last year, the government preemptively closed her bank account because, at the federal level, cannabis-related businesses are still illegal, she said.
Similar challenges have happened to "almost everyone" who runs a cannabis-related business, she said.
Hupp believes federal legalization is inevitable, and said there will be a "gigantic market" for cannabis businesses once that happens.
"We need to get through these challenging times," she said.
Additional information on upcoming events can be found at http://www.jazminhupp.com. Further information on Women Grow can be found at http://www.womengrow.com.
Bay Area Cannasseur runs the first Thursday of the month. To send column ideas or tips, email Sari Staver at sari@bayareacannasseur.com.
Comments on Facebook