Longtime East Bay AIDS doctor retires
Wednesday Jan 30, 2019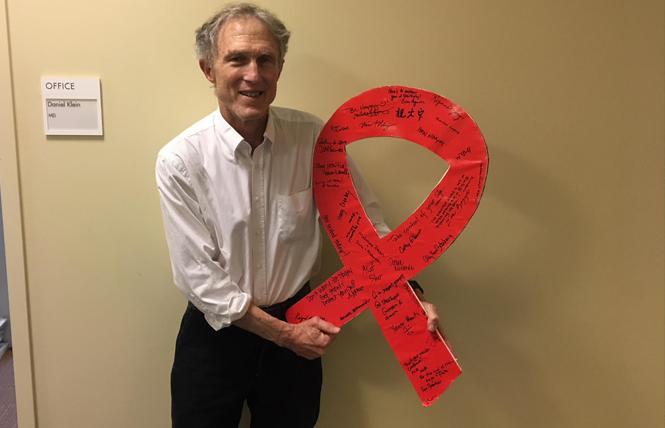 An East Bay AIDS physician who saw the worst of the epidemic over a career treating HIV/AIDS patients is retiring this week.
Dr. Daniel Klein is an infectious diseases specialist who has worked for Kaiser Permanente in the East Bay since 1983.
Klein, 71, is a straight ally who worked with AIDS patients during the worst years of the HIV epidemic because, as he put it, "it was the right thing to do." At the time of his retirement, Klein served as chief of infectious disease at Kaiser's San Leandro and Fremont Medical Centers.
"If I can make it seven more days I'll be ecstatic," Klein said as he spoke to the Bay Area Reporter January 23.
The doctor recalled his younger years as he spoke of what drew him to the medical profession.
"Growing up, I always wanted to be a doctor," he said. "I just pursued that path without any side trips. I majored in biology in college then went right to medical school."
Klein recalled that he first started seeing patients who were infected with HIV in the late 1970s at San Francisco General Hospital.
"No one knew that was the problem back then, but it's clear in retrospect that the men we were often seeing in the infectious disease clinic with swollen lymph nodes and fevers were HIV infected," he said. "But at that point I don't recall that we saw any AIDS cases.
"My first exposure to someone who had AIDS was in 1981, which was the time of the first reports," Klein added. "The head of the department, Dr. Merle Sande of San Francisco General, showed me an abnormal X-ray and he asked me what I thought was the explanation. I was positive it was common bacterial pneumonia and he said no, that it was a young gay guy with pneumocystis pneumonia, the AIDS pneumonia, and from then on the Bay Area was epicenter one or two."
By the time Klein started at Kaiser in 1983, the epidemic was fully underway.
"We could treat the infection," he said. "The problem was there was nothing we could do to correct the immune deficiency that predisposed these patients to often not just one, but multiple opportunistic infections."
In 1983, the HIV virus was identified, which meant that the doctors now knew what they were treating. The following year Klein began seeing cases outside of the gay community. These included patients who acquired HIV through tainted blood transfusions or by sharing dirty needles, though Klein said that those infected by HIV remained primarily gay men.
"There was some fear in the provider community about 'could I get this disease just by touching a patient,' so Kaiser tried to rally support to be able to take on the added burden of so many sick and dying patients," Klein said.
The doctor feels that the epidemic peaked during the late 1980s.
"Death rates were just astronomical," he recalled. "HIV may have been the number one cause of death in men at that time, certainly in men under 40. But even before the antiviral era the death rate started to decline because we had better treatments for the opportunistic infections. We were able to put patients on preventive therapies to delay the development of such, so I think the epidemic started slowing down, at least in terms of mortality, in the mid-1990s."
The introduction of protease inhibitors, the antiviral drugs developed to combat the HIV virus, occurred in 1996. Klein said that he saw this as a turning point.
"I saw patients more figuratively, then literally, get out of their death beds," he said. "There was actually an international lottery that you would have to enter to try to get your patient the protease inhibitors. You had to submit something to the drug companies and they would have some kind of drawing to determine which patients would get the drugs. Very shortly after that the protease inhibitors became commercially available."
Medical advances
Today, there are many medical advances aimed at keeping people HIV-negative. One of those is PrEP, which, if used as prescribed, dramatically reduces the chances of HIV infection.
"PrEP is what I look at as the overall program of getting to zero," Klein said. "Prevent infections, treat infections, and identify infections. PrEP has been very successful but it's not perfect — I'm hearing more about failures on PrEP."
Klein said he looks to programs like Getting to Zero, which started in San Francisco a few years ago and aims to dramatically reduce HIV infections. It relies on a three-prong strategy of expanded access to PrEP, rapid initiation of antiretroviral therapy, and retaining HIV-positive people in care. It also aims to reduce stigma.
"We're being much more aggressive in testing and treating — I've adopted the San Francisco approach, once you test positive you meet, you greet, and you treat, all in the same visit," he said. "Historically we would never start someone on that first visit, we would want more test results and then we want more assurance that they'd actually come back for treatment. With the modern treatments being so well tolerated and so effective, the vast majority of patients are open to starting therapy right away. The sooner you're on therapy the sooner you'll be unable to transmit the virus."
One of the knocks, however, are barriers to PrEP access that affect communities of color. Klein spoke of how people of color might have easier access to PrEP.
"It has to do with more and more advertising, more and more focused teachings, making it more affordable or completely free," he said. "If we're really committed to stopping the epidemic we have to be willing to pay for these treatments, which are really great, but also expensive."
Klein wants young people, many of whom think that HIV is no longer a problem, to take the disease more seriously.
"You're being very naive," he said of those people. "Were you to become infected you'd be committing to lifelong therapy with very potent medications. While they are considered very safe and well tolerated, we don't know if, after 20 years, there might be some undescribed toxicities. With HIV, there's always the possibility that the virus will become resistant to your current treatment."
Klein also spoke of what he found to be the most rewarding part of his medical practice over the years.
"I would say it's the miracle I've seen," he said. "I've been doing HIV care for over 35 years and to say that I've seen a medical miracle is just really rewarding. I've seen patients that I've cared for for 30 years, we've grown old together. They've lived long enough to grow old, which I don't think they would have expected when I first started seeing them, and the vast majority are patients who are not going to get sick or die from HIV even if they live into their 80s because we do have such good and well tolerated treatments."
Klein said that he was touched by the devotion of his patients, many of whom are sorry to see him go.
"They appreciate the approach we've taken here that HIV patients are best served by getting care from dedicated HIV providers," he said. "We created a medical home where all the people who worked with me wanted to work in their field, and the patents felt really comfortable."
Kaiser pharmacist Kennette Yoshimura has known Klein since the 1980s and said he would be missed.
"He had a reputation as being tough. I learned though, he was an advocate for his patients," Yoshimura wrote in an email. "He is very intelligent and knew what he wanted for them.
"His patients love him. Patients come from far away just to see him," Yoshimura added. "I've worked directly with him in research for the past 13 years. Throughout that time, patients have always mentioned how caring he is, how much they love, respect, and appreciate him. These comments didn't appear because he announced his retirement, they always existed."
And now that his retirement is at hand, Klein spoke of the future.
"My wife and I have six months of travel, then I have to decide what I want to be when I grow up," he quipped.
Comments on Facebook