SF queers join in protest against Brazil's president
Wednesday Jan 23, 2019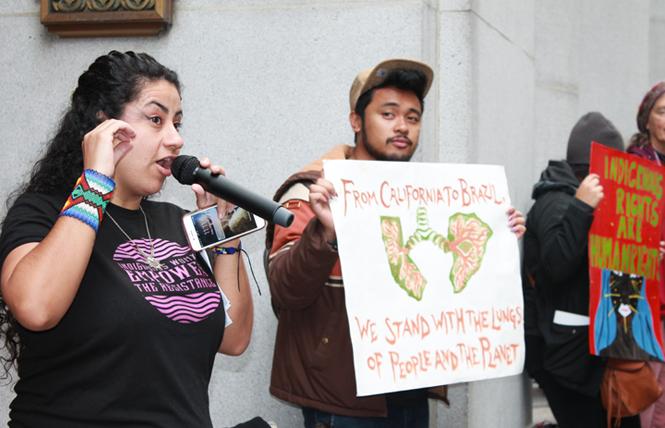 Protesters in San Francisco raised their voices in chants and song in an act of resistance against the attacks on Brazil's minority communities by President Jair Bolsonaro.
An estimated 100 demonstrators took over the sidewalk outside of the Brazilian Consulate in San Francisco's Financial District January 18 during the two-hour protest to deliver a message to Bolsonaro.
"The world is watching you. You think that you are getting away with the things that you are doing to your country, but the entire world is watching in horror," said María Xiomara Dorsey, co-organizer of the demonstration and a member of Idle No More SF Bay. "The entire world is not going to let this happen without saying anything."
Dorsey, 31, is a two-spirit Colombian-born woman who grew up in the United States.
The demonstration was organized by members of Amazon Watch and Idle No More SF Bay.
Dorsey and Christian Poirier of Amazon Watch delivered a petition signed by more than 30,000 people to the Brazilian consul general.
Since Bolsonaro took office January 1, he's been swiftly stripping away the rights of indigenous people, women, labor unions, and LGBTs.
Bolsonaro is a staunch critic of what he calls "gender-based ideology." He considers the LGBT community to be a threat to Brazil's Christian values and thinks that parents should beat their LGBT children for being queer. He's said he would rather have a dead son than a gay son.
"It's extremely difficult for LGBTQ people in Brazil with him being elected," Amanda Bloom, a 65-year-old self-described dyke activist with Idle No More SF Bay and Queers for Climate Justice, told the Bay Area Reporter at the protest.
The activist expressed her opinion about how sinister Bolsonaro really is.
"Bolsonaro is one of the people who I'm most concerned about in the world," said Bloom.
She explained that Bolsonaro, a former army captain, is an open admirer of the dictatorship that ruled Brazil for 21 years. He has praised the so-called torture chief Carlos Alberto Brilhante Ustra, reported the Guardian.
"He has said that one of the mistakes that they made in the dictatorship was that they tortured people instead of killing them," Bloom said.
"This is fascism at a different level than what we are seeing in this country," Bloom added, noting that many of her Brazilian friends could be killed by the South American country's new president.
"This could be literally murder of many people, including the LGBT community, but certainly, by no means, only for that community," she said.
Dorsey said Friday's action wasn't the last. New petitions are scheduled to be launched and delivered every couple of months to the Brazilian consulate in similar demonstrations.
"We need all of us to come together because everybody will be impacted," said Dorsey. "It's imperative to create a strong united front and clearly stand in solidarity."
For more information, visit http://www.idlenomoresfbay.org or https://amazonwatch.org.
American trans activist stuck in Sweden
American transgender rights activist Danni Askini is stuck in Sweden with time running out on her travel visa, no Swedish citizenship, and no way to get back to the United States.
"I don't have a U.S. passport, I cannot leave the state of Sweden, and I don't have Swedish citizenship," she told Public Radio International.
Askini left America following escalated death threats against herself and her family. In one incident she said she was run off the road in her car by two men in a truck shouting anti-transgender epithets at her.
Local and federal authorities were unable to help her, dismissing her claim as an incident of road rage.
Askini is the founder and former executive director of the Seattle-based Gender Justice League.
Her family felt it would be safer for her to leave the country for a while, so she went to Sweden, where her ex-husband lives, but after six months it's now time to return home.
That's proved to be challenging, just as it was for her to leave the U.S. The State Department denied renewing her passport. PRI reported that officials claimed she obtained it fraudulently by not providing proper documentation that included her gender at birth.
Askini enlisted the assistance of Congresswoman Pramila Jayapal (D-Washington), who stepped in and obtained a temporary passport for her to go to Sweden.
Now she's had to ask for help from the United Nations. She filed a human rights complaint, but the global government oversight organization has received no response from the State Department regarding Askini's situation, reported the media outlet.
She's not alone. Apparently the State Department hasn't responded to any human rights complaints since May 2018, reported the Guardian. An estimated 13 similar requests have also received the same silent treatment.
The move is a departure from previous administrations. During former President Barack Obama's administration, the U.N. special rapporteur to the U.S. visited America 16 times to conduct investigations, Steven Feldstein, a Boise State University professor and nonresident fellow at the Carnegie Endowment for International Peace, told PRI.
Feldstein was a deputy assistant secretary in the Democracy, Human Rights and Labor Bureau of the State Department during the Obama administration. Responding to U.N. requests to investigate was routine.
He believes that the unanswered requests for human rights violation complaints aren't necessarily due to a policy change or explicit ignoring of the policies, but due to administration turmoil.
Additionally, in a joint letter this month, Amnesty International and other organizations urged the State Department to cooperate with U.N. special rapporteur to the U.S.
The Trump administration repeatedly claims to be committed to human rights, despite pulling out of the U.N. Human Rights Council last year.
Askini noted that the Trump administration isn't protecting U.S. human rights workers.
"This administration has just gutted protection for human rights defenders doing LGBT work, and I happen to just be one of the canaries in the coal mine," she told the media outlet. "I'm being attacked because of the political work that I do. Not just because I'm transgender. ... And I think it has broader implications for a lot of people who oppose Trump."
Askini began receiving increased threats after her organization joined the Human Rights Campaign in a lawsuit against President Donald Trump's administration's policy banning transgender service members from serving in the military in 2017.
Askini is now seeking asylum in Sweden, but she doubts her request will be granted.
Egyptian court imprisons TV host for interviewing gay man
An Egyptian court sentenced TV host Mohamed al-Gheiti to a year in prison January 20 for interviewing a gay man last year.
Al-Gheiti was charged with promoting homosexuality and contempt of religion and fined 3,000 Egyptian pounds ($147) by the misdemeanors court in Giza. He was placed on one-year surveillance following being released from prison, Samir Sabri, the attorney who prosecuted al-Gheiti, told Agence France Presse.
Sabri is a controversial conservative attorney who is a self-proclaimed morality defender who has filed numerous similar cases, reported ABC News.
The verdict can be appealed and suspended if al-Gheiti pays 1,000 Egyptian pounds ($56) pending the outcome of the appeal, Sabri told the media outlet.
The TV host has repeatedly stated his stance against homosexuality in the past.
However, in August 2018, he hosted an unidentified gay man on his talk show, "Wake Up," which aired on private station LTC TV. During the show, al-Gheiti discussed homosexuality with the man, a self-described sex worker who spoke openly about his experience and relationship with another man, according to multiple news reports.
The same episode also featured journalist Mustafa Mekki, who said he posed as a gay man on Grindr, a gay dating app, to learn more about Egypt's gay community, reported CNN.
Mekki told al-Gheiti that he met many gay men and boys as young as 14 years old through the app.
"Many of the men I met through the application are unhappy with what they've involved themselves in and want to change their situation," he told al-Gheiti on the show.
The unidentified gay guest was one of the men he met through Grindr. He told the interviewer that he was motivated to speak about his experience on TV so other young Egyptians wouldn't repeat his mistakes, reported ABC News.
Prosecutors claimed that the show mentioned financial gains and benefits of homosexuality, according to Egyptian state-sponsored media outlet Al-Ahram, reported CNN.
Following the show's airing, the channel was suspended for two weeks by the Supreme Council for Media Regulation, Egypt's top media agency, for "professional violations," reported Middle East Eye.
The ban was put into place after a rainbow flag was waived during a 2017 concert in Cairo and a subsequent crackdown against Egypt's LGBT community.
Homosexuality isn't illegal in Egypt, but authorities utilize debauchery, pornography, and prostitution laws to charge suspected gay people in the Muslim-majority country.
Key suspect arrested in murder of Bangladeshi gay rights leader
Bangladeshi police announced the arrest of one of the key suspects in the 2016 murder of LGBT rights activists Xulhaz Mannan and Mahbub Rabbi Tonoy at a news conference January 16.
Mannan was the founder of Roopbaan, Bangladesh's LGBT magazine, and organizer of the South Asian country's rainbow rally in Dhaka, the capital city of Bangladesh. Tonoy was the magazine's general secretary and Mannan's friend.
Mannan also worked for the United States Agency for International Development.
The two men were hacked to death with machetes by a group of five or six men in front of Mannan's mother and his housekeeper in April 2016. The two women and the apartment building's security guard survived the attack.
Dhaka Metropolitan Police Counter Terrorism and Transnational Crime Chief Monirul Islam announced the arrest of Asadullah, 25.
Asadullah, who is only identified in the media by the single name, is a member of a militant organization called Ansarullah Bangla Team. Police believe Asadullah is a key suspect behind the murders of the two gay men.
Police also stated they believe seven individuals were involved in the killings, reported bdnews24.com, a Bangladeshi online newspaper.
During the past three years, three other men suspected of being connected to the murders have been arrested. However, charges have never been brought against them despite evidence, including CCTV footage and eyewitness testimonies, according to Amnesty International, reported Pink News.
Allegedly, the three men provided confessional testimonies in court about the murders.
Bangladesh is in transition when it comes to LGBT rights and acceptance.
The community went into hiding or fled the country following the murders of Mannan and Tonoy.
The Human Rights Campaign released a report in January 2018 documenting the hostile climate LGBT Bangladeshis live in.
In 2017, a suspected "gay party" in Dhaka was raided by the Rapid Action Battalion and 28 men were arrested and accused of being gay, reported Pink News.
However, last year Tanisha Yeasmin Chaity became the first transgender woman appointed to Bangladesh's National Human Rights Commission.
Joya Sikder, founder of New Bridge of Relationships, a Bangladeshi transgender organization, told the B.A.R. last year that LGBT activists are choosing to stay and fight for their rights in Bangladesh.
Got international LGBT news tips? Call or send them to Heather Cassell at Skype: heather.cassell or oitwnews@gmail.com.
Comments on Facebook