Editorial: Milk terminal: Bigger is better
Wednesday Jan 9, 2019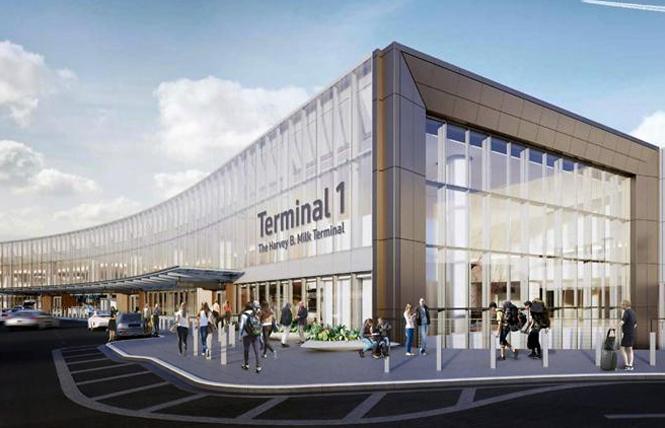 A few months ago, some city leaders expressed dissatisfaction about the proposed size of the words "The Harvey B. Milk Terminal" that will one day grace Terminal 1 at San Francisco International Airport. They said the font size is too small and would minimize Milk's name on the terminal, which is in the midst of a $2.4 billion remodel and set to be completed in 2022.
We urge airport officials to consider making the lettering larger. There is no reason why the terminal's name can't be the same size as the "Terminal 1" signage. Airport officials told us they have no plans to change the look of the terminal's facade signage. We suspect that may change, as at least two city supervisors disagree.
District 9 Supervisor Hillary Ronen, who has spearheaded the airport terminal renaming after her boss and predecessor, gay supervisor David Campos, was termed off the board, has already expressed to SFO officials that the signage is not prominent enough. And while she understands that people need to quickly see Terminal 1, and that airport wayfinding must account for people who don't read English, Ronen is still not convinced. Gay District 8 Supervisor Rafael Mandelman is also disappointed, telling us, "Milk's name needs to be clear, bold, and prominent."
When Campos first suggested naming all of SFO after Milk in 2013, airport officials were not keen on the idea — and they still aren't. As a compromise, Campos and the late mayor Ed Lee settled on one of the terminals being named for Milk, who was the first openly gay person elected to public office in San Francisco and California. He was assassinated after less than a year in office. After the agreement was struck, however, Lee delayed for years naming his appointees to the advisory panel, which in 2017 selected Terminal 1. Ronen then introduced legislation, which the Board of Supervisors approved last year and was signed by Mayor Mark Farrell.
In addition to the exterior signage, the airport plans an interior photographic display honoring Milk's legacy and the fight for LGBT rights. It will be in an area the airport is calling the Central Inglenook. And while Ronen is impressed with the artistic components, she acknowledged it has been a struggle to ensure that all the contracted pieces pay tribute to Milk in some way. She has also expressed her misgivings about the signage. "When I toured the terminal with the airport staff to find out everything about how they were going to implement the naming of the terminal, this was one of the things I mentioned to them. I felt the font should be switched, or at least more similar," said Ronen. "I commented on the fact Terminal 1 was very large, and the Harvey B. Milk Terminal was very small."
During a recent editorial board meeting, Mayor London Breed told us she was not aware of the signage size flap.
"To be clear I have not seen it and I probably should be briefed on exactly where things are," she said. "But ultimately, I think that there should be an appropriate acknowledgement as well as information about who Harvey Milk was and what he represents in San Francisco.
"And not just his name only but information to that effect, both when you come to the airport and as well as when you go on the website for the airport," she added.
The exterior signage is important because it will be one of the first things people see. Airport officials should get it right the first time, as this likely will set a precedent for the other terminals.
When visitors pass through the Milk terminal, the building signage should be large and welcoming — and educate people about Milk's importance and history.
A larger sign does not necessarily mean that travelers won't be able to easily find the terminal, if done well. GLBT Historical Society Executive Director Terry Beswick expressed the hope that some day, Terminal 1 will just be known as the Harvey B. Milk Terminal.
The opportunity to increase the signage font size is now, or we will be left with a perfunctory sign that is easily overlooked by people as they hurry to their flights. Airport officials can — and must — do better.
Comments on Facebook