News Briefs: Help decorate RWF's World Tree of Hope
Wednesday Nov 3, 2021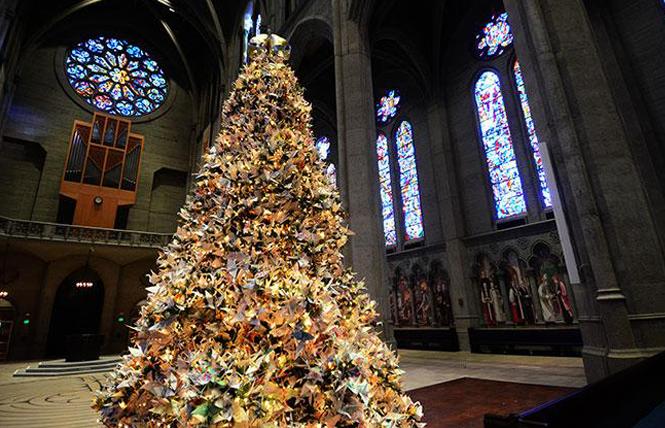 Rainbow World Fund, the LGBTQ humanitarian nonprofit, is preparing for this year's installation of its World Tree of Hope, and people can submit wishes and sign up for decorating shifts.

This year is the 16th lighting of the tree, which features origami cranes inscribed with wishes for the future of the world. The tree will be lighted during an in-person celebration Monday, December 6, from 6:30 to 8:30 p.m. at Grace Cathedral, 1100 California Street in San Francisco.

Decorating the tree will also take place at Grace Cathedral, and various three- to four-hour shifts are available for volunteers. An email from RWF noted that all volunteers must be vaccinated for COVID-19 and bring proof, such as a photo of the vaccine card on your phone, and the organization will follow current San Francisco guidelines. Shifts begin Saturday, November 6, and Sunday, November 7, from 10 a.m. to 6 p.m. and continue on weekends and some weekdays through November 28. Once you have selected dates and times, RWF will email you to confirm.

The lighting ceremony will feature drag artist Donna Sachet; the Grammy Award-winning San Francisco Boys Chorus; the Very Reverend Malcolm C. Young, dean of Grace Cathedral; the Lesbian and Gay Chorus of San Francisco; Tammy Hall; origami artist Linda Mihara; RWF founder Jeff Cotter; and the Sisters of Perpetual Indulgence, who will bless the tree. The event is free.

To send a wish, click here. To sign up for a volunteer shift to help decorate the tree and to RSVP for the lighting ceremony, click here.

Speier to unveil exhibit of San Mateo residents lost to COVID
Congresswoman Jackie Speier (D-San Mateo/San Francisco) will open a weeklong exhibit, "In America: Remember," to reflect on the San Mateo County residents who have died of COVID-19. The unveiling will take place Sunday, November 7, at noon at Leo Ryan Park, 650 Shell Boulevard in Foster City.

According to a news release, the exhibit is inspired by an installation of more than 690,000 miniature white flags that artist Suzanne Firstenberg placed on 20 acres on the National Mall in Washington, D.C. in September.

"Visiting the exhibit in D.C. was deeply moving and I want to bring that impact home to my district," Speier stated. "Suzanne Firstenberg succeeded in illustrating the enormity of the pandemic tragedy. I believe that displaying the white flags in every county in America could help us heal and come together. It is also a way to remember the lives of people who we have lost locally."

Other officials who will make remarks include Foster City Mayor Sanjay Gehani; Dr. Grace Firtch of Kaiser Permanente; and pastor Paul Baines of WeHOPE. Singer Liz Buljan and bagpiper Fred Payne will provide music for the event.

According to the San Mateo County Health Department, there have been 623 COVID deaths and 52,788 cases in the county as of October 28. The vaccination rate is over 90%, one of the highest in the country.

Coast Pride fundraiser
In other Peninsula news, Coast Pride will hold a wine tasting fundraiser Sunday, November 7, at Table Wine, 1710 Francisco Boulevard in Pacifica. There are two seatings: 1 to 3 p.m. and 3:30 to 5:30.

Tickets start at $75 for a trio of wines and a coupon for tacos from Taqueria Pacifica, which is next door. Sponsorship levels are also available.

Attendees must show proof of COVID vaccination and face masks are required.

For tickets, click here.

Webinar on Kakuma Refugee Camp report
The Organization of Refuge, Asylum, and Migration and the Rainbow Railroad recently released a report on conditions for LGBTQs at the Kakuma Refugee Camp in Kenya. As the Bay Area Reporter's Out in the World column reported last week, the document makes several recommendations to improve conditions at the sprawling camp, and provides much needed and previously lacking information on LGBTQ+ asylum seekers and refugees living in the camp.

Now, ORAM and Rainbow Railroad will hold a webinar sharing the report's findings to those who are interested. The online meeting will be held Wednesday, November 10, at 8 a.m. Pacific Time. There is no cost to attend.

According to a news release, some of the report's major findings include that 71% of those surveyed fled their home countries due to persecution based on their sexual orientation or gender identity; 90% said they have been verbally assaulted while at Kakuma; and 83% said they suffered physical violence at the camp. John Ndiritu wrote the report. A total of 58 LGBTQI+ asylum seekers from nine different countries were interviewed, along with 18 others the report refers to as key informants, such as representatives of refugee-serving organizations, community and religious leaders, and LGBTQI activists.

To read the report, click here.

To RSVP for the webinar, click here.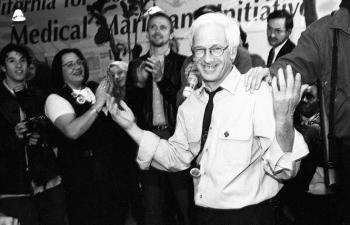 Prop 215 anniversary celebration
This year marks the 25th anniversary of California's Compassionate Use Act — better known as Proposition 215 — the nation's first law to legalize the personal use and cultivation of marijuana for medical purposes. In commemoration, advocates will hold a conference and party Friday, November 5.

"Prop 215 was the starting point of the modern legal cannabis revolution, which has since spread to nearly every state and over 30 foreign countries — but not the U.S. federal government," Dale Gieringer, National Organization for the Reform of Marijuana Laws California director and Prop 215 co-author, told the Bay Area Reporter.

The all-day confab, which will run from 10 a.m. to 6 p.m. at the General's Residence at Fort Mason, 2 Marina Boulevard, will feature marijuana movement luminaries including members of the late Dennis Peron's San Francisco Buyer's Club; Ed Rosenthal, who fought federal cannabis cultivation charges in the 2000s; Jeff Jones of the Oakland Cannabis Buyers Club, whose case went before the U.S. Supreme Court; UCSF cannabis researcher Dr. Donald Abrams; and former San Francisco supervisor Ross Mirkarimi; and gay former supervisor and Assemblyman Tom Ammiano. Five panels will discuss the Prop 215 campaign and legal struggles, pay tribute to pioneering patients and caregivers, and look ahead to the future.

Following the conference, an afterparty will take place from 7 to 11 p.m. on the patio at the Midway in Dogpatch, 900 Marin Street. In accordance with San Francisco's COVID-19 regulations, proof of vaccination and indoor masks will be required.

"Prop 215 was a critical first step in ending the War on Drugs and embracing a health-focused approach to drugs," said gay state Senator Scott Wiener (D-San Francisco), who will kick off the conference Friday morning. "Cannabis has helped so many in our community and allowed people to lead better lives."

Tickets ($25-$75) are available here.

Liz Highleyman contributed reporting.




Help keep the Bay Area Reporter going in these tough times. To support local, independent, LGBTQ journalism, consider becoming a BAR member.