Chiu sworn in as San Francisco's first Asian American city attorney
Monday Nov 1, 2021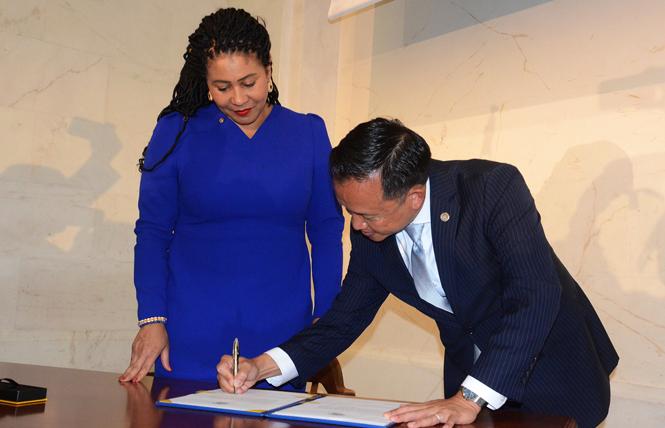 David Chiu became San Francisco's first Asian American city attorney November 1 after taking his oath of office in the North Light Court of City Hall, where he had formerly served as the District 3 supervisor. He takes on the position as the office continues to investigate allegations of corruption in various city departments, from public works and building inspections to the city administrator's office.

He also takes on the role as hate crimes and violent, sometimes deadly attacks against Asian Americans have risen in the city and across the nation. Chiu vacated his state Assembly seat to become city attorney, prompting a contested special election to be held next year to pick his successor.

Mayor London Breed administered the oath of office to Chiu, the city's 31st city attorney. She had appointed him for the position after naming former city attorney Dennis Herrera as the new general manager of the San Francisco Public Utilities Commission. Herrera also started in his new position November 1.

"David has a rich history in this city and we are looking forward to his work as city attorney," Breed said at the event.

Chiu said that he was "humbled by this moment."

"This is overwhelming," he said.

Chiu thanked the mayor and said he is looking forward to working with her and the entire Board of Supervisors "in an attorney-client privilege way."

Lance Toma, a gay man who's CEO of San Francisco Community Health Center, said, "I am just thrilled and excited."

"Since he was on the Board of Supervisors he has been a champion for HIV, LGBTQ, and API communities," Toma said.

With inclement weather outside City Hall, Herrera quipped he has "done my part bringing some rain on my first day of being general manager."

Turning serious, Herrera talked about the relationship between the city attorney's office and other city departments.

"If you do this job long enough chilliness will resolve to grudging respect," he said. "If you do the job long enough [that] eventually evolves to admiration."

Former SFPUC general manager Harlan Kelly was charged in a federal criminal complaint with taking bribes in the city's corruption scandal that saw the arrest of former Public Works director Mohammed Nuru last year on public corruption charges. Kelly's wife, Naomi Kelly, had served as San Francisco city administrator but resigned in February. She has not been charged in the corruption scandal, which has also ensnared several local developers and city employees responsible for permitting development projects.

Herrera had launched a corruption investigation following the multiple arrests, prompting concerns that his departure would mean his mayoral-appointed successor would de-prioritize the issue. Chiu pledged Monday that he was committed "to rooting out corruption and holding City Hall to the highest ethical standards."

And Herrera, in his remarks, expressed his full support in seeing Chiu take over leadership of what he called "the best" city attorney office in the country.

"He is going to forge his own path," said Herrera, who held the role for close to two decades. "I know he is going to be great."

Until now, an Asian American or Pacific Islander has never led the city attorney's office in its 120-year history. It is another political glass-ceiling breakthrough position for Chiu, who in 2014 became the first Asian American to represent San Francisco's eastern neighborhoods in the state Legislature.

"It's historic. I'm looking forward to working with him," gay District 8 Supervisor Rafael Mandelman told the Bay Area Reporter. "He's got big shoes to fill in Dennis Herrera. I trust David is going to build on the work Dennis did and continue supporting his lawyers he brought on to the city attorney's office."

Chiu, a straight married father, was also the first AAPI president of the San Francisco Board of Supervisors, having first won election in 2008. Upon his swearing-in as city attorney, Chiu received congratulations from the California Asian American & Pacific Islander Legislative Caucus, which he had formerly chaired.

"I've been proud to stand shoulder to shoulder with David Chiu during our time in the Legislature, as we have fought to give a stronger voice to Asian American and Pacific Islanders across California," stated gay Assemblyman Evan Low (D-Campbell), vice chair of the AAPI caucus. "It is not a coincidence that an AAPI hate crime David witnessed in college motivated him to become an activist and public servant. We are living in a volatile time as hate crimes targeting the AAPI community have spiked. David Chiu will absolutely help San Francisco become a more inclusive, equitable, and just city."

The son of Chinese immigrant parents, Chiu grew up in Boston and later graduated law school at Harvard. He has long worked on LGBTQ rights issues, such as in 1996 while working for then-Senator Paul Simon (D-Illinois) on Capitol Hill who unsuccessfully tried to block the anti-gay Defense of Marriage Act. Chiu had told the B.A.R. in 2013 the DOMA fight in Congress led to his moving to town nearly two decades prior.

"That DOMA vote was truly ... it was an incredibly dark day in the U.S. Senate and a part of why I needed to move to a place like San Francisco, which to me and so many others has always been a beacon of tolerance to the rest of the world," said Chiu, noting that "the struggles the LGBT community has are struggles that have been a part of the broader fight against discrimination and bigotry that has been a part of American history. LGBT struggles are the civil rights fight of our generation."

His own sexual orientation had been the subject of gossip in San Francisco political circles, with some believing he was gay. Chiu, who married public interest lawyer Candace Chen after meeting her when she volunteered on his first supervisor campaign, had joked to the B.A.R. that he wasn't "the first, single, straight elected official to have heard rumors like that. This is San Francisco."

Having won election to the city's 17th Assembly seat, which previously had been held by a string of gay and lesbian leaders, Chiu entered Sacramento pledging to be a vocal advocate for LGBTQ issues. His first year in the Legislature he asked to join the Legislative LGBTQ Caucus, but the affinity group for LGBTQ lawmakers denied him membership since he is not a member of the LGBTQ community.
Nonetheless, Chiu passed groundbreaking LGBTQ bills during his time in the Assembly. One of his first legislative achievements was requiring various state agencies to collect sexual orientation and gender identity data. The issue gained greater scrutiny during the COVID pandemic, as it brought to light myriad hurdles in gathering and reporting SOGI demographic information.

This year saw Chiu's bills requiring public colleges and universities not to deadname students on their academic records and diplomas, and ensuring the privacy rights of people receiving sensitive health care services, such as gender-affirming care, become law. LGBTQ rights are expected to remain top of his mind as city attorney.

Now that Chiu has officially vacated his Assembly seat, Governor Gavin Newsom must call a special election to fill it. It will need to be held before March 21, and the winner will serve the rest of Chiu's term through early December 2022.

They will need to run in next June's primary and then the November general election for a full two-year term in the state Assembly. Chiu will also have to run next year to serve out the remainder of Herrera's term through 2023.

Chiu's opponent in his 2014 Assembly race, gay former District 9 supervisor David Campos, is once again seeking the seat. Now chief of staff to District Attorney Chesa Boudin, Campos is running against fellow progressive District 6 Supervisor Matt Haney, a straight ally.

Two other straight candidates are also running: City College of San Francisco trustee Thea Selby and former Obama administration staffer Bilal Mahmood, who returned to the Bay Area to launch a tech startup and last year co-founded the 13 Fund foundation to invest in local nonprofits in San Francisco and New York City.

This is a breaking news story and will be updated with additional information.

Help keep the Bay Area Reporter going in these tough times. To support local, independent, LGBTQ journalism, consider becoming a BAR member.