Poland's conservative ruling Law and Justice Party sailed to electoral victory Sunday, after months of targeting the country's LGBT community and stoking unfounded fear among residents.
Two authors, Robbie Corey-Boulet and Mikael Owunna, are seeking to change Western perspectives of LGBT Africans with their respective books, "Love Falls on Us: A Story of American Ideas and African LGBT Lives" and "Limitless Africans."
Alberto de Belaunde, who was one of two openly gay congressmen in Peru, stepped down late Monday night after Peruvian President Martin Vizcarra dissolved the South American country's Congress.
President Donald Trump used his address at the United Nations General Assembly Tuesday to bolster his global initiative to decriminalize homosexuality.
San Francisco recently welcomed its latest gay diplomat.
Thousands of pride marchers flowed through the streets of Sarajevo in the country's first successful Bosnia and Herzegovina Pride march and festival last Sunday.
A first-of-its-kind report documenting conversion therapy around the world highlights the pervasiveness of the practice.
Serbian officials have blocked future access to same-sex couples forming families in the country after its first lesbian prime minister and her partner became parents earlier this year.
Congresswomen Ilhan Omar and Rashida Tlaib denounced the Palestinian Authority's ban on LGBT gatherings and threats to queer Palestinians.
An advertising campaign, "Love is Love," launched by the Coca-Cola Company ahead of a progressive music festival in Budapest, Hungary last week has led to political leaders calling for a boycott of the global soft drink company.
Hunky male sex workers took to the windows of the My Red Light organization in Amsterdam last weekend during Pride.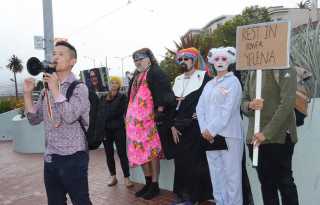 Queer demonstrators gathered at Harvey Milk Plaza in San Francisco's Castro district during the evening commute August 1 to honor slain Russian LGBT activist Yelena Grigoryeva.