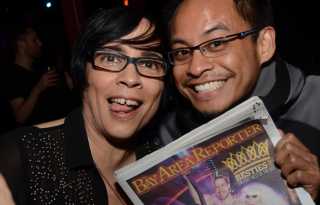 San Francisco is one of 11 US cities that is fortunate to have a legacy LGBT publication by us, for us, and about us. Help preserve the BAR as an historic and important community institution for the future.
Bud Budlong, one of the early leaders and organizers of San Francisco FrontRunners, died Thursday, March 19, at the age of 82 after a lengthy illness.
The Idaho state Legislature took time out this week from the battle against the global COVID-19 pandemic to send two anti-transgender bills to Governor Brad Little.
During times of crisis such as the one we are all staggering through right now, when our daily routines are disrupted ... it is easy to get our values as confused and scrambled as those panic buyers raiding every shelf they can for rolls of toilet paper.
Sports broadcaster Kate Scott told me that she doesn't consider herself a trailblazer.
Last March, Australian Olympic gold medal diver Matthew Mitcham announced he was engaged to his partner, Luke Rutherford.
A running club in Singapore has become the 100th organizational member of International Frontrunners.
As Major League Baseball desperately tries to remember in what pawn shop it hawked its moral compass, let's talk about the Houston Astros and Pete Rose. Such conversation can draw out enough passion to make the presidential race look boring.
The game itself featured some horrendous officiating and a dramatic comeback against a defense that went from withering to withered.
A 49ers' loss in last Sunday's Super Bowl LIV made for dispirited fans in the Castro.
This year marks the 10th annual Bay Area Reporter readers' poll, the Besties, and voting begins Thursday, January 30.
When a person who has spent most of his life in the public eye dies, leaving a complex legacy in the hearts and minds of supporters and detractors alike, it can be challenging in the shadow of the moment to process the range of triggered emotions.