When the Federation of Gay Games opens its annual meeting in in exactly one week, their discussions will be bookended by the topic of demonstrations in Hong Kong and their potential impact on plans to hold the Gay Games there in 2022.
My mainstream sports journalism career reached its apex 30 years ago today — October 17, 1989 — when the Loma Prieta earthquake rumbled through Candlestick Park just minutes before the scheduled start of Game 3 of the 1989 World Series.
Last week, Houston Rockets general manager Daryl Morey posted a simple note on Twitter expressing his support for the cause of demonstrators in Hong Kong.
Sports are beginning to open up registration for the 13th annual Sin City Classic in Las Vegas, scheduled for January 16-19, with an expanded list of sports.
After months of seemingly nonstop clashes between Hong Kong police and pro-democracy protesters, many Gay Games supporters are doubting the quadrennial event can be held in Hong Kong in 2022.
Early in "Mack Wrestles," a 30-minute documentary about transgender wrestler Mack Beggs that premieres on ESPN's "30 for 30" Sunday, September 22, his grandmother talks about her grandchild's early struggles with self-acceptance.
Leaders of FIFA, soccer's international governing body, have long gotten soccer fans accustomed to their habit of repeatedly taking one step forward for progress, then one step off a 35-foot cliff.
Dallas beat out San Francisco for the rights to host the 2021 Gay Softball World Series.
East Bay Front Runners and Walkers will hold its 15th annual Pride Run and Walk this year Saturday, October 12 — the day after National Coming Out Day.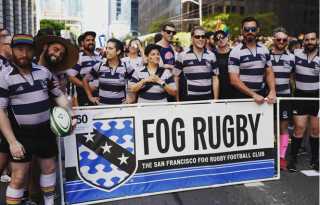 A few years back, Joey Van Matre, an Oklahoma research analyst who had recently relocated to the Bay Area, was in search of a sport to help him open up socially.
Gay Games X last year in Paris was a rousing success. It turned a profit, drew more than 10,000 participants, and provided supportive, inclusive competition for the athletes.
The LGBT Powerlifting Union, having just completed its third world championship meet in Blackpool, England, has announced that it will hold a series of stakeholder consultation meetings the rest of 2019 to discuss various issues.