A 49ers' loss in last Sunday's Super Bowl LIV made for dispirited fans in the Castro.
This year marks the 10th annual Bay Area Reporter readers' poll, the Besties, and voting begins Thursday, January 30.
When a person who has spent most of his life in the public eye dies, leaving a complex legacy in the hearts and minds of supporters and detractors alike, it can be challenging in the shadow of the moment to process the range of triggered emotions.
The San Francisco 49ers are headed to the Super Bowl in Miami after a blowout 37-20 NFC Championship win over the Green Bay Packers, powered by a mind-blowing four-touchdown, 220-yard rushing performance by running back Raheem Mostert.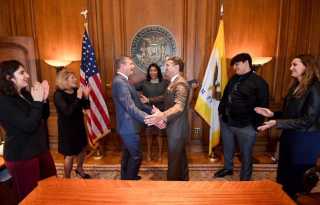 The new decade comes with a new chapter in the life of Golden State Warriors president and chief operating officer Rick Welts.
First off, a big yahoo to the San Francisco 49ers for their clutch regular season-ending victory over the rival Seahawks in Seattle to clinch the division title and capture the top seed in the NFL playoffs.
The 21st century has been going through its adolescent years the past decade, swiftly zipping in and out of its teens to enter 2020 as a young adult, fully capable of voting, driving, and spitting into the wind
International Front Runners became a little more "inter" and a little less "national" toward the end of 2019 when it elected Chris Rauchle of Australia as its new president.
Two years ago, I wrote a facetious JockTalk column that said the best holiday gift the collective sports world could get would be a moral compass. This year I think our sports world could use a spine.
I've always had a somewhat ambivalent fascination with the sport of bodybuilding that transcends the obvious erotic appeal and focuses on the sport's artistry and discipline.
The Federation of Gay Games issued a joint statement Monday with the selected host organization of Gay Games XI, Hong Kong 2022, stating both groups remain committed to staging the quadrennial event in Hong Kong despite the demonstrations and disruptions.
Some Federation of Gay Games delegates hoped for more discussion and action relating to the next event in Hong Kong, given recent demonstrations there. But FGG took no definitive action.