As she heads into a rough summer and fall campaign season, queer San Diego City Councilwoman Georgette Gómez has picked up the endorsement of the Human Rights Campaign.
U.S. Ambassador to Germany Richard Grenell plans to step down from his post.
Oakland Mayor Libby Schaaf is backing gay restaurant owner and political newcomer Derreck Johnson in the fall race for the city council's at-large seat, currently held by lesbian City Council President Rebecca Kaplan.
At 15 years of age Ewan Barker Plummer is already attuned to politics and civic affairs.
With California facing a $54 billion budget deficit this year due to the novel coronavirus outbreak, LGBTQ advocates have had to retool their legislative priorities for 2020.
A year after the city council in Dublin, California found itself the focus of negative headlines across the country for initially refusing to fly the rainbow flag in honor of June being Pride Month, it easily adopted a proclamation Tuesday.
It has become a yearly ritual; Republican-controlled legislative chambers across the country pass anti-LGBT legislation, many attacking the rights of transgender youth and adults.
With this May 22 being the 90th birthday of the late gay supervisor Harvey Milk, the first LGBT person elected to public office in San Francisco, local LGBT leaders had planned to host a block party in the city's Castro district.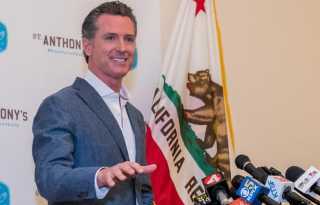 Advocates are blasting California Governor Gavin Newsom and state public health officials for not gathering data about the impact of the novel coronavirus outbreak on the Golden State's LGBT community.
With their annual Pride event turned into a weeklong virtual affair this year due to the novel coronavirus outbreak, LGBT leaders are working on seeing all 20 of the incorporated cities and towns in San Mateo County celebrate Pride Month in June.
In the aftermath of an email sent by the president of the Harvey Milk LGBTQ Democratic Club that accused San Francisco Mayor London Breed of "hobophobia," the organization may soon have a new co-president.
Gay state Senator Scott Wiener is introducing legislation requiring that the state of California collect the sexual orientation and gender identity data of novel coronavirus patients.