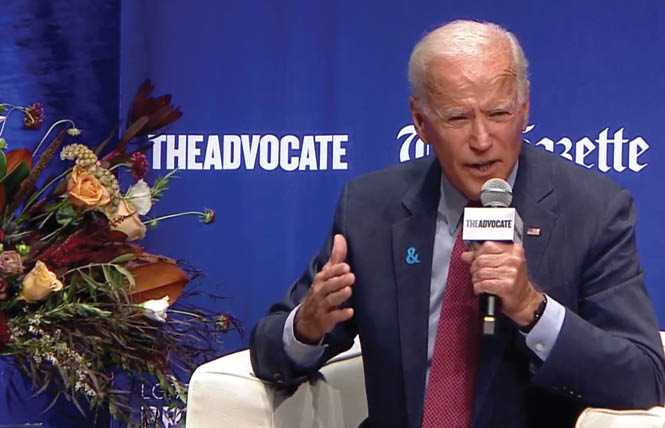 Several Democratic candidates seemed to throw President Barack Obama under the metaphorical bus Friday night, as they sought to illustrate how they didn't take as long as other Democrats to "evolve" on LGBT issues.
Viewing 1 thru 12 of 364 Stories
A new report has chronicled how the vast majority of states and the federal government are falling short on LGBT data collection efforts.
The two leading candidates in San Francisco's heated contest for the District 5 supervisor seat both are vocal critics of the city's mass transit system and its less-than-stellar service in the Haight, Cole Valley, and Fillmore neighborhoods.
State Senator Scott Wiener announced Friday that he was punting legislation aimed at improving conditions for transgender inmates to the 2020 legislative session.
Maria Cadenas, a lesbian single mother and nonprofit leader, has entered the 2020 race to succeed state Senator Bill Monning (D-Carmel), who is termed out of his 17th Senate District seat along the Central Coast.
The proverbial stork has visited at least three out lawmakers this year in California. Two female politicians are expecting children with their spouses, while a male leader adopted a son out of foster care with his partner.
California lawmakers have until Friday, September 13, to pass several LGBT bills in order to send them to Governor Gavin Newsom's desk for his signature. He will have until October 13 to sign or veto the legislation.
Governor Gavin Newsom Friday signed into law his first LGBT rights bill since becoming California's top executive in January.
San Francisco's two main LGBT Democratic clubs found themselves largely aligned during last year's June special elections for mayor and the District 8 supervisor seat.
In a major coup for his mayoral bid, gay San Diego Assemblyman Todd Gloria has secured the endorsement of the San Diego Democratic Party.
He has served less than a year on the San Leandro Unified School District Board of Education yet James Aguilar already has his sights on running for higher office.
This may not be a surprise, but it is news: Gay presidential candidate Pete Buttigieg has outraised his Democratic competitors in most heavily LGBT neighborhoods around the country.
Democratic Governor Gavin Newsom has waded into a contentious intraparty fight for a state Senate seat in the Central Valley by throwing his support behind lesbian Assemblywoman Susan Talamantes Eggman (D-Stockton).
Viewing 1 thru 12 of 364 Stories