Five decades after an uprising against police brutality at a New York City gay bar sparked the creation of Pride parades and festivals in June, the number of East Bay cities officially recognizing the annual LGBT celebration is growing.
Viewing 1 thru 12 of 381 Stories
California lawmakers shelved two more LGBT bills as the majority of this year's legislation advancing LGBT rights heads for final votes in their house of origin.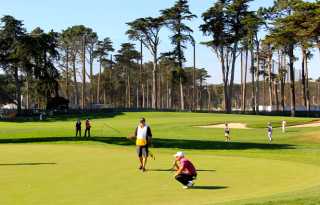 The inaugural San Francisco Pride Pro-Am Golf Tournament will take place Wednesday, June 26, at 1 p.m. at TPC Harding Park in the city.
Equality California will release a first-of-its-kind report Monday morning that grades how school districts across the Golden State are educating their LGBTQ students.
A year after Erin Uritus took over as CEO of Out & Equal Workplace Advocates, she is turning the nonprofit's attention toward the 13 states that comprise the southern United States and lack robust protections for LGBTQ workers, if they have any at all.
An effort to have gay icon and drag queen Jose Julio Sarria inducted into the California Hall of Fame is being revived this year now that Governor Gavin Newsom is leading the Golden State.
Castro Community on Patrol has purchased a portable automatic external defibrillator to improve response to medical emergencies.
Apologists for the new International Association of Athletics Federations rule, which bars Caster Semenya, strike a noble pose, claiming they need to defend the alleged integrity of women's athletics.
Caster Semenya is a South African middle-distance runner. She took home Olympic gold in both 2012 and 2016, and has won the world championships three times.
Two California-based LGBT groups have come out with early endorsements of gay Democratic presidential candidate Pete Buttigieg as he plans a fundraising swing through the Golden State this week.
Since January 2008 John Rahaim has overseen San Francisco's planning department as the city has been convulsed by numerous zoning and development battles, largely driven by the influx of tech workers.
President Donald Trump threw asylum seekers and immigration advocates another wrench April 29, proposing new restrictions targeting the United States' southwestern border.
Longtime lesbian activist and educator Sally Miller Gearhart now needs 24-hour care and friends have set up a crowdfunding page to accept donations.
Viewing 1 thru 12 of 381 Stories