California state Controller Betty Yee announced Monday, March 16, that individual taxpayers will now have until June 15 to file their state returns and pay any taxes owed.
Silicon Valley lesbian couples traveling abroad are trying to get home amid the global coronavirus pandemic.
Based on the outcomes of the state Assembly and Senate March 3 primary races, California's Legislative LGBTQ Caucus is set to make historic gains come the November election.
During times of crisis such as the one we are all staggering through right now, when our daily routines are disrupted ... it is easy to get our values as confused and scrambled as those panic buyers raiding every shelf they can for rolls of toilet paper.
More than 100 organizations sent an open letter to medical groups and the news media stating that LGBT people are at greater risk from the virus.
Two transgender women for the first time have been elected to local party posts in San Francisco.
The emotion and love depicted in "Jose," a Guatemalan gay coming of age film, has captivated audiences around the world and garnered multiple accolades.
Across the country, right now, state legislators continue pushing bills that seek to legislate transgender lives.
Sports broadcaster Kate Scott told me that she doesn't consider herself a trailblazer.
LGBT refugees in Nairobi, Kenya might soon find themselves homeless and without any source of income as funding for housing and other programs is rapidly drying up.
Compassionate care programs are expected to expand locally, following the March 1 start date for Senate Bill 34, the new state law making it easier for organizations to legally donate cannabis to low-income patients.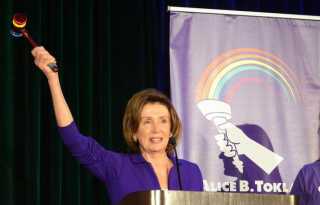 For the first time since she was elected to Congress in 1987, House Speaker Nancy Pelosi (D-San Francisco) will face a progressive Democratic challenger in November for her 12th Congressional District seat.