This week's editorial cartoon.
An estimated 5,000 people attended the Oakland Women's March last Saturday.
This week's letters to the editor.
The obituary for Gregory Harvey.
With billions of federal funding at stake and California at risk of seeing its congressional representation diminish, the state's LGBT residents are being urged to fill out their 2020 census forms.
Friends of a gay San Francisco man who a federal judge says was erroneously deported by U.S. Immigration and Customs Enforcement presented a petition to the local office of Senator Dianne Feinstein January 21 to urge his safe return to the country.
In a move that LGBT legal activists see as "deeply worrisome," the U.S. Supreme Court on Friday said it will review two appeals in religious exemption cases.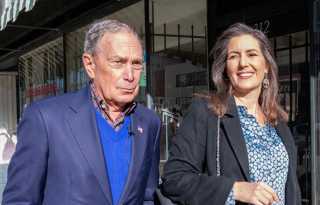 Former New York Mayor Michael Bloomberg brought his presidential campaign to the East Bay, and while he didn't pick up an endorsement from Oakland Mayor Libby Schaaf, he did excite a small crowd that met at Everett & Jones Barbecue.
As preparations ramp up for the 50th annual San Francisco Pride parade, members of the LGBT community are questioning the role of Bay Area-headquartered tech corporations in the festivities celebrating LGBT people and culture.
A social club that opened in the Castro earlier this month was ordered Friday to stop operating within 15 days by the city planning department, according to a copy of the order obtained by the Bay Area Reporter.
Gay state senator Scott Wiener (D-San Francisco) is introducing legislation Thursday to direct state officials to implement a statewide, integrated response to the HIV, sexually transmitted infections, and hepatitis C epidemics.
The state Legislature has been in session for only a couple of weeks and already, a state Senate committee has failed on intersex rights, voting down Senate Bill 201, which would have protected body autonomy of intersex people.