Timothy Ray Brown, the first person cured of HIV, died September 29 at his home in Palm Springs, surrounded by his partner and friends, after battling a recurrence of leukemia. He was 54.
More than halfway into the first general election debate Tuesday, President Donald Trump could not denounce white supremacy when explicitly asked by moderator Chris Wallace.
Facebook has reinstated a photo it initially censored of a bare-chested transgender man for allegedly violating its "community standards on nudity" after it was called out by the GLBT Historical Society.
Tom Elliott, who was recently elected chair of the board of directors for Campus Pride, told the Bay Area Reporter that one of the challenges he and the organization face is connecting queer students now that many are away from their physical campuses.
A new website documents the last five decades of Silicon Valley's LGBTQ history — and the Bay Area Reporter got a sneak peek.
Governor Gavin Newsom on Saturday signed legislation strengthening protections for LGBTQ+ Californians, including a measure to track the effects of COVID-19 on the community.
President Donald Trump announced Saturday (September 26) his nominee to replace U.S. Supreme Court Justice Ruth Bader Ginsburg and, as expected, it is a jurist LGBTQ groups are expected to vehemently oppose.
San Francisco Mayor London Breed received some pushback during a Black Trans Lives Matter event September 25 outside City Hall.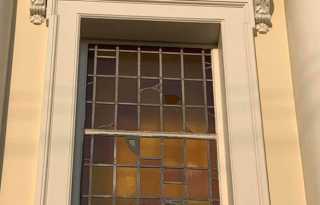 Windows, including a stained-glass one, were broken at Most Holy Redeemer Roman Catholic Church in the Castro neighborhood September 19.
The flag-draped coffin of the late Supreme Court Justice Ruth Bader Ginsburg arrived at the U.S. Capitol Friday.
With the U.S. Census Bureau planning to wrap up its efforts on the 2020 count Wednesday, September 30, San Francisco officials are making a last minute push to see that every resident of the city is counted.
District Attorney Chesa Boudin and District 5 Supervisor Dean Preston jointly announced a victim assistance program for merchants in the latter's central San Francisco district September 21.