From the first time I heard the words social distancing I felt a headache. I knew something was not right. But the words kept flowing down the river, and people kept accepting those 16 letters as the bible of reality.
The announcement was not surprising, but the decision to move AIDS 2020 to a virtual online conference is an economic and cultural disappointment for the Bay Area.
The fall calendar this year is shaping up to be an especially busy time for LGBT donors and nonprofits.
Business is getting back to usual at Bay Area cannabis stores.
Attorneys for four proponents of Prop 8 filed a motion in federal court April 1 to keep video recordings in the case of Perry v. Schwarzenegger sealed from public view.
Singapore's high court upheld the country's colonial-era anti-sodomy law March 30.
The obituary for Robert Scot Webster.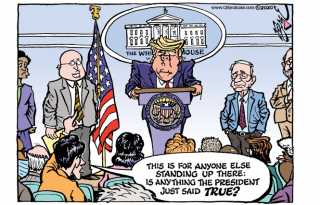 This week's editorial cartoon.
A few weeks before public health officials ordered all non-essential businesses to close due to the coronavirus outbreak, there was a march in the Castro to remember shops that were shuttered long before the pandemic.
San Francisco Supervisor Rafael Mandelman is introducing a resolution Tuesday urging the FDA to lift its ban on gay men donating blood.
Frameline, the San Francisco LGBTQ film festival usually held in June, has been postponed due to the coronavirus outbreak, Executive Director James Woolley announced Tuesday.
With Idaho's adoption of two anti-transgender bills this month, the state can now expect to see it be added to the banned travel lists kept by California and San Francisco.