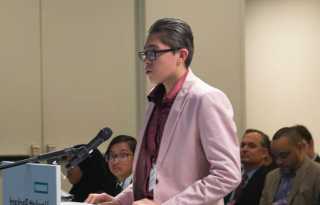 A Bay Area moot court competition of high school students this week will highlight a gay rights case out of Arizona.
The crowd was smaller than previous years because of the coronavirus pandemic, but LGBTQ community leaders and others braved the wind high up on Twin Peaks Boulevard June 27 for the 25th annual lighting of the pink triangle.
The U.S. Supreme Court on Monday ruled that a federal law requiring foreign affiliates of U.S. AIDS prevention groups to express public opposition to prostitution is constitutional.
The unofficial 50th annual commemoration of LGBT Pride in San Francisco Sunday, June 28, was a return to Pride's roots in protest, as hundreds of demonstrators citywide marched in solidarity with the Black Lives Matter movement.
Oakland police on Monday said they were investigating a June 27 incident of vandalism at the LGBTQ community center as a hate crime.
In an effort to better understand San Francisco's COVID-19 epidemic, free coronavirus testing will be available for queer and trans people of color and allies Sunday, June 28, at the Pride Is a Riot protest near Mission Dolores Park.
Former Vice President Joseph R. Biden Jr., the presumptive Democratic presidential nominee, appeared via video as part of Stonewall Day celebrations June 26.
At 7:13 p.m. Wednesday, June 24, Moraga Mayor Kymberleigh N. Korpus declared June as Pride Month in her East Bay town.
This year's Bay Area Reporter Pride cover and a look at some of our past Pride section covers.
Many years ago, a young gay man, who came regularly to the Naz Foundation (India) Trust, disappeared for several months.
Two years ago voters in Dixon, California overwhelmingly ousted from office a city councilman who had written a homophobic newspaper column in which he called for holding a "straight Pride" event.
Congratulations to LGBTQ advocates, allies, and elected leaders in San Mateo and Contra Costa counties for achieving countywide sweeps of Pride observances for the first time this June.