New study shows that HIV can remain in the fluid surrounding the brain even after a decade on antiretroviral treatment.
Viewing 1 thru 12 of 2868 Stories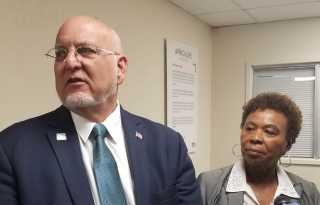 Alameda County is one of eight in California and 48 in the nation that ranks among those with the highest burden of new HIV infections.
Having grown up in the East Bay city of Fremont, Antone Sylvia spent most of his early 20s living in San Francisco. A gay man and business analyst for Wells Fargo, he dreamed of owning his own home.
Last month, the New York Times published a feature article about GLAAD, the supposed national LGBT media watchdog organization. It began, "GLAAD almost died in 2014."
Fred Lopez, who has worked for the organization that oversees San Francisco Pride for the last several years, was tapped by the board to be its interim executive director.
Mention Palm Springs to most LGBT people and they will think of it either as a winter tourist hotspot or a retirement community for gay men.
Sam Ames has now taken over as interim executive director at Our Family Coalition, and with East Bay programming on hiatus for the summer, they are working to familiarize themselves with the LGBT family agency and gear up for the fall.
Maitri Compassionate Care, a San Francisco hospice for people dying of AIDS established in 1987, this month announced its new executive director.
To better provide a "continuum of care," two San Francisco nonprofits, one 57 years old and the other 130 years old, merged last month under the name of the older and larger agency, the Felton Institute, formerly Family Service Agency of San Francisco.
Almost all gay and bisexual men in San Francisco who are at risk for HIV know about PrEP and more than one in six are using it, according to new figures from the Centers for Disease Control and Prevention.
Thousands of LGBT Israelis and their supporters took to the streets of Tel Aviv last Sunday, calling for the resignation of interim Education Minister Rafi Peretz following statements he made supporting conversion therapy.
Engravers came to the National AIDS Memorial Grove last week to install the names of people who have died of HIV/AIDS.
A new political club for polyamorous, queer, and kink Democrats is seeking to be officially chartered by local party officials next week.
Viewing 1 thru 12 of 2868 Stories