Obituaries: Ida VSW Red
Wednesday Jun 3, 2020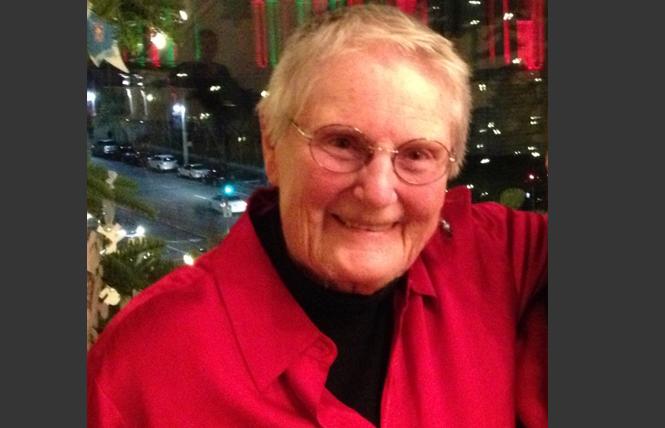 March 21, 1933 — May 11, 2020
Ida VSW Red lived a full and creative life, from March 21, 1933 to May 11, 2020.

Ida came to the Bay Area in 1976 from Virginia and she maintained close ties to her Southern roots. She discovered a love for words early — voraciously reading, acting in plays, and writing poetry. Ida earned degrees in English literature and library science and was proud of her professional work in these fields. However, her true passions were poetry and theater, helping to found both the Oak Grove Theater in Virginia and Mothertongue: A Feminist Readers' Theater in San Francisco. She shared her talents with Old Lesbians Organizing for Change, the former New Leaf: Services for Our Community, GLOE, OutLook Theater, Frameline Generations Film Workshop, numerous writing workshops, and was a recipient of the Pat Bond Fourth Biennial Memorial Old Dyke Award.

Look for her poetry at http://www.SinisterWisdom.org and read the story of her name in "The Lesbian Path" (ed. Margaret Cruikshank).

Ida will be lovingly remembered by her family and a large circle of lesbian feminist lovers and friends. Her papers and personal archives have been donated to the San Francisco History Center and James C. Hormel LGBTQIA Center at the San Francisco Public Library. A chapbook of her poetry is in progress.

Editor's note: If you liked this article, help out our freelancers and staff, and keep the B.A.R. going in these tough times. For info, visit our Indiegogo campaign. To donate, simply claim a perk!
Comments on Facebook