Online Extra: LGBT flags stolen from Openhouse
Tuesday May 12, 2020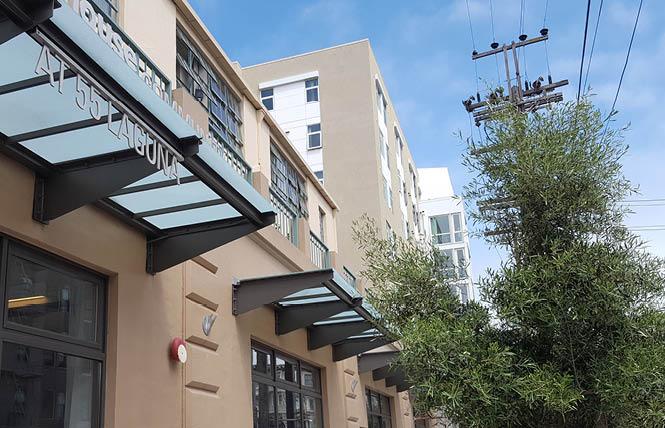 The rainbow, bi, and trans Pride flags were stolen from Openhouse's senior housing complex at 55-95 Laguna Street early May 11, according to Openhouse Executive Director Karyn Skultety.

"We have security cameras and it looks like someone came by with a rolling suitcase and pulled down the flags and the flagpoles in front of the building," Skultety said in a phone interview with the Bay Area Reporter May 12. "We have a small group of on-site staff who are going in to keep up administrative functioning, and they came in and saw the flags were missing."

The nonprofit, like most, has seen its programs move online during the shelter-in-place order to stem the coronavirus pandemic.

The San Francisco Police Department was not aware of the incident when asked by the B.A.R. May 11. As it turned out, Skultety didn't file a police report.

"It's always hard to know what's motivating someone," Skultety said. "They're suffering in one way or another. I felt like the situation wasn't going to be settled by filing a police report."

Only one flag, a second rainbow flag, was left flying at the corner of the 55 Laguna building as of Tuesday morning.

It's not unheard of for the LGBT nonprofits in the upper Market Street area to have issues with vandalism. As the B.A.R. previously reported, the letter 'L' in the signage of the San Francisco LGBT Community Center at 1800 Market Street was stolen at least three times between 2002 and 2007, and was gone for a period of two and a half years until the center replaced it in 2010.

Skultety said that Openhouse has a lot of back-up LGBT flags due to the "San Francisco wind" being hard on the fabric, but that it doesn't have any back-up flagpoles and so had to order some May 11. They are expected to arrive later this week.

"We'll keep putting up the flags every day if we have to," Skultety said. "Working with seniors reminds me there's absolutely nothing you can't get through."

Editor's note: If you liked this article, help out our freelancers and staff, and keep the B.A.R. going in these tough times. For info, visit our IndieGoGo campaign.
Comments on Facebook