With LGBTQ landmark backlog, SF looks to fund planning position
Wednesday Mar 30, 2022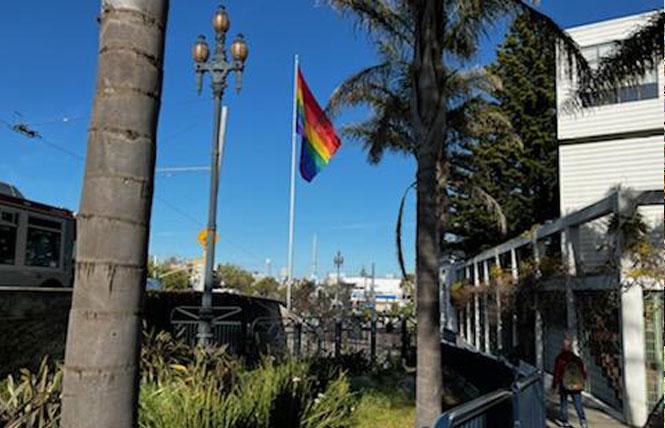 Six years ago a summer intern working with the San Francisco Planning Department's historic preservation staff had earmarked seven local properties worthy of being designated city landmarks due to their significance to LGBTQ history. The sites had been highlighted in the citywide LGBTQ historic context statement released in 2015.

Yet, to this day, not a single one has been landmarked nor are there any immediate plans to do so. The septet is among dozens of properties of historical importance for various reasons in the city waiting to be landmarked.

To help address the backlog the planning department is seeking funding in its next two fiscal year budgets, which annually begin on July 1, to hire on additional staff to work on local and federal landmark designations for LGBTQ+ and other underrepresented communities. If approved, however, it could take until 2023 to finalize the hiring for the position.

"It is more than we could have asked for. I don't think when Donna and I were writing the report we thought there would be a full-time position focusing on LGBTQ sites," said architectural historian Shayne Watson, referring to her co-author of the citywide LGBTQ report Donna Graves, a public historian based in Berkeley.

In the meantime, there isn't clear direction on which LGBTQ properties to next target for landmarking. That decision requires engaging with the public and city leaders, said Richard Sucré, deputy director in the Current Planning Division, historic preservation team lead, and Planning Information Counter manager.

"There is no simple answer to designating landmarks, since it is dependent on the site itself, its history (and our broad understanding of a site's historic significance), work with the property owner and/or community, and timing with our Historic Preservation Commission and the Board of Supervisors," Sucré, a gay man, told the Bay Area Reporter.

Last year, noted Sucré, the city designated five city landmarks, three of which were of importance to LGBTQ history. It brought the number of sites given such a designation in the past three years to 13.

Two of the LGBTQ sites — Landmark #295 the San Francisco Eagle Bar and Landmark #292 the Lyon-Martin House — were both the result of supervisors calling for them to be recognized due to the properties being put up for sale. It forced city planners to work on the landmark requests, as they were required to meet a three-month timeline to complete the process.

"On our end, what we run into fairly consistently is having the staff and resources," said Sucré. "We don't have enough staff to process the amount of landmarks. We do have to prioritize things introduced by the board because of the timeline."

So far it does not appear any such supervisorial landmark requests for LGBTQ properties will be forthcoming this year. As for which sites move forward in the future to be landmarked, they must be in support of the Historic Preservation Commission's policy adopted in 2020 that centered the city's preservation planning on racial and social equity.

"Any work that we conduct on our landmark designation work program should be in support of the HPC's resolution. Good news, the HPC has made clear that sites associated with LGBTQ history are in support of the race and social resolution," explained Sucré.

With there only being eight San Francisco sites with ties to LGBTQ history designated as city landmarks, Sucré said there is a commitment within the planning department to see the list grow.

"LGBTQ history is noticeably underrepresented in the course of our landmarks," he said. "We are very mindful of that. We want to get more landmarks that represent our history appropriately."

Andrew Shaffer, a gay man who is interim co-executive director of the GLBT Historical Society, told the B.A.R. it was "great" to hear the planning department is prioritizing LGBTQ landmarks among its historic preservation work and budgetary ask.

"I know the city has been very short staffed generally right now. It is hard to get dedicated staffing for a lot of these projects, so it is exciting they are requesting it," said Shaffer, stressing he was speaking on his own behalf. "I am excited they are hopefully going to be hiring for that position. I think a lot of landmarks need to be recognized."

The society's own historic places working group has not been "terribly active," said Shaffer, though the nonprofit did just unveil a new virtual tour of the Lyon-Martin House designed by CyArk, a Bay Area nonprofit that pioneered the application of 3-D recording technologies to the preservation and celebration of cultural heritage.

Late lesbian pioneers Phyllis Lyon and Del Martin lived at the Noe Valley home for decades and held social events there with the Daughters of Bilitis, the early lesbian group they co-founded. Following Lyon's death in 2020 (Martin died in 2008), the Friends of Lyon-Martin House worked with gay District 8 Supervisor Rafael Mandelman to landmark the property after it was sold in 2020.

"I think why some places have gotten landmarked is they are in that crisis mode where it is being sold or about to be demolished," said Shaffer, noting that the historical society currently does not have a staff member who can work on the lengthy documentation required to landmark a building or site. "We don't have the capacity to do landmarking. It is a huge amount of work."

Castro flagpole eyed for landmarking
Watson, a lesbian who co-chairs the friends group for the Lyon-Martin House, has been hired by the Gilbert Baker Foundation to research the history of the late gay artist's flagpole installation at Harvey Milk Plaza in the LGBTQ Castro district. It flies a super-sized version of the rainbow flag that he created based on an earlier version he had designed in collaboration with his friends Lynn Segerblom, who now lives in southern California, and James McNamara, who died of AIDS in 1999.

It is the first step toward possibly landmarking the flagpole, which was dedicated on November 7, 1997. Not part of Watson's research is the plaza itself, which is being eyed for a revamp that would better honor its namesake, the city's first gay supervisor, but is opposed by the gay man who designed the entrance for the Castro Muni station and others.

The flagpole, noted Watson, was Baker's "only permanent installation." She expects to have her report completed later this year or in early 2023. As of now, no paperwork officially requesting that the city landmark the flagpole has been submitted.

The foundation created to maintain Baker's legacy has made no secret of its desire to see the flagpole become a city landmark. In an email sent out in early March it noted that one of its "major goals" in 2022 was "landmarking the Gilbert Baker flag and flagpole at San Francisco's Harvey Milk Plaza so that this amazing symbol flies freely, 24 hours a day, 365 days a year in the heart of the city where it was created."

Mandelman has said he is open to looking at possibly landmarking the flagpole. In a recent interview he told the B.A.R. that he has no immediate plans to sponsor such a landmark request, nor is he looking at landmarking Harvey Milk Plaza, which a city report found has some historically significant aspects to it that should be maintained in any remodel of the parklet.

"There could be an independent outside nomination, that is what my understanding is, or it could be me and my office," said Mandelman of the flagpole. "I am happy to talk to Shayne about who it makes sense to do that."

While most landmark requests are made for sites that are at least 50 years old, Sucré told the B.A.R. there can be exceptions made to landmark properties sooner.

"We try to align as best we can with state and federal guidelines that typically say 50 years. However, a number of times a property has been deemed as having exceptional significance," he said. "We might landmark it when it is younger than that, but you have to do more analysis to prove the point."

Mandelman told the B.A.R. he has not been asked to seek landmarking for any LGBTQ sites this year. He did express his support for the planning department's budget request to have a staffer working on such landmarks.

"As there is more pressure to develop housing, it is important to identify properties that do have historic value and need to be preserved in some form," he said.

The topic is likely to come up when the supervisors hold a hearing this year on the city's plan to preserve its LGBTQ cultural heritage. Since San Francisco's groundbreaking LGBTQ+ Cultural Heritage Strategy was first released in draft form in 2018, Mandelman has told the B.A.R. he would request a hearing on it.

But the COVID-19 pandemic pushed back his doing so. When the supervisors next meet April 5 Mandelman will formally request a hearing on the strategic plan, likely to take place sometime in May.

Help keep the Bay Area Reporter going in these tough times. To support local, independent, LGBTQ journalism, consider becoming a BAR member.