News Briefs: Incoming EQCA ED names leadership team
Wednesday Oct 13, 2021
The incoming executive director of Equality California, the statewide LGBTQ rights group, recently announced his new leadership team.

Tony Hoang, who will take the reins of the organization October 16, according to a news release, stated that several members of the team are longtime staffers who have been promoted from their current positions. Others will continue in their roles. The boards of EQCA and the EQCA Institute announced in April that Hoang would succeed Executive Director Rick Chavez Zbur, who is leaving to run for an open state Assembly seat in Southern California. Hoang will be the first Asian American executive director and the third out gay man of color to lead the organization.

"I'm honored to step into the executive director role with such an extraordinarily experienced, committed, and diverse team," Hoang stated. "We look forward to continuing more than two decades of impact. Seizing this opportunity and responsibility to create a world that is healthy, just, and fully equal for all LGBTQ+ people."

EQCA communications director Samuel Garrett-Pate has been promoted to managing director of external affairs. In this role, he will oversee the organization's strategic communications and media relations, state and federal legislative advocacy, political affairs, and impact litigation. He will continue to serve as EQCA's primary spokesman.

Program director Robbie Rodriguez has been promoted to managing director of operations. Rodriguez will oversee and help to support EQCA's programmatic and development work. Additionally, Rodriguez will help manage board relations and oversee Silver State Equality's work in Nevada. (EQCA helped launch the affiliated agency in 2019.)

Associate program director Erin Arendse has been promoted to program director. She will lead EQCA's programs aimed at reducing disparities in LGBTQ+ health and well-being, empowering queer leaders and increasing civic participation within the LGBTQ+ community.

Stacy Triolo of Evergreen Alliance CPA will serve as interim director of finance and administration while EQCA searches for a permanent director.

Other members of the leadership team are: Tami A. Martin, legislative director; Sarah Morrow An, development director; Valerie Ploumpis, national policy director; André C. Wade, Nevada state director; and Alice Kessler, senior legislative aide.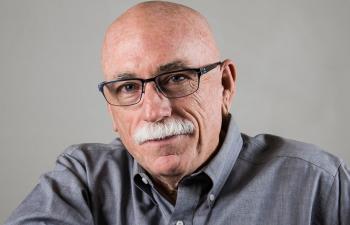 SF to be well represented at Palm Springs Pride
San Francisco fixtures will be featured at next month's Greater Palm Springs Pride festivities.

This year's Palm Springs Pride parade will be an in-person event Sunday, November 7, stepping off on North Canyon Drive, East and E. Tachevah Drive at 10 a.m. The parade, which is free, will celebrate Streetbar, the first gay bar in the desert city and the longest-running LGBTQ bar in the Coachella Valley, as community grand marshal, according to an October 5 news release.

Pride officials announced October 11 that a surprise parade entry is the executive board of San Francisco's Dykes on Bikes Women's Motorcycle Contingent, whose members will roll into Palm Springs for the first time in the group's 45-year history, a release stated.

Longtime San Francisco leatherman and former Bay Area Reporter leather columnist Race Bannon will also be among the honorees.

Bannon, a gay man, will receive a Lifetime Achievement Award. A leather culture legend, Bannon has elevated awareness of the leather community's contributions toward LGBTQ liberation for nearly 50 years, a recent release stated. As a writer and activist, he has ensured the broader progressive community discourse includes leather, kink, and BDSM.

"When Greater Palm Springs Pride contacted me about the honor, I was both surprised and incredibly grateful. I consider Palm Springs a second home," Bannon wrote in an email to the B.A.R. "So, for their Pride organization to bestow this award felt especially good. But more importantly, that the Pride organization for one of the world's great LGBTQ destinations saw fit to give the award to someone who has worked primarily within the leather and kink realm I consider a clear statement that leather and kink people are an integral part of the overall LGBTQ community. That makes me happy."

There are five other Pride honorees. The first is Chef Betty C. Berrysmith, who is the recipient of the Stonewall Volunteer of the Year Award. A founding member of L-Fund and board member since 2013, Berrysmith offers her culinary skill and talent to raise funds for lesbians in need.

Nancy Worthington will also receive a Lifetime Achievement Award. She is an artist and feminist whose art has been a social commentary of life for 45 years. She has covered many different topics, including police brutality, the environment, human rights, and politics.

This year's Friend of Pride is Keisha D., a champion for the LGBTQ community, humanitarian, singer-activist, and advocate for performing arts in education.

Former San Francisco resident Jim Hollenbeck will receive the Spirit of Pride Award. His first Pride experience was in San Francisco decades ago, where he ran a public relations firm. He's lived in Palm Springs for about the last decade, he wrote in a Facebook message.

Finally, The Spirit of Stonewall Community Service Award will go to socially-minded business owner Cliff Young. The release stated that Young supports urban revitalization projects, mentoring, and work training programs for at-risk youth. Through his coffee company, Young established the Warming Souls program, where he offers laundry services to local unhoused people and provides them with new socks and personal hygiene kits.

Palm Springs Pride officials praised the awardees.

"Learning of the honorees and of the many ways that they give back is inspiring," stated Ron deHarte, president of Palm Springs Pride. "As in years past, the honorees are not people who seek attention or accolades for what they do. They quietly serve, and we are grateful for the profound impact they have had and continue to have in our community."

Pride week will take place November 1-7. For more information, go to https://apps.pspride.org/

TLC virtual benefit
The Oakland-based Transgender Law Center will hold its annual Spark fundraiser Thursday, October 14, from 5 to 8 p.m. The virtual benefit is free and open to all, though donations will be accepted.

The co-hosts for the evening will be Joshua Allen and Basit Shittu. Allen is a 25-year-old writer, artist, model, and activist from Brooklyn, New York. They founded the Black Excellence Collective, an organizing hub for Black LGBTQI+ young people. Currently, Allen serves as an activist in residence at the New York LGBT Center.

Shittu is a nonbinary Black Nigerian American performance artist, singer-songwriter, musician, and actor. Shittu is a co-founder of Legacy, a production company focused on providing resources to artists systemically excluded from — and exploited by — media and the arts, according to the event page.

The evening's official playlist will be curated by queer transmasculine nonbinary Oakland-based DJ Chico Chi.

People watching from home can make their own special cocktails or mocktails, such as Marsha's Smile and Beloved Home. Recipes are on the online event page, along with registration, here.

LGBTQ seniors conference
Avenidas, which operates enrichment programs for seniors on the Peninsula, will have a free online conference aimed at LGBTQ older adults Saturday, October 16.

Presented by Avenidas' rainbow collective LGBTQ seniors initiative, this second annual conference and celebration takes place from 9 a.m. to noon. It will feature a keynote address on sexuality and aging, workshops, and panel discussions.

To sign up, click here.


Help keep the Bay Area Reporter going in these tough times. To support local, independent, LGBTQ journalism, consider becoming a BAR member.