City agencies rally to support beleaguered Tenderloin
Wednesday Jan 26, 2022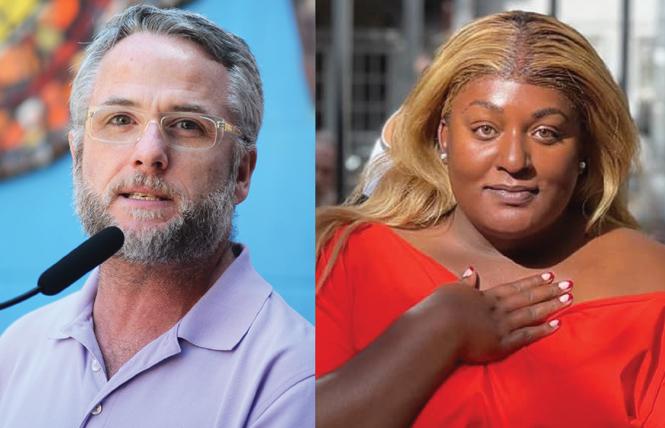 Brian Basinger, a gay man who serves as the executive director of the Q Foundation, wants readers to know that his neighborhood — the Tenderloin — is the real heart of queer San Francisco.

"The Castro's a fad. Polk is a fad," Basinger boldly declared in an interview with the Bay Area Reporter. "We've been a queer community in the Tenderloin for over 100 years. ... People don't understand just how endemic LGBTQ people are to the Tenderloin, because so much of the other things going on eclipse that, and also how many cool LGBTQ folks and interesting LGBTQ folks are here. I've been such a booster for the Tenderloin for such a long time, because it's lovely."

Indeed the Tenderloin — nestled between Union Square to the east and Civic Center on the west, and Market Street to the south and the slope of Nob Hill on the north — has long been one of the most diverse communities in the United States, which led to a tolerance for LGBTQ people before they could be visible elsewhere. In 1966, three years before the Stonewall riots in New York City launched the modern LGBTQ liberation movement, a riot at the Compton's Cafeteria at Turk and Taylor streets was one of the first queer uprisings against police harassment and violence in American history.

The Transgender District, the world's first cultural district of its kind, has been anchored in the Tenderloin since 2017. Aria Sa'id, a trans woman who is the co-founder and executive director of the district, is also a Tenderloin resident.

"We are the most diverse neighborhood in San Francisco, and a lot of people forget we are the densest population-wise," Sa'id told the B.A.R. "There are more children under 18 than any other neighborhood in San Francisco."

But both Basinger and Sa'id have noticed that although the neighborhood has always had a tough reputation, things have changed for the worse lately.

"People say, 'the Tenderloin has always been this way,'" Sa'id said. "I say, 'it hasn't always been this bad.' ... We love to complain about poop on the street, drug-induced psychosis episodes on the street, and even though this is a mecca for tech where people can create self-driving cars, we can't figure out homelessness, which is really sad."

Conditions on the street have been "feeling a lot more sinister" since the onset of the COVID-19 pandemic two years ago, Basinger said. In the last year, Basinger said his apartment complex was broken into 24 times.

"Someone was shot underneath my window," Basinger said. "We can't get a night's sleep."

Basinger said he's walked past at least two dead bodies in recent months. And so when Mayor London Breed declared in the waning days of 2021 that she was going to get "more aggressive" with "all the bullshit that has destroyed our city" — and followed that up with a declaration of a state of emergency in the Tenderloin — she found support with Basinger and Sa'id.

"I'm 100% supportive of the mayor in this," Basinger said. "It's gotten out of hand and something needed to happen, because I was falling out of love with the Tenderloin."

Sa'id said that representatives of other neighborhoods have spent decades pushing the effects of homelessness and the drug war into the Tenderloin, yet "there've never been more shootouts and violence on the street" in the 15 years she's lived there off and on.

Much of the controversy over the emergency declaration came from Breed's tough-on-crime posturing, which progressives such as District 9 Supervisor Hillary Ronen said was too reminiscent of rhetoric from the 1980s and 1990s, when even Democrats such as then-President Bill Clinton and then-Senator Joe Biden were bullish on police funding and mass incarceration.

During the 10-hour supervisors' meeting that ratified the emergency declaration December 24, for example, Ronen said that "what [Breed] has expressed to the public is a doubling-down on a century-old failed drug war."

"Truth be told, I want to vote in favor of this health emergency," Ronen said. "Because of the way that this has been described in the media, I don't have faith that we're talking about the same thing."

However, Ronen did end up voting in favor of the emergency declaration (only supervisors Dean Preston and Shamann Walton voted against) once it became clear to her that Breed's law enforcement interventions were separate.

Sa'id has similar concerns.

"I don't support the over-extension of law enforcement," Sa'id said. "I know Mayor Breed said a lot of things, but the bulk of what we've seen from the Board of Supervisors side is the participation of all kinds of city departments to help our neighborhood."

Linkage center opens its doors
One of the most oft-repeated arguments in favor of the emergency declaration was that it would allow the city to expedite the opening of a linkage center that would connect people living on the street with needed services.

Mary Ellen Carroll, the head of the city's Department of Emergency Management, told the Board of Supervisors December 23 that the linkage center would take nine months without emergency powers, and only three weeks with them.

Carroll wasn't kidding — she presided over the opening of the linkage center January 18.

Located at 1172 Market Street near United Nations Plaza, the center will initially operate 8 a.m. to 8 p.m. daily before moving to a 24/7 model. Due to the COVID-19 surge caused by the Omicron variant, there are limits on staffing capacity, but DEM officials state that eventually there will be enough staff to serve 100 people at a time.

Carroll spoke to the B.A.R. the day the center opened, saying that it will be home to "all kinds of services — access to housing, shelter, behavioral health services, Project Homeless Connect is here. You can get a dentist, clothing. HealthRIGHT 360 is here. There's an area to talk about harm reduction and also for people who are really trying to get off drugs."

Carroll stressed the non-judgmental nature of the center.

"This is a very safe, very low barrier place where everyone is welcome to come as they are," she said. "We're going to have showers here, we have laundry. We're serving two meals a day."

The center will provide testing and vaccination for COVID-19, as well as testing for hepatitis C and HIV.

Carroll said that the linkage center is "not a shelter," but that when people come "we should be able to find them a place to stay."

The Department of Public Health is in the process of hiring hundreds of behavioral health workers, Carroll said.

"My understanding is they already hired 50," she said.

The health department told the B.A.R. it plans to make 200 hires by March 30.

"Approximately 90 of the 200 positions being hired are candidates for the expedited process under the Order. The remainder will be filled through the normal hiring process," a DPH spokesperson stated in an email. "The list of positions targeted for expedited hiring include: psychiatric physician specialists; behavioral health clinicians; health program coordinators; pharmacists; epidemiologists; [and] program managers and analysts."

DPH subsequently stated that 84 of the 200 positions have been hired as of January 25.

Even with the extraordinary powers granted city agencies by the emergency declaration, Carroll said opening the linkage center so quickly was a Herculean effort.

When asked how it was done so quickly, Carroll told the B.A.R. "because we're really, really good."

"We've worked every day, 12 hours a day, since before the holidays," Carroll said. "We didn't have holidays. The emergency was declared and we responded."

Vitka Eisen, a lesbian who is the CEO of HealthRIGHT 360, stated that Breed "has recognized the overdose crisis we are facing as a city" and "we are committed to doing everything we can to help stem the tide and tragedy of these deaths, and connect people to care, with love and compassion."

Jeff Cretan, Breed's communications director, said that the linkage center idea was based on advice from people on the ground.

"Back in November, the mayor asked the Department of Emergency Management to develop a COVID-level plan for the Tenderloin," Cretan told the B.A.R. "So DEM staff did a lot of work: they went into the community, talked with people, and came up with plans. One of the first things they identified was they needed a place to go, a safe place, for people to go to get connected to services in the community. So early on, we decided we needed something like that."

District 6 Supervisor Matt Haney, a straight ally who is also running for state Assembly in the February 15 special election and lives in the Tenderloin, said that the linkage center will help the city respond to the drug epidemic.

"A drop-in center where people can get off the streets and immediately linked to services, placements and care, without delay or bureaucracy is something we desperately need," Haney stated in a news release. "The city is facing a deadly, devastating drug epidemic, and we must do everything we can to save lives and provide relief and healing to a part of the city that has been so heavily impacted. The Tenderloin Linkage Center will absolutely support us in doing that."

(The other candidates in the race, gay former supervisor David Campos, and straight allies Bilal Mahmood and Thea Selby also support the linkage center.)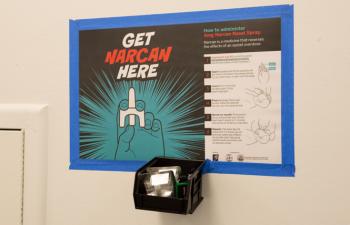 Declaration was about health issues
Cretan was careful, too, to make a distinction between increased law enforcement activities in the Tenderloin and the initiatives being covered by the emergency declaration.

"You have the declaration of emergency — the actual policy the board was considering. That was the policy the board had to approve. It was all about health, expediting the linkage center. That is what they were voting on," Cretan said. "There's also a component about enforcing the laws in the Tenderloin, too, not as part of the declaration."

Cretan sent out a news release at the time the linkage center was opened touting that from December 13 to January 17, joint operations from both city and non-city staff had placed 114 people living on the streets into shelter including hotels, congregate, Navigation Centers, and emergency shelter; referred or transported 378 people from the Tenderloin to treatment; repaired, assessed, or hardened 26 street lights in the neighborhood; and responded to 2,373 requests for service in the Tenderloin, including removing 1,147 tons of waste and power washing 758 locations.

Police also made 52 arrests for drug-dealing related offenses in the Tenderloin, and seized 5,267 grams of fentanyl — the high-risk synthetic opiate that is responsible for a large portion of the city's overdoses in the past several years.

Cretan said that the city has to "have police there to enforce basic laws because people are scared to leave their homes" and "law enforcement is a necessary part of a solution in the Tenderloin."

The San Francisco Police Department has not responded to multiple B.A.R. requests to interview Chris Canning, captain of the Tenderloin's police station, to ask more details about law enforcement interventions.

Matt Dorsey, the director of strategic communications for the SFPD, stated in a December email to the news media generally, however, that across all shifts there are 30-40 on-duty police officers in the Tenderloin and Mid-Market neighborhoods.

The release touting initial successes in the state of emergency got a skeptical response from the San Francisco Standard — which reported that the numbers of 311 calls for service that were addressed, drug dealing-related arrests, and clients taken to the hospital by the street crisis response team were all at highs in 2021 before the emergency declaration.

Cretan responded to this by telling the B.A.R. that "the first step is to say what we're doing so we can communicate to the public, so that we can hold ourselves to account and so the public knows what's going on there."

Drawing a parallel with the COVID-19 state of emergency that Breed declared in February 2020 before there was a diagnosed COVID case in the city, Cretan said, "The fact that the city opened a linkage center in three to four weeks — with COVID I don't know if we had testing up that fast. It's moved faster than bureaucracy ever does."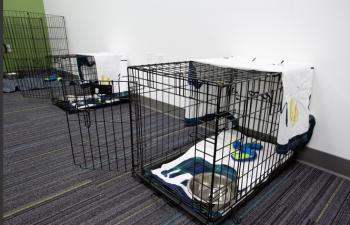 Overdose deaths declined slightly
The B.A.R. pushed back on another news release from Cretan that announced that drug overdose deaths in 2021 had declined 7% from 2020's numbers (there were 700 recorded in 2020 compared with 650 in 2021).

"As we continue to implement Mental Health SF and invest in critical services like our Street Overdose Response Team, we must look ahead and build on the progress we have," Breed said in the release. "We know that every overdose death is preventable, and we know that we still have a long way to go, but we must act aggressively to ensure that every resident receives the support and services they so desperately need."

The B.A.R. asked if the decline can really be attributed to Breed or city policy.

"The decline can be attributed to a number of causes," Cretan said. "We're still at a crisis level. The levels are way too high. The reason levels are the way they are beyond any one single thing. In 2020, we lost a lot of city services. Those came back, but fentanyl is on a different level, so it's hard to state how much worse it could be without those interventions, but I have to see the numbers as at least flattening out instead of going up."

The SFPD, in the aforementioned email to the media, stated that in 2020 Tenderloin police seized 5.449 kilos of fentanyl.

"Through the first 51 weeks of 2021 (through December 19), Tenderloin police officers' seizures of fentanyl in just one neighborhood has surpassed last year by more than four-fold — with a year-to-date haul that exceeds 24.5 kilos through December 19, 2021," the email stated.



Trans businesses needed
Sa'id told the B.A.R. that she wants to see the Tenderloin become a hub for trans-led businesses, but that landlords are still assuming that tech workers who fled during the COVID pandemic lockdown are going to return.

"I'm saying, 'girl, they're moving to Austin,'" Sa'id said, referring to a number of tech workers who have decamped to the Texas city.

Basinger said that sometimes he feels like a heretic for challenging policies he views as responsible for the Tenderloin's current conditions.

"It just seems like too many people are projecting their hopes, dreams, and aspirations into a set of policies that they think will save the world, but what they are doing is condemning the tens of thousands of people in the Tenderloin to a life that is increasingly difficult and toxic," Basinger said. "They don't live here."

Sa'id said that for better or for worse, San Francisco residents in general and Tenderloin residents in particular have gotten used to conditions that maybe they shouldn't have. She recalled a common refrain from her grandmother, "When you sit in shit so long, it stops smelling."

"That's especially true in politics. We've put these problems under the rug," Sa'id said. "People want to know why there's poop on the street? There's nowhere to go to the bathroom. I think it's important for San Franciscans to remember that the societal issues we're experiencing are very bizarre for many cities."


Help keep the Bay Area Reporter going in these tough times. To support local, independent, LGBTQ journalism, consider becoming a BAR member.