Facebook's name policy ends up in wrong name for awardee
Wednesday Jul 7, 2021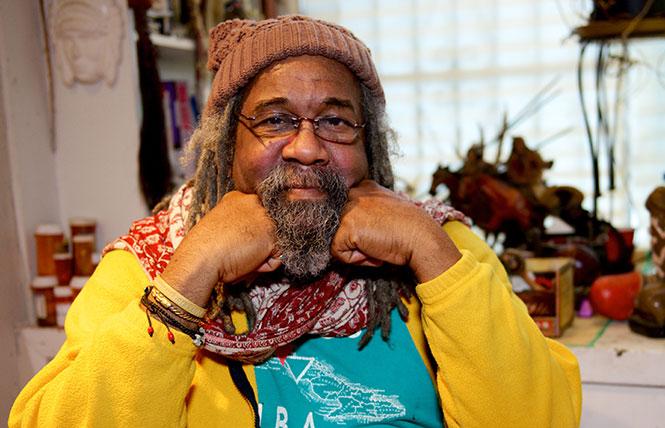 Facebook's decision several years ago that people must use their first and last names on the popular social media site had negative consequences for a queer African American Bay Area man who recently received an award with his incorrect name.

Blackberri, a well known singer-songwriter who uses one name, was initially thrilled when he learned that he had won Man of the Year Award from The Barony, a 501(c)(3) nonprofit based in the East Bay that raises funds for charities within Alameda, Contra Costa, and Santa Clara counties. But Blackberri's excitement turned to disappointment when he saw that the award was made out to "Blackberri Singer," the name he has been forced to use on Facebook.

"Blackberri Singer is not my name," Blackberri told the Bay Area Reporter. "I had to choose it because Facebook didn't let me use one name."

Blackberri, 76, added that he had attended a meeting at the San Francisco LGBT Community Center in 2014 when Facebook addressed its real names policy. At the time Facebook was forcing drag performers to use the names on their government-issued IDs, and not the names they perform under and are known by. There had been some concern that this policy was discriminatory toward the trans community, as the policy could force trans people to use their birth names on Facebook, even though such names might be at odds with their gender identity. There had also been reports that battered women and sexual assault survivors were being forced to use their legal names on the social networking site, which might open them up to additional attacks.

In 2015, Sister Roma of the Sisters of Perpetual Indulgence and others met with Facebook officials to discuss the issue. Facebook promised that they would make it easier for users to provide the company with more information about themselves so that the names they are commonly known by could be used on their profiles.

But some have fallen through the cracks, as Blackberri did. Singer was chosen as his last name on his Facebook profile because it is what he does for a living.

"I took my passport, my credit card, and everything," Blackberri said. "They have one name on them. So they realized that I had one name, and they said they would drop 'Singer' and just let me use the one name, but they never did."

Blackberri noted that he has been unable to contact anyone at Facebook more recently.

"You can't contact anybody there," he said, adding that it upset him to receive an award with the wrong name on it.

"All my other awards have just one name on them," he said. "Because that's my name. I changed it about 50 years ago because I just wanted one name. My fan page has one name. I don't understand why they can't drop the Singer from the other page that I use more."

He noted that music of his has been archived at the Smithsonian.

"I have music in Marlon Riggs' film 'Tongues Untied,'" he said. "I have music in Peter Adair's film 'Word is Out,' in the film 'Looking for Langston.' I'm very well known."

Blackberri is pleased that The Barony is going to correct the name on his award. Drag performer Viva Commotion, also known as Monolito Wilson, serves as the chairperson of The Barony, and is also queen mother to the Barony court. Commotion told the B.A.R. that Blackberri has been an inspiration to them and explained in greater detail what Blackberri won his award for. Commotion said they took Blackberri's name from the Facebook page that contained the "singer" name.

"The event was our second annual Black Excellence Awards Gala," Commotion said. "A creative reminder of the success both historically and recently within the African American community. The event is a catalyst to encourage the community to continue to reach for the stars. We celebrate and honor the advancements and achievements of local POC community leaders."

Commotion said that they found out about the error when Blackberri posted a notice on his Facebook page that he had won an award, but that the name on the award was wrong. Commotion responded to the notice and told him that his certificate would be redone.

"Facebook is a billion dollar corporation," Commotion said. "If they won't change the name they must have guidelines and should explain those guidelines clearly. Many of us are identified by our professional monikers and choose to keep our true identities for those we want to connect with."

Commotion added that they wanted to apologize for any confusion that the mix-up may have caused.

"I have changed the name and will be contacting Blackberri to pick up his new certificate at his convenience," Commotion said.

For his part, Blackberri is still hopeful that he will be able to correct the name on his Facebook page.

"It's so overdue," he said.

Facebook reps Justin Osofsky and Devon Kearns did not respond to the B.A.R.'s request for a comment.

Help keep the Bay Area Reporter going in these tough times. To support local, independent, LGBTQ journalism, consider becoming a BAR member.