News Briefs: Queen tribute band returns to San Mateo fair
Wednesday May 26, 2021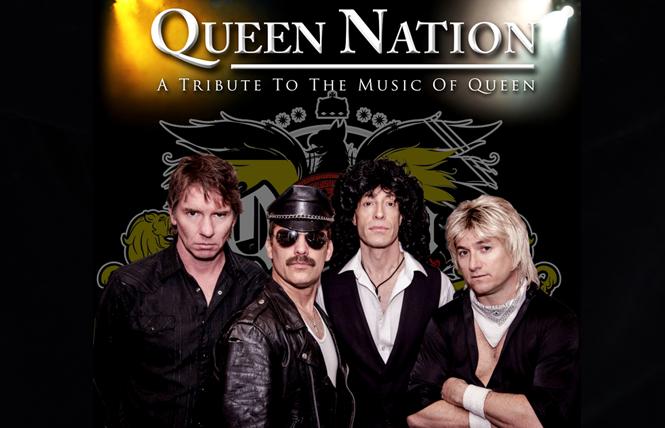 A Queen tribute band will return to this year's in-person San Mateo County Fair and headline Family Pride Day Sunday, June 6.

Queen Nation previously performed at the fair in 2019. Last year the fair was canceled due to the COVID pandemic.

Fair officials stated in a news release that the Pride day, which is in conjunction with Pride Month, is committed to celebrating the LGBTQIA community, allies, and family members. Pride flags will be displayed throughout the fairgrounds in San Mateo. Queer and allied entertainers will perform on the community stage and panels from the AIDS Memorial Quilt will be on display, officials noted.

Queen Nation's show on the main outdoor stage takes place at 7:30 p.m. All concerts are free with a general admission ticket and will include social distancing.

"We are so excited that the San Mateo County Fair is in-person this year and that means celebrating with music for all ages," stated Dana Stoehr, CEO of the San Mateo Event Center. "While the fair needs to be a little different this year and we must take all the proper precautions to ensure safety of fairgoers, we are certain that it will be the go-to event for the Peninsula in June."

Grammy Award-winning musician Coolio, Young MC, and C+C Music Factory will kick off the fair's concert series Saturday, June 5.

The fair runs June 5-13, though it will not be open Monday, June 7, and Tuesday, June 8. The other days will have limited capacity; and timed entry tickets will be sold online. People will be required to wear masks. Those purchasing tickets with an 11 a.m. time can stay all day and enjoy the concerts, according to the fair's website. Fair hours are 11 a.m. to 10 p.m. General admission is $15 for adults, and $10 for seniors and children ages 6-12. Kids under 6 are free.

The fair is located at 2495 South Delaware Street in San Mateo. For more information, click here.

GLBT Historical Society surveys community
The GLBT Historical Society is conducting an online survey to gather information from members and others who are interested in the organization. One of the purposes of the survey, the society stated in an email, is to help it understand people's thoughts and opinions about the nonprofit. After completing the survey, participants will receive a coupon code for 20% off membership at the GLBT Historical Society. Take the short, three-minute survey. The survey will close Wednesday, June 2.

'Drag Race' winner in State Dept. talk
Sasha Velour, a trailblazer and former Fulbright student who won season nine of "RuPaul's Drag Race," will be featured in a virtual talk the State Department program is holding Thursday, June 3, at 3 p.m. Pacific Time.

Velour was a 2009 Fulbright U.S. student to Russia, according to a news release. The talk is being done in conjunction with the 75th anniversary this year of the U.S. flagship international student exchange program

Velour now has entertained audiences on five continents with their solo theatrical work. A gender-fluid drag artist, they now produce television shows.

Also on the program will be Christian Flores, a 2019 Fulbright English teaching assistant to Brazil. While on his Fulbright, he inaugurated Projeto Memória LGBT — Bagé, a public history project designed to highlight and celebrate queer voices and experiences at the Federal University of Pampa in Bagé, a small, conservative city in Brazil's southern countryside.

The event is free, but space is limited. To register, click here.

Help keep the Bay Area Reporter going in these tough times. To support local, independent, LGBTQ journalism, consider becoming a BAR member.