News Briefs: San Diego Queer Youth Chorus to stream concert
Wednesday Mar 17, 2021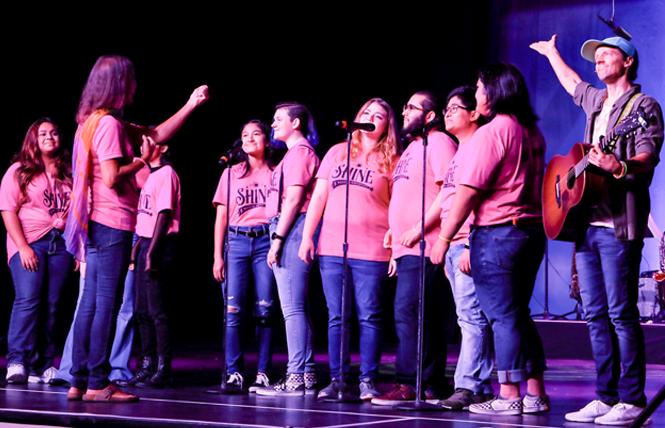 The San Diego Queer Youth Chorus will livestream a new concert Sunday, March 21, at 2 p.m. (Pacific Time).

"Fresh and Original" will include original songs and spoken word pieces written and created by members of the chorus, a news release stated. Working with artistic director Lindsey Deaton, songwriting coach Abby Dorsey, accompanist Gina Seashore, and playwright-rapper Miki Vale, members have written more than nine pieces for the event. Drawing from their experiences amid the pandemic, chorus members have been meeting weekly since last fall to create this unique concert experience, the release stated.

The San Diego Queer Youth Chorus is the only chorus of its kind in the state and is made up of LGBTQIA2+ and allied middle and high school students, according to the release. It receives support from the Jason Mraz Foundation, San Diego Pride, and the San Diego Women's Chorus. Deaton is the founding artistic director of the Trans Chorus of Los Angeles and the Diverse City Youth Chorus in Cincinnati.

The event is free. To register, go to https://rb.gy/wiga3q

Castro LGBTQ district to hold 1st town hall
The Castro LGBTQ Cultural District will hold its inaugural town hall Saturday, March 20, from 2 to 3:30 p.m. The virtual event is open to all.

The meeting will be hosted by the cultural district's manager, Tina Valentin Aguirre, and advisory board co-chairs Elizabeth Lanyon and Carnell Freeman.

The meeting will give attendees the opportunity to meet all of the advisory board members: Steven Bracco, César Cadabes, Ms. Billie Cooper, Corey Fusco, Mahsa Hakimi, Levi Maxwell, Sacred Mitchell, Tahirah "T-Fresh" Rasheed, Jesse Oliver Sanford, A. Sparks, Stephen Torres, and Christopher Vasquez.

"I'm excited that our advisory board members provide very important lived experiences and skills to our community-building and organizing efforts," Aguirre stated.

They added that the district is focused on revitalization, land use, cultural preservation, and inclusion.

Gay District 8 Supervisor Rafael Mandelman and Julia Sabory from the Mayor's Office of Housing and Community Development will present background information on why the cultural district was created and how it is supported by the city. Gay state Senator Scott Wiener (D-San Francisco) will share how his office is committed to this work at the state level.

There will be a question and answer session for members of the public.

To access the meeting, go to the district's Twitch channel at https://www.twitch.tv/castrolgbtq or its Facebook page.

New recovery program for young people
A new virtual recovery program has started that is LGBTQ-friendly and geared toward young people.

Rainbow Recovery is part of Young People in Recovery, a national peer-led organization that focuses on youth and young adults in recovery from substance use disorder.

Rainbow Recovery is an All-Recovery program, meaning it supports people following multiple recovery pathways such as medication-assisted treatment, harm reduction, 12-step, faith-based, and others.

Amanda Lunsford, chapter lead in Santa Barbara, and Nikos Pecoraro, the San Francisco chapter lead, started Rainbow Recovery. In an email, Lunsford stated that she identifies as LGBTQ.

"I am in recovery myself and noticed a lack of support specifically for LGBTQ folks and a lack of awareness and inclusion," she wrote. "The queer community is disproportionately affected by substance use and so I wanted to create a safe space for us to recover and come together for support."

The online meetings take place every Friday at 6 p.m. (Pacific Time).
For more information, contact amanda.lunsford@youngpeopleinrecovery.org or 805-280-5903 or nikos.pecoraro@youngpeopleinrecovery.org

For more information on Young People in Recovery, go to www.youngpeopleinrecovery.org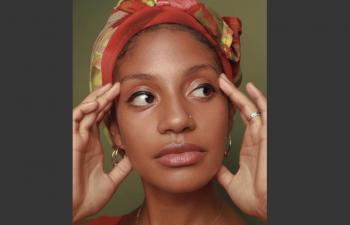 AIDS grove announces 1st arts award
The National AIDS Memorial Grove in San Francisco has announced Isabel Fatima (Ima) Diawara of Los Angeles as the first recipient of the Mary Bowman Arts in Activism Award. The newly created and inspiring program offers support to artist-activists who are working and committed to making a difference in the fight against HIV/AIDS.

"We are honored that Ima has been chosen as the first recipient of this award," John Cunningham, executive director of the AIDS grove, stated in a news release. "Her passion and work exemplifies the same pioneering spirit of Mary Bowman that uses art and activism to raise greater awareness about bigotry, stigma and social justice, particularly around the issue of HIV/AIDS."

An Afro-Latinx multimedia visual artist and performer, Diawara's creativity explores truth through poeticism, movement, and narrative. She was selected for the award for her past creative works focused on uplifting marginalized groups such as Black & Indigenous people, LGBTQ people, and other oppressed communities. She is using the grant to originate and develop content that focuses on centralizing HIV-positive characters in a dignified, holistic fashion — navigating issues from positive HIV status to substance usage and mental health.

While the award was announced March 10 to coincide with National Women and Girls HIV/AIDS Awareness Day, Diawara received it last October, according to her website, www.imadiawara.com.

Bowman was a poet, advocate, author, singer, and young person living with AIDS who died in early 2019 at the age of 30. The award is funded through a multi-year grant from ViiV Healthcare and supports one young artivist, 27 years of age or younger, selected annually, to receive a $5,000.

Applications are now being accepted for the 2021 awardee. Interested artist-activists must submit a full application by July 15 to be considered. For more information, go to www.aidsmemorial.org/marybowman

Help keep the Bay Area Reporter going in these tough times. To support local, independent, LGBTQ journalism, consider becoming a BAR member.