Skivvies, biking SFAF benefits adapt to COVID pandemic
Wednesday Dec 9, 2020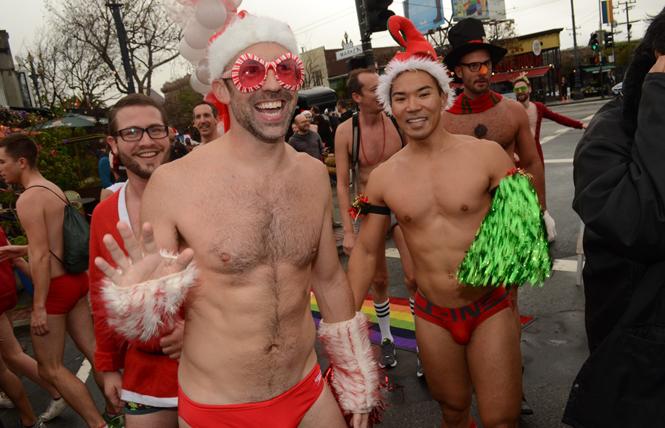 The annual December event that brings scantily-clad Santas and sexy elves jogging across the Castro neighborhood on a nippy Sunday morning is going virtual this year.
Marc Silva, a gay man who is the event manager for the San Francisco AIDS Foundation, told the Bay Area Reporter that anyone can sign up for the virtual Santa Skivvies Challenge on its website.
The official day of the challenge is Sunday, December 13, though people can participate now, Silva said. A virtual drag show and awards ceremony will take place that day at 1 p.m., visible through SFAF's Facebook or YouTube pages. (The event would normally take place at Lookout, a Castro district bar, which did not respond to a request for comment.)
"Collectively, we are having a do-it-yourself benefit for the foundation that normally would be a fun run," Silva said. "Obviously, because of COVID-19, we can't gather in groups, so we thought 'let's take this route of enticing people to get out of their houses.' All people have to do is sign up their mileage goals, fundraising goal, and collectively we hope to raise $40,000 — we're at $25,000 now, which is great."
Silva said that the mileage goal for the participants is 2,122 miles, which was chosen because that is "the distance between San Francisco and the North Pole."
"People can do as many miles as they want," Silva said. "We're not tying the number of miles and how much you fundraise. It's whatever people want to do. When we decided this plan, we realized there are a lot of pressures on people right now — so let's not put pressure on people."
Silva said the Skivvies virtual event is seeing a lot of participants who left the Bay Area after the COVID-19 pandemic shutdowns.
(Change-of-address information released by the United States Postal Service indicates that as many as 89,328 households left the city from March 1 to November 1, according to Public Comment.
"Efforts to combat HIV have been on the wayside as we combat COVID-19," Silva said. "What we've been seeing is a lot of participants who have left the Bay Area for several reasons still felt the connection and the need. They see the need here even when they can't help in person."
As the B.A.R. noted in a recent article, health experts said that the pandemic threatens progress on reducing HIV transmissions in San Francisco, which fell to 166 in 2019.
Silva said that the virtual Skivvies will "probably be a component of the event moving forward."
TogetheRide
Tracy Evans, a lesbian who is the ride director of AIDS/LifeCycle, is in charge of another event changed by the health crisis. In October, AIDS/LifeCycle — which raises money for the San Francisco AIDS Foundation and the Los Angeles LGBT Center — launched TogetheRide, which is an alternative to the seven-day, 545-mile bicycle journey down California that was canceled this year and next.
Riders can work at their own pace, with a deadline of next June, which is when the 2021 AIDS/LifeCycle would have occurred. People can participate now by registering here.
"It's going well," Evans told the B.A.R. "We've set out to get people to ride wherever they are — 1.2 million miles, in honor of the 1.2 million people in the United States living with HIV."
Evans said that 100,000 of those 1.2 million miles have been logged as of December 2, and $200,000 of a $5 million goal has been raised. That's significantly less than the $16 million the AIDS/LifeCycle brought in two years ago.
"We have 888 people as of today who are participating, and 20% are from out-of state, representing 20 other states," Evans said, noting how the virtual nature of the event has expanded its reach.
"We have an app, and so there are a variety of ways mileage can count," Evans said. "Garmin, Strava — those can be fed into Apple or Google Health. There's also a way to manually add mileage to the app."
It is currently being considered whether TogetheRide will continue as a separate event from AIDS/LifeCycle going forward.
"People are having fun with it," Evans said. "They are excited to do something wherever they want in a safe manner."
Giving Tuesday boosts SFAF
Chad Ngo, a gay man who is SFAF's communications manager, told the B.A.R. that the organization raised $306,000 as part of ACTivate 2020, coinciding with Giving Tuesday — the day dedicated to supporting nonprofits in the run-up to Christmas. This year it fell on December 1, which was also World AIDS Day.
Help keep the Bay Area Reporter going in these tough times. To support local, independent, LGBTQ journalism, consider becoming a BAR member.
Comments on Facebook