Political Notebook: Santa Cruz poised to elect 1st LGBTQ judge
Wednesday Oct 28, 2020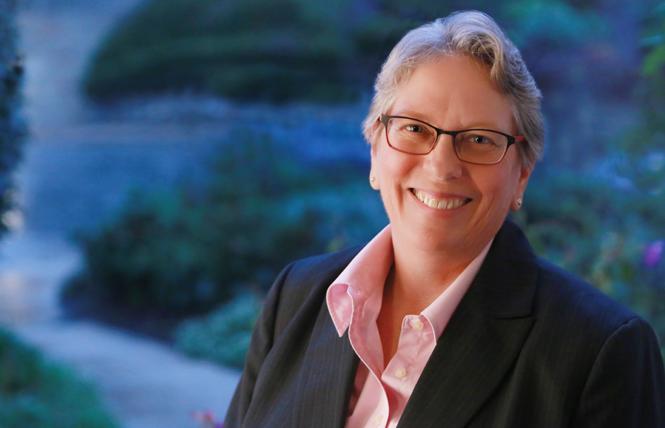 Voters in Santa Cruz County are poised to elect next week the first LGBTQ judge to their local superior court. Attorney Nancy de la Peña, a lesbian married mother of two daughters, is the de facto lone candidate in the race after placing first out of the three candidates who ran in the March primary.
The second place finisher, defense attorney Annrae Angel, announced in July that she was suspending her campaign for the judicial seat. Her name will still appear on the November 3 ballot, however, since the local elections department was required to include both names of the candidates who advanced to the fall runoff race.
Thus, in a phone interview this week with the Bay Area Reporter, de la Peña expressed cautious optimism that she will win the contest and be sworn onto the bench in early 2021.
"It is a bit convoluted," she noted about the circumstances surrounding her campaign. "I think everybody anticipates that I will win the election and the courts are making provisions for me being the judge who will be sworn in on January 4, unless the governor makes an early appointment. Given the economics of these times, I would not foresee that happening."
De la Peña, 63, was born in New Mexico but lived all over the country as a child. She graduated from high school in Los Angeles and earned a political science degree from UC Berkeley in 1979.
She lived in San Francisco for a while and eventually enrolled at law school at UC Davis, from which she graduated in 1985. After couch surfing with friends near the campus, de la Peña landed a job later that year with the Santa Cruz County Public Defender's office.
She left there after 30 years to work as an assistant county counsel where she has assisted the Family & Children Services Division in child abuse cases and the sheriff's office in obtaining orders to remove guns from individuals who pose a danger to themselves or others. De la Peña and her wife, Janet Gellman, who is retired, have two adult daughters — Emma, 23, who lives in Santa Cruz, and Malika, 20, a junior at UC Santa Barbara.
The couple will likely go out for dinner with Emma and watch election results come in at home, de la Peña said. Not only has the COVID health crisis led candidates to cancel election night events with their supporters, hosting a party doesn't feel appropriate so soon after people lost their homes to the recent wildfires in the Santa Cruz region, she said.
"I am anticipating a low-key event, what can you say? How can you celebrate when so many devastating things are happening in your community?" she asked. "It is for me a moment of personal reflection and pride."
De la Peña has long wanted to become a judge and twice went through the review process for judicial appointments during former governor Jerry Brown's most recent two terms in office. Despite being rated as qualified, she was never tapped for a court vacancy by Brown.
"When I did an analysis of how women got on the bench in Santa Cruz County, the majority always had to run in an election," she said. "While we like to think of Santa Cruz as a progressive and diverse community, this bench has to look different than it does."
The Santa Cruz County Superior Court is one of 42 county benches in California that had no out judges on it as of the end of 2019. According to the annual reports on the demographic makeup of the state's judicial branch, the 16 other superior courts all had at least one LGBTQ jurist among its members.
Of the Santa Cruz court's 12 members last year, five were women and only two were people of color. Its lack of diversity is an issue de la Peña has long regarded as problematic and one that also is true of the ranks of lawyers in the county.
"I have been out in my practice here my entire career," she said. "This county has some LGBTQ out attorneys, but back in 1986 that was not a common event."
Today, there are far more out female attorneys in the area than men, noted de la Peña. The county has a large Latino community but it is not adequately represented on the local bench commensurate to its size, something de la Peña raised in a letter she sent to Brown advising him to make more diverse appointments to vacancies on the county court.
"I sent him a list of possible picks among from the D.A. and public defender's offices and among local civil practitioners. We need to have a diverse bench," she said. "We need to look at how our bench looks like and how it reflects our communities and understand that visual to the community is an important visual."
Should she be elected to the judicial seat as expected, de la Peña said she plans to continue to talk to youth about a legal career and newer members of the local bar about considering a judicial seat. The county is seeing a wave of attorneys with solo practices entering retirement and half of its judges will be retiring over the next seven years, she noted.
"These are things I think are important and that need a voice to represent," said de la Peña.
Asked about the expected confirmation on November 10 of retired justice Martin Jenkins, a gay Black man, as the first out person on the California Supreme Court, de la Peña responded, "It is about time."
She added, "For him to represent not only the LGBTQ community but also the African American community, for young Black men to see that is an extraordinary gift he has given to all of us."
Web Extra: For more queer political news, be sure to check http://www.ebar.com Monday mornings for Political Notes, the notebook's online companion. This week's column profiled the two out men seeking rent board seats in Berkeley.
Keep abreast of the latest LGBTQ political news by following the Political Notebook on Twitter @ http://twitter.com/politicalnotes
Got a tip on LGBTQ politics? Call Matthew S. Bajko at (415) 829-8836 or e-mail m.bajko@ebar.com
Help keep the Bay Area Reporter going in these tough times. To support local, independent, LGBTQ journalism, consider becoming a BAR member.