Little change for nonprofits as SF enters yellow tier
Wednesday Oct 28, 2020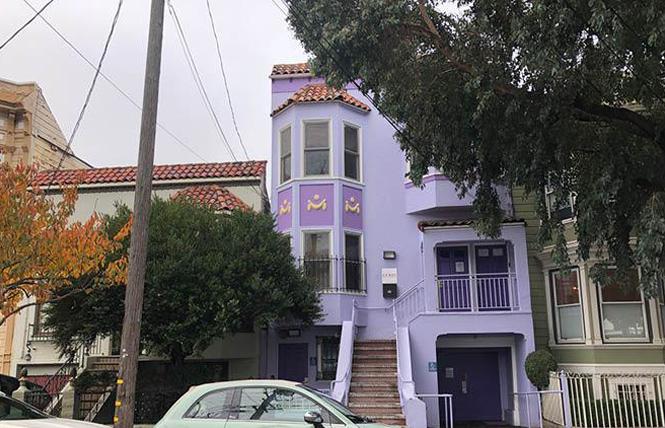 San Francisco has achieved the least restrictive COVID state reopening status — yellow tier — but most LGBTQ nonprofit offices won't be welcoming back people indoors anytime soon.
As of Tuesday, October 27, nonessential offices were allowed to open at 25% of capacity, with restrictions.
"Offices with fewer than 20 employees can reopen beyond 25%, to the extent that space allows employees to maintain social distancing. Specific ventilation guidelines must be met to the greatest extent possible," an October 20 news release from Mayor London Breed states. "Under the new health guidance, employers must conduct a health check of employees each day that they report to the office. If San Francisco's case rates remain stable or continue to improve for at least 30 days following reopening on October 27, the city will consider further expanding office capacity to 50%."
California Governor Gavin Newsom's tier system replaced a hodgepodge of city, county, and state regulations that'd been in effect from March-September. Counties still retain authority to make final decisions.
The Bay Area Reporter contacted eight nonprofits that would be affected. Six responded. Four said essential services have continued unabated and nothing is changing at this time; one said there have been recent changes to its services; and one said there will be developments soon.
Jodi Schwartz, a queer woman who is the president of Lavender Youth Recreation and Information Center, wrote that LYRIC has already begun a "limited reopening." Schwartz was the executive director of LYRIC until October 19, when that position was handed off to former St. James head Toni Newman, who is a transgender woman. Schwartz is now focusing on the $2 million capital campaign for a renovation project at the agency's purple house on Collingwood Street.
"Starting last week, we have just begun to offer some limited on-site services for basic needs on Thursday afternoons, e.g. food bags," Schwartz wrote October 22. "We are reaching out to existing youth participants of our health and wellness and violence prevention community building groups, so that they are made aware of this opportunity.
"Services are being offered to a small number of youth at any given time, in our rear outdoor area following health and safety protocols," she added. "Once we assess that this limited reopening goes well, we'll notify the community more widely."
Other nonprofits noted they have remained open as they were designated as essential services.
Geracar' Nervis, the senior manager at Larkin Street Youth Services, wrote, "We were deemed essential at the start of the pandemic and have remained actively working with in-person services available. This reopening does not apply to us. Thanks for reaching out."
PRC also has operations that have been ongoing during the pandemic, chief operating officer Joe Tuohy wrote to the B.A.R.
"PRC Baker Places has continued to provide all essential services to our clients since March. Our 10 residential treatment programs, such as Joe Healy Detox Program, Hummingbird Place, and Acceptance Place, have provided 24/7 residential care at full capacity throughout the pandemic. Other essential services, including emergency financial assistance and case management for supportive housing, have been providing services at our Integrated Service Center at 170 Ninth Street, since March," Tuohy wrote.
"In mid-March we implemented a work from home policy for all administrative staff and for nonessential services such as workforce development and legal advocacy," he explained. "These programs have continued providing services to clients remotely. Currently, the plan is to return to the office after the first of the year. We are meeting in the coming week to determine if this is still feasible, or if the date should be pushed back, most likely to July 1, 2021."
Karyn Skultety, Ph.D., a bisexual woman who is the executive director of Openhouse, wrote that no change is planned for the LGBTQ seniors organization.
"At this point, Openhouse is not going to make a change. Given that we serve seniors, who remain part of the most vulnerable population for COVID-19, we are continuing to offer services primarily by phone and virtually through Zoom," she wrote. "We have some limited 1:1 services supporting residents in our housing that will continue. We also are making an effort to bring community to LGBTQ seniors in their homes by doing socially distanced deliveries of groceries weekly for those who are food insecure and gifts of community/connection quarterly for the larger group of seniors we serve."
Magnet, the sexual health clinic at Strut in the Castro neighborhood, is still not seeing walk-in clients but does offer sexual health screenings by appointment Wednesday-Saturday. A full list of the status of San Francisco AIDS Foundation projects, of which Magnet and Strut are a part, is available online.
Roberto Ordeñana, the deputy executive director of the San Francisco LGBT Community Center, wrote that the current in-person office hours on Tuesdays and Thursdays are likely to expand soon.
"To promote the health and safety of its staff, tenants, and visitors, the center has implemented all the necessary COVID-19 mitigation efforts in alignment with the San Francisco Department of Public Health," Ordeñana stated. "Our facility reopened back in September to provide access to essential information and referral, cyber center and youth services — for community members who otherwise can not reach us, on Tuesdays and Thursdays from noon to 4 p.m.; and we anticipate expansion of those hours in the next few months."
The GLBT Historical Society and St. James Infirmary did not respond to requests for comment.
The historical society reopened its museum in the Castro in early October. It has reduced capacity and people must reserve a ticket online. The society's archives, located in a downtown office building, remain closed.
St. James, which provides health services to sex workers and others, acknowledged to the B.A.R. for the first time on October 19 that it does not have an executive director after Newman, the nonprofit's last leader, was tapped to lead LYRIC on an interim basis.
Help keep the Bay Area Reporter going in these tough times. To support local, independent, LGBTQ journalism, consider becoming a BAR member.
Comments on Facebook