Political Notebook: LGBTQ groups praise CA Supreme Court pick
Wednesday Oct 7, 2020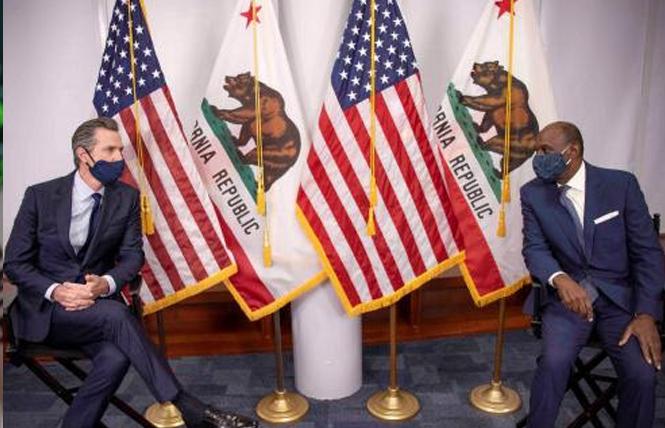 Having encouraged Governor Gavin Newsom to name an out person to fill a vacancy on the state's highest court earlier this year, LGBTQ leaders reacted with exuberance Monday following the nomination of retired Justice Martin Jenkins, who is gay and lives in Oakland.

Should the 66-year-old Jenkins be seated, all three West Coast states will have out justices on their state supreme courts. Jenkins will be the first openly LGBTQ person and the third Black man to serve on the California Supreme Court.

Having served as Newsom's judicial appointments secretary since 2019, he is expected to easily win confirmation by the Commission on Judicial Appointments. Before now Jenkins had not been publicly out, having come out of the closet late in life, something he addressed during a joint appearance with Newsom Monday.

"I want to say to some young person who may be out there watching today who is struggling with their identity. Anyone who knows me knows my identity has been as a gay man perhaps the greatest challenge of my life. And it has not been easy," said Jenkins. "But I want to say today to those young people who may be watching and those who may hear about what has transpired here: that I'm not here in spite of the struggle, I am here because of the struggle."

Despite rumors of there being a closeted jurist on the Supreme Court of California, there has never been an out LGBTQ person serving on it, as the Bay Area Reporter has noted for years in stories about the demographic makeup of the Golden State's judiciary. All six of the current Supreme Court members identify as straight according to the annual reports that detail the sexual orientation and gender identity of the state's judges.

As did retired Justice Ming Chin, the court's first Chinese American justice who stepped down this summer. Appointed by former Republican Governor Pete Wilson, Chin was part of the minority in 2008 that dissented against the court's decision in favor of same-sex marriage in a lawsuit sparked by Newsom's ordering San Francisco officials to wed same-sex couples in 2004 while serving as the city's mayor.

The vacancy is Newsom's first opportunity to reshape the state's highest court. Chin was considered to be the court's most conservative member, while Jenkins is a Democrat like Newsom who litigated various civil rights cases during his legal career.

Newsom's predecessor Jerry Brown, during his second go-around as governor, named four of the current justices on the state Supreme Court. Having named the first out LGBTQ judge in the state when he first served as governor in the late 1970s and 1980s, Brown disappointed LGBTQ advocates by not breaking another judicial pink ceiling with his picks for high court vacancies.

Gay lawmakers state Senator Scott Wiener (D-San Francisco) and Assemblyman Todd Gloria (D-San Diego), the chair and vice chair, respectively, of the California Legislative LGBTQ Caucus, sent Newsom a letter in February urging him to nominate an LGBTQ judge to succeed Chin. Monday they commended the governor "for once again making history" with his "strong pick" of Jenkins.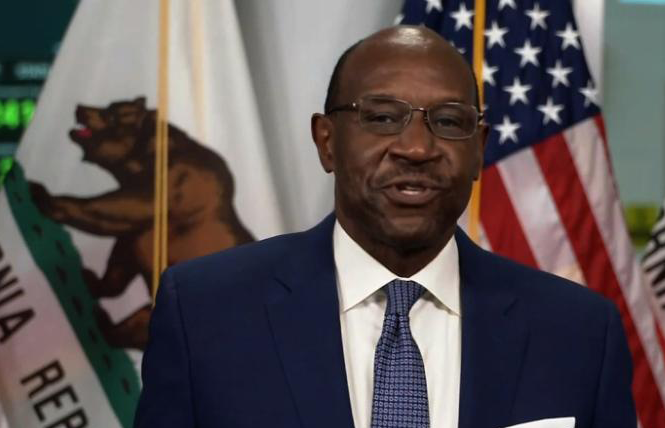 "The LGBTQ community is dramatically under-represented in the judiciary, and particularly so at the appellate level. This appointment is a major step toward a judiciary that represents the entire community," stated the out lawmakers in a joint press release. "Justice Jenkins is superbly qualified to serve on the court. His distinguished legal career, particularly as a Justice on the California Court of Appeal and a United States District Judge, will serve him and all of us well. Moreover, as a Black gay man, Justice Jenkins brings an important perspective to the court during a period of time when our society is moving through a long-overdue reckoning on race."

In July, all seven LGBTQ bar associations in the state also wrote Newsom and Jenkins to express their desire to see "an LGBTQ+ individual, a person of color, or, preferably, an LGBTQ+ person of color" as Chin's successor on the court. In a statement Monday, the Bay Area Lawyers for Individual Freedom said it was "rejoicing" at the selection of Jenkins for the seat.

"We applaud Governor Newsom's decision to continue leading in the realm of LGBTQI+ equality," stated the local LGBTQ bar association, adding, "Our court is now more representative of our great and diverse state because of Governor Newsom's wise decision."

Jenkins, born and raised in San Francisco's Ingleside neighborhood, is set to become the sixth out person serving on a state's highest court, according to a database compiled by the LGBTQ Victory Fund. Earlier this year Grace Helen Whitener, a Black disabled lesbian, was appointed to the Washington Supreme Court and serves alongside Justice Mary Yu, a lesbian Asian American Latina.

Rives Kistler, a gay man, sits on the Oregon Supreme Court, while lesbian Justice Lidia Stiglich serves on the Nevada Supreme Court. Paul Feinman, who is gay, serves on the New York Court of Appeals, the highest court in the Empire State.

In his remarks Monday, Jenkins advised younger LGBTQ people that "the greatest gift" they can award themselves is to live "a life of authenticity." Doing so, he said, "has deepened my character, afforded me sensibilities about the world, and about people who are not so willing to accept that people can love differently than they do, but nevertheless love sincerely, genuinely and affectively."

As the B.A.R. noted in an online story Monday, Jenkins attended two Jesuit-run universities in the Bay Area, Santa Clara University and the University of San Francisco School of Law. He had signed a contract with the Seattle Seahawks football team but pivoted to pursue a career in the legal profession.

He started out as a prosecutor for the Alameda County District Attorney's office in the early 1980s and then went to work for the U.S. Department of Justice during the Reagan administration. After a brief stint in the private sector, Jenkins served as a state judge and then on the federal bench.

He stepped down as a state appellate justice last year when Newsom tapped him to offer guidance on filling judicial vacancies on the state's courts. Newsom noted that he has "seen firsthand that Justice Jenkins possesses brilliance and humility in equal measure. The people of California could not ask for a better jurist or kinder person to take on this important responsibility."

Jenkins thanked Newsom for "the extraordinary opportunity" he had offered him and promised "to do my best to dispatch the enormous responsibilities that are incumbent with this great office."

His confirmation hearing could come as early as later this month. On the court, Jenkins will make $261,949 a year.

Web Extra: For more queer political news, be sure to check http://www.ebar.com Monday mornings for Political Notes, the notebook's online companion. This week's column reported on an SF candidate using LGBT in their ballot designation for the first time.

Keep abreast of the latest LGBTQ political news by following the Political Notebook on Twitter @ http://twitter.com/politicalnotes

Got a tip on LGBTQ politics? Call Matthew S. Bajko at (415) 829-8836 or e-mail m.bajko@ebar.com


Help keep the Bay Area Reporter going in these tough times. To support local, independent, LGBTQ journalism, consider becoming a BAR member.
Comments on Facebook