Out candidates vie to lead East Bay transit agency
Wednesday Sep 23, 2020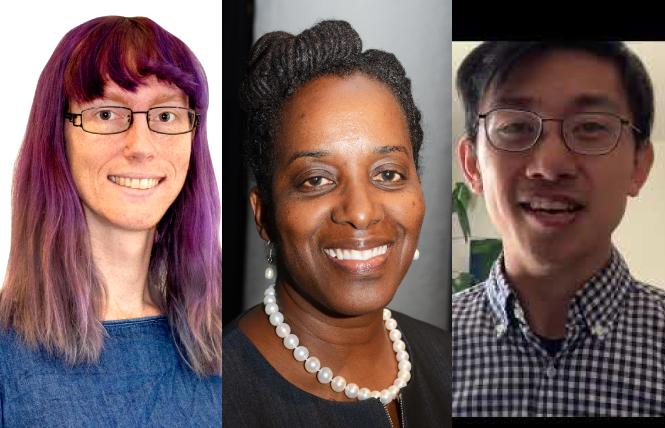 Four out candidates are running this year to join the board of the AC Transit regional transit system that runs buses in both Alameda and Contra Costa counties. There hasn't been an out board member since Rebecca Kaplan stepped down after being the first lesbian elected to Oakland's city council in 2008.

Running for the transit board's at-large seat that Kaplan once held are Victoria Fierce, a queer trans person, and Dollene C. Jones, a lesbian who once drove a bus for the system and has run four times prior. They are trying to unseat the incumbent board member H. E. Christian "Chris" Peeples, who secured the endorsement of the Democratic Party in both Alameda and Contra Costa counties.

In the race for the transit board's Ward 1 seat, lesbian former Richmond city councilwoman Jovanka Beckles and Ben Fong, a gay man who was a foreign service officer in the Obama administration, are seeking to unseat Joe Wallace. Last week the statewide LGBTQ advocacy organization Equality California threw its support behind Fong.

The East Bay Stonewall Democratic Club, the LGBTQ political group for Alameda County, endorsed Fierce and Fong in their respective races. The Harvey Milk LGBTQ Democratic Club of San Francisco and the Lambda Democratic Club of Contra Costa County both endorsed Beckles.

The races come as the East Bay transit agency has been battered by the novel coronavirus outbreak, leading to a 72% plunge in ridership this year and a potential deficit of $23 million in 2021. Over the summer the agency announced it was looking to reduce its bus services by anywhere from 15% to 30% in order to shore up its finances.

"I ride the bus a lot," said Fierce, 32, who lives in downtown Oakland and is the director of operations for the California Renters Legal Advocacy and Education Fund.

The Akron, Ohio native relocated to the Bay Area in 2015 and had been working as a consultant for technology companies until she was laid off. Fierce has long thought about running for elected office and in the March primary won a seat on the Alameda County Democratic Central Committee, which she will join in January.

She had first considered seeking an AC Transit board seat four years ago. Fierce decided to enter the race this year in order to improve the agency.

"I am running for a better transit district that works for everybody," said Fierce, who was hit by a car while riding her bike this summer and suffered only minor injuries. "There are a lot of problems in the district but it is not all bad. I love AC Transit."

A key goal of hers is to see more dedicated bus lanes for AC Transit and more rapid lines.

"We need more bus lanes to make it move faster," said Fierce. "Other cities and countries around the world have figured this out a long time ago and, for whatever reasons, we haven't."

Beckles, 57, who lost her bid for a state Assembly seat in 2018, acknowledged to the B.A.R. that she is not a daily AC Transit rider. Due to the health crisis she is working from home remotely, and even prior to the pandemic, did not take the bus for her job as a children's mental health counselor in the county.

"I am not a transit dependent like some folks are, but the population I work with are," said Beckles, noting the last time she rode the bus was with a female teenage client to show her how to use the transportation system. "Because she suffers from anxiety it was a little scary for her. We took the bus to the RYSE youth center and back just to show her it is accessible to her."

She has been upfront about her seeking the AC Transit board seat at the urging of the agency's workers represented by Amalgamated Transit Union Local 192. In addition to being an advocate for the employees, Beckles wants to see the system remain free for riders, as it has been during the health crisis.

"They are supporting me because they know of my record of being a working class champion," said Beckles, who was born in Panama City, Panama and came to the U.S. with her family in 1972. "They know my record of being a labor champion. They have seen me in action and seen me at all of their labor actions."

And rather than reduce service, Beckles believes the agency should be expanding its routes in order to get more people out of their personal vehicles and thus reduce greenhouse gas emissions.

"I just think street expansion for making room for more and more traffic isn't the way of the future," she said. "We need to get people out of their cars and not build more bridges for cars."

Fong, 34, is a director at the San Francisco-based startup Spin, which focuses on how to transport people during the last one mile of their commute. His grandfather owned a restaurant in Oakland's Chinatown, but the family moved to Houston when Fong was a child.

He returned to attend Stanford where he earned a degree in political science. After completing his master's in public affairs from Princeton's School of Policy and International Affairs, Fong landed a job with the State Department. Fluent in Spanish, Hindi, Mandarin, and English, Fong worked on immigration and trade issues in Nuevo Laredo, Mexico, in Mumbai, India, and in Washington, D.C.

Fong, who went on to earn an MBA from UC Berkeley, served on the Berkeley Planning Commission. He now lives in Albany with his partner, having been priced out of other cities in the region.

"I am an avid AC Transit user; I ride it every day, especially before COVID," said Fong.

It was while riding an AC Transit bus over the Bay Bridge to work this summer and realizing they were stuck in traffic for the first time in months that Fong began to seriously consider running for the board seat. This is his first time seeking public office.

"I realized that can't be normal for us," he said. "We need to do better and have better transportation to get people to their jobs and homes."

He told the B.A.R. his aim is to ensure riders of the system are not left in the lurch.

"I want to stop the bus service cuts. I want to reinvest in AC Transit," said Fong. "We should be getting more dedicated bus lanes and more electric buses quicker."

Help keep the Bay Area Reporter going in these tough times. To support local, independent, LGBTQ journalism, consider becoming a BAR member.