Breed forms panel to examine policing options
Wednesday Sep 9, 2020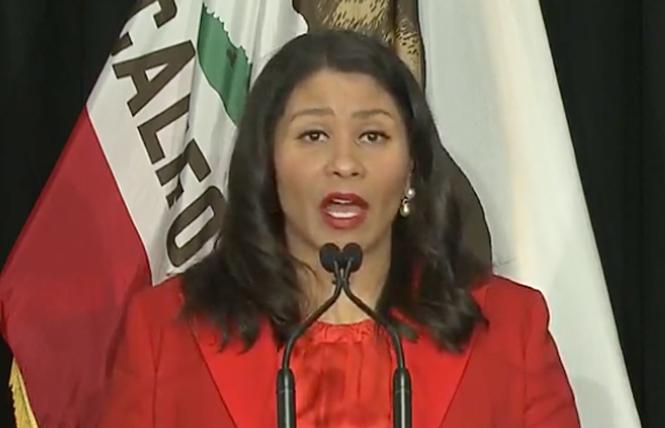 Mayor London Breed announced Tuesday the formation of a steering committee to look into having someone other than a police officer respond to non-violent 911 and 311 calls for assistance.

According to a news release, the steering committee will include representatives from at least eight San Francisco organizations, including several that have worked with the LGBTQ community for many years, including HealthRIGHT 360, GLIDE, and the San Francisco AIDS Foundation.

"They have deep experience working with the folks we are hoping to divert away from police responses to responses that are more public health and therapeutic," gay District 8 Supervisor Rafael Mandelman told the Bay Area Reporter September 8. "The desire is to see what are fundamentally public health challenges in that framework."

The eight organizations — which also include Hospitality House, Urban Alchemy, the Street Violence Intervention Program, At the Crossroads, and Metta Fund — "were selected because of their commitment to centering community voices, willingness to challenge the status quo, and their dedication to exploring innovative and outcome-driven practices," the release states.

"The steering committee also has representatives from city agencies, including the Department of Public Health, Department of Homelessness and Supportive Housing, San Francisco Police Department, San Francisco Fire Department, and [the] Department of Emergency Management," the release continues.

Breed tied the committee to the movement for greater racial justice that has seen renewed activism in recent months, following the May 25 killing of George Floyd by Minneapolis police.

"To address the structural inequities that too many in our city experience, in particular our African American community, we need fundamental change and reinvestments. There is a better, more effective way to handle these calls for service that will help people who are in crisis," Breed stated. "Working to divert non-violent calls for service away from a law enforcement-based response is a profound change in how we as a city respond when someone calls for assistance.

"It's a key part of addressing our structural inequities, but it's going to take work and it's going to take time," the mayor added. "This steering committee will play an important role in designing other models of response, and getting us to a place where we are making real, concrete change, including in future budget investments."

HealthRIGHT 360 told the B.A.R. that its CEO, Vitka Eisen, will be its representative on the committee.

"Vitka was included because HealthRIGHT 360, and Vitka personally, have many decades of experience providing direct services to people with mental health and substance use disorders in community-based and in-custody settings, and advocating for policies and practices that seek to reverse the deep societal damage resulting from the criminalization of addiction, mental health disorders, and homelessness," Lauren Kahn, the vice president of communications and government affairs for HealthRIGHT 360, stated in an email to the B.A.R. "A lot is going to go into this work, but it is critically important, and long overdue, and I feel confident that this group is well-positioned to make a real impact."

HealthRIGHT 360 is the parent organization of Lyon-Martin Health Services, which primarily serves low-income trans women. As the B.A.R. reported last week, if Mandelman's add-backs to the mayor's budget proposal are approved, Lyon-Martin will receive $1.2 million from the city this budget year and another in the next.

GLIDE is a social service nonprofit associated with Glide Memorial United Methodist Church in the Tenderloin. Kenneth Kim, GLIDE's senior director of programs, will also be sitting on the committee.

"GLIDE applauds Mayor Breed for pulling together community leaders to help identify alternatives to police responses to 911 calls on behavioral health and homelessness," Kim said. "GLIDE works at the intersection of homelessness, mental health and harm reduction issues every day and I look forward to lending our expertise on these issues."

GLIDE spokeswoman Denise Lamott stated that Breed "reached out to many community leaders" after she "announced in June that she would fundamentally like to change the way that the city handles public safety."

"GLIDE brings a unique perspective to the committee because of its decades-long role in the community providing direct services to unsheltered individuals, those that use drugs, and neighbors experiencing behavioral and mental health issues," Lamott stated in an email to the B.A.R. "GLIDE staff has a deep understanding of and compassion for those individuals living on the margins and struggling every day."

Laura Thomas, a queer woman who is the director of harm reduction policy for the AIDS foundation, told the B.A.R. via phone September 9 that she will be the representative on the steering committee.

"I was asked to serve [by the mayor's office] on the group and was happy to say yes," Thomas said. "We need to be looking at alternative and better ways. The San Francisco AIDS Foundation is a behavioral health provider. We serve a lot of people with behavioral health needs and provide harm reduction and substance use counseling, and those are some of the alternatives we want to see on the city level."

The San Francisco Human Rights Commission will guide the committee. Its goal is to "develop recommendations that can be included in the Fiscal Year 2021-22 budget process" and it will convene for the first time September 16.

Though the phrase is not included in the news release, the committee's goals seem to coincide with some of those in the movement to "defund the police" — specifically, moving taxpayer funds away from police agencies and toward alternative ways to address public safety issues and emergencies.

Several San Francisco public officials have signaled an openness to this idea in recent months, including Police Chief William Scott and District Attorney Chesa Boudin. As the B.A.R. previously reported, Boudin said during a June town hall hosted by the Alice B. Toklas LGBTQ Democratic Club that 911 calls should not always be answered by police.

"Daily life as an officer is responding to calls that are not actual crimes in progress," Boudin said. "It's evolved from violent crime and first response to social issues like overdoses, mental health crises, and disputes between neighbors."

In Eugene, Oregon, he said, dispatchers can call a program called Crisis Assistance Helping Out On the Streets, or CAHOOTS, that will send medical professionals to situations where that would be better called for.

(Boudin did not respond to a request for comment for this story.)

Mandelman said during a Castro Merchants meeting last week that while he hears merchants in his district ask for more police foot patrols, those who called in during the budget process were largely requesting that the city defund the police.

Mandelman told the B.A.R. September 8 that the number of police officers in the coming years is going to be lower because there are fewer academies that will be held, and that foreseeing this reality, he has pushed for community ambassadors in the Castro and more street crisis response teams.

"Typically they need two academies to hold steady," Mandelman said. "Only one is scheduled in the next two years."

Mandelman also told the B.A.R. that he has helped to increase the number of street crisis response teams from four to six in the budget through the add-back process, and that another add-back would fund community ambassadors in the Castro to the tune of a total $395,000 over two years — $195,000 in the first year and $200,000 in the second year. For 2020-21, $95,000 is a specific District 8 add-back and $100,000 is coming out of a $300,000 ask for more than one supervisorial district.

"I'm hoping we can get alternatives [to policing] in place and see what works," he said.

Help keep the Bay Area Reporter going in these tough times. To support local, independent, LGBTQ journalism, consider becoming a BAR member.