Garcia begins first academic year as Berkeley City College president
Wednesday Aug 19, 2020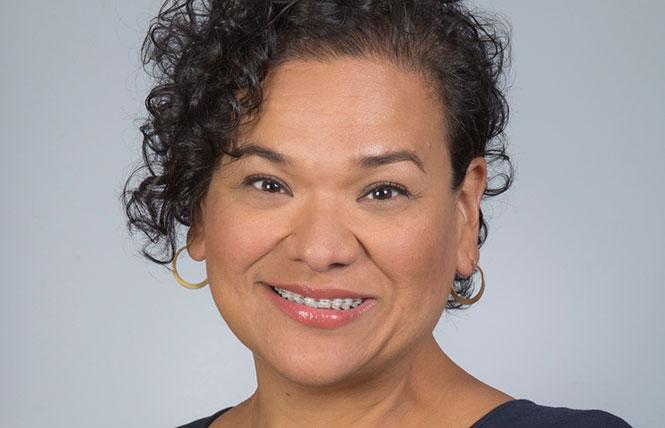 Taking on the job of college president would be challenging at any time; but Angélica Garcia has done so in one of the most tumultuous years in recent memory.
"I came on board during the pandemic," Berkeley City College's new president, who is pansexual and the first Chicana to lead the institution, told the Bay Area Reporter. "I have yet to share personal space with 99.9% of my colleagues."
But COVID-19 presents more to the college than a mere professional adjustment. And it is not the only challenge this year is presenting.
"The issues caused by COVID-19 can't be understated," Garcia said. "As a public educational institution, we have to be ready with what we see from the public health perspective. ... I'm learning more about health and safety and harm resources in a way I would have not without it.
"During this time of recession we need to be reminded of the fiscal context, because Berkeley City College finds itself as a publicly-funded institution," she added. "That public education is featuring so many cuts — that's definitely a challenge. And the added challenge is amidst all of this we have the racial injustice in our communities and across the state. If we were on campus, we could have the students navigate Black Lives Matter but right now we are unable to support students in the way they need with the interpersonal, cross-counter interaction.
"If we were on campus, we could more readily support students as they make sense of the impact of the Black Lives Matter movement, but right now we are unable to support students in the way they need with the in person connections to faculty and staff," she added.
Garcia, 44, became the president of Berkeley City College, part of the Peralta Community College District, on May 7. It is her first role as a college president. She said one of her major goals is increasing student completion rates. A resident of Oakland, her previous role was as the vice president of student services at Skyline College in San Bruno on the Peninsula.
The Peralta district has had financial problems in recent years. Its most recent chancellor, Regina Standback Stroud, resigned in July after less than a year on the job. She and the district's trustees had disagreements over various policies.
It was while Garcia was at Skyline that she met colleague Aaron McVean, who is presently the vice chancellor of educational services and planning for the San Mateo County Community College District.
"Part of our story is she wasn't sure what to make of me when she met me," McVean, a straight ally, told the B.A.R.
The two subsequently attended a conference for Hispanic Serving Institutions at UC Davis.
"We were trying to understand the world of Hispanic Serving Institutions, and we were at lunch, and we sat at a table together talking about how we saw community college education, what we were hoping to achieve and what we'd focus on if we had our way," he said. "We talked about being purposeful and intentional about having students complete their degrees. I know it sounds basic and simple, but we really talked about how we'd do it."
As the two moved up the hierarchy of the school, they began to implement some of these ideas and Garcia saw that McVean was committed to changes.
"It wasn't until we'd had that moment where she thought 'maybe he will put in the effort and be there for students of color, for LGBTQ+ students, as he should be,'" McVean said.
To further her goal of college completion, Garcia designed and led the Promise Scholars program at Skyline, which McVean said serves 2,000 students a year and provides them with a dedicated counselor, among other support.
"We never lost our focus on this and it took us [on professional trips] to New York, to Arizona State, always around this commitment to designing a college where all students can complete," McVean said.
Garcia lives with her wife, Maria Capitelli, and their two children. She said it has provided her an opportunity to bond with her colleagues who are facing the challenges of both working from home and raising a family in the midst of the global pandemic.
"Because I have two small children, what I'm appreciating is I try to be authentically myself and we — many of my colleagues — wonder how to provide a loving environment for my children while I'm at work," Garcia said. "People share that it's humanizing when I share my struggles, too. We're all doing what we can at this time. This is unlike any time we have ever experienced but the uncertainty is another element."
Ramona F. Butler, the extended opportunity program and services (EOPS) and CARE coordinator at Berkeley City College, said, "I have nothing but good things to say so far."
Butler was on the hiring committee that selected Garcia.
"Berkeley City College gives away meals to the community each Friday between 11 a.m. and 1:30 p.m. and so I've worked closely with her in those circumstances," Butler said. "Her giving out meals means lots, and it's been an opportunity for us to bond and all of that."
Butler said that Garcia is "really student-focused" and "can't wait to have the opportunity to sit down, face-to-face, without social distancing and just being together."
Garcia was born and raised in Fresno, California. She has a doctorate from San Francisco State University in educational leadership.
Berkeley City College has around 6,000 students and is joined in the Peralta district by three other community colleges: College of Alameda in the city of Alameda, and Merritt College and Laney College in Oakland.
Updated, 8/20/20: This article has been updated to add a comment from Ms. Garcia and to correct that she was born and raised in Fresno, California.
Editor's note: If you liked this article, help out our freelancers and staff, and keep the B.A.R. going in these tough times. For info, visit our Indiegogo campaign. To donate, simply claim a perk!
Comments on Facebook