Protest safety tips during the pandemic
Wednesday Jun 24, 2020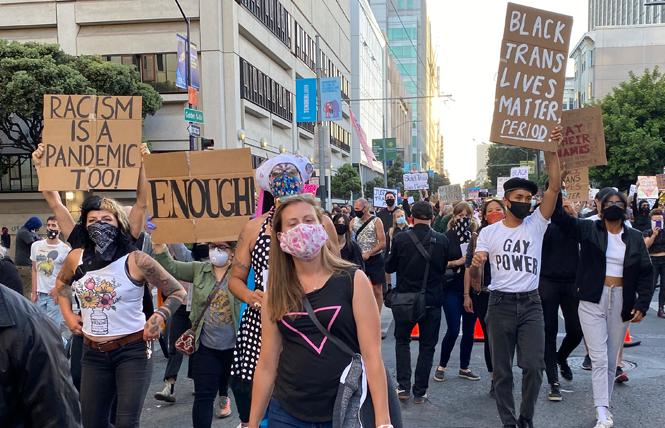 Protests can potentially raise the risk of coronavirus transmission, but activists can take steps to protect themselves and others. So far, the initial round of protests has not been tied to an increase in people testing positive, according to health officials.

The May 25 killing of George Floyd in Minneapolis, and the deaths of other Black people at the hands of police, have brought hundreds of thousands of people into the streets in the midst of the COVID-19 pandemic to protest racial discrimination and demand an end to police brutality.

The new wave of activism shows little sign of slowing down. LGBT people in several cities — including San Francisco — have called for racial justice rallies and marches in lieu of Pride celebrations that have been canceled or switched to virtual events due to COVID-19. [See related story.]

Although they acknowledge that gathering in large groups could accelerate the spread of the new virus, activists and health officials stress that systemic racism is a public health hazard too.

"We support the right to protest injustice, and doing so safely is critically important, especially in the midst of the coronavirus pandemic," the San Francisco Department of Public Health told the Bay Area Reporter in an emailed statement. "Reducing the spread of COVID-19 and taking action for social justice are very much tied together. Both address significant inequities in our society that disproportionately affect vulnerable populations and people of color."

The protests have taken place outside, and a growing body of evidence shows that outdoor transmission of the coronavirus a far lower risk than indoor transmission. Most Bay Area protesters have worn masks and attempted to maintain social distancing, though it has often proved impossible to stay the recommended six feet apart. In some cases, police have made this more difficult by herding protesters together or "kettling" them in confined spaces. In addition, tear gas and pepper spray can trigger coughing and a runny nose and eyes, which can facilitate transmission.

A number of harm reduction measures can help reduce COVID-19 risk during protests:

- Keep the actions outdoors.

- Wear a mask or bandana that fully covers the nose and mouth.

- Wear eye protection to guard against exposure and injury.

- Stay six feet apart, if possible.

- Stick with a small group to reduce exposure to multiple people.

- Bring a personal water bottle and avoid sharing with others.

- Avoid holding hands, linking arms, and other physical contact.

- Carry and use alcohol-based hand sanitizer.

- Limit yelling, chanting, and singing in favor of noisemakers and signs.

- Avoid sharing microphones or megaphones.

- Wash hands thoroughly after the action.

- People who do not feel well or have COVID-19 symptoms should stay home.

- Older people and those with underlying health conditions should be especially cautious.

The risk of infection varies based on specific activities, the size of the crowd, and how many people have the coronavirus in a local area. Although firm numbers are hard to come by due to limited testing, the prevalence of the virus in San Francisco and other Bay Area cities is thought to be low. One recent study in the Mission district found that about 2% of residents tested positive for the virus.

By now, it should be soon enough to tell if the first round of protests led to a spike in new infections, and so far this does not appear to be happening. Case numbers have been rising in Bay Area cities, in part due to increased testing, but the proportion of people who test positive has been holding steady.

Most people develop COVID-19 symptoms in about five days, but this can take as long as two weeks. These may include fever, cough, shortness of breath, and loss of the sense of taste or smell. However, many people do not develop symptoms, and most experts think it is possible for asymptomatic people to transmit the virus.

Health officials generally do not advise that all protesters need to self-isolate for two weeks after a march or rally, but the DPH recommends that people monitor their health for 14 days, continue to wear a face covering and practice social distancing, and take precautions around vulnerable household members.

It can take a few days before virus levels are high enough to give a positive result on a PCR test, usually done using a nasal swab. The best time to get an accurate test is about five days after potential exposure, the DPH advises. Antibody testing, which uses a blood sample, can show if someone had the virus in the past. It usually takes a couple of weeks before the immune system produces enough antibodies to test positive. Antibody tests currently available may give a high number of false positives.

In the wake of the groundswell of activism, San Francisco has established testing sites for protesters. Unlike the city's other test sites, they offer free tests for those who do not have symptoms and are not classified as essential or frontline workers. Testing for adults is done at various pop-up test sites, while those under 18 can get tested at the City College pop-up site. Visit http://www.sf.gov/gettestedsf to see current locations and hours and register for an appointment.

These sites do not ask people getting tested if they have recently participated in any demonstrations, so they cannot provide data on how many protesters have tested positive, but health officials are monitoring closely for any correlation between the protests and the number of positive cases, according to the DPH.


Editor's note: If you liked this article, help out our freelancers and staff, and keep the B.A.R. going in these tough times. For info, visit our Indiegogo campaign. To donate, simply claim a perk!