Health crisis impacts CA LGBT bill slate
Wednesday May 20, 2020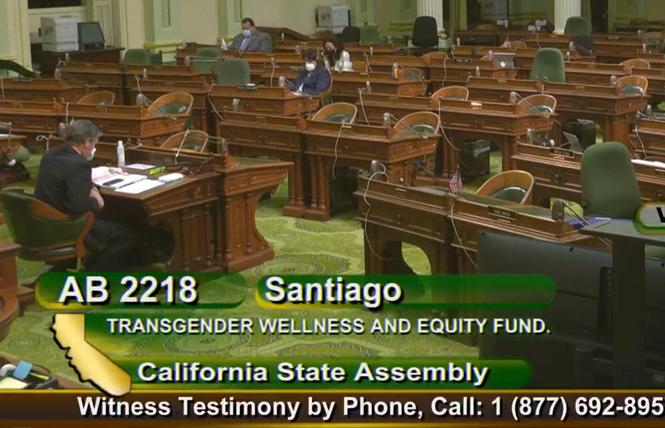 With California facing a $54 billion budget deficit this year due to the novel coronavirus outbreak, LGBTQ advocates have had to retool their legislative priorities for 2020.

Several bills and funding requests that had been on the docket for this legislative session, such as money to launch an LGBTQ cultural competency training for teachers and school staff and requiring colleges to use transgender and nonbinary students' chosen names on diplomas, have been pushed off to 2021. Other legislation not related to addressing COVID-19 and the health crisis won't be taken up until late in the session.

"I think we will make some progress this year despite the environment we are working in," said Rick Chavez Zbur, executive director of the statewide LGBT advocacy organization Equality California.

The LGBT-related bills awaiting votes include two held over from the 2019 legislative session, both authored by gay state Senator Scott Wiener (D-San Francisco). One is Senate Bill 145, which would ensure LGBT adolescents are treated the same as their heterosexual peers when faced with the possibility of being listed on the state's sex offender registry.

The other is SB 132 that would require incarcerated transgender individuals in the custody of the state's Department of Corrections and Rehabilitation to be classified and housed with other inmates based on the gender identity of their choice. Thus female trans inmates, currently housed in male prisons, could choose to be placed in female prisons.

It was held at the last minute at the request of transgender advocates who wanted to allow trans inmates to provide more input on the bill. Wiener and EQCA staff along with state prison officials held listening sessions in the fall with trans male and female inmates, as well as cisgender inmates, at several state prisons.

Wiener and Zbur told the Bay Area Reporter this week that they are "optimistic" of seeing both bills be passed this year. SB 132 is awaiting a vote by the full Assembly and will need to go back to the state Senate for a concurrence vote before it is sent to Governor Gavin Newsom to sign into law.

"I doubt that will happen before August," said Wiener, the chair of the Legislative LGBTQ Caucus.

SB 145 remains in the Assembly Appropriations Committee due to its chair, Assemblywoman Lorena Gonzalez (D-San Diego), putting a hold on it last summer over concerns she had on its implementation. It led to a rare public rebuke from EQCA and cost Gonzalez receiving a perfect score on the organization's annual legislative scorecard for lawmakers.

Nonetheless, Gonzalez promised to revive the bill this year and work with Wiener and LGBTQ advocates on addressing her issues with the legislation. Both Zbur and Wiener told the B.A.R. they remain hopeful of seeing it be signed into law by Newsom come the fall.

"My plan and intent is to pass these bills and finalize them this year. But obviously I am not in complete control of the process," noted Wiener. "We have done a lot of work on both of them and both are at the very end of the process. I am hoping to pass those this year."

Zbur echoed that sentiment, saying, "We are still optimistic those bills will be passed later in the summer."

Another bill held over from last year, SB 741 authored by lesbian state Senator Cathleen Galgiani (D-Stockton), is also moving forward and likely to be adopted later this summer. It would allow transgender Californians to update their marriage certificates and the birth certificates of their children to accurately reflect their legal name and gender, while still protecting their privacy.

Also expected to pass out of the Legislature this year in a revised manner is Senator Lena Gonzalez's (D-Long Beach) SB 961, the Equal Insurance HIV Act that would end insurance companies' ability to deny life and disability income insurance coverage based solely on a person's HIV status. It has been bundled into a larger insurance bill, SB 1255, and is awaiting a vote by the Senate Appropriations Committee.

Backed by gay state Insurance Commissioner Ricardo Lara, his office informed the B.A.R. this week that it is confident of seeing the legislation approved by both chambers since it "has no fiscal impact and no opposition."

The highest priority bill this year for the seven-member LGBTQ caucus and EQCA is Wiener's SB 932, as it would require state public health officials to track how many LGBT people are being infected, hospitalized, and placed in intensive care due to the coronavirus, as well as how many have recovered versus died. The out lawmakers and LGBTQ advocates had asked Newsom to issue an executive order so that the sexual orientation and gender identity data was being collected.

When those entreaties went nowhere, they resorted to the legislative process. But their exasperation with needing to do so was palpable during a press call last Wednesday, May 13. Prompted by a question about the bill submitted by the B.A.R. during his news conference held that day, Newsom publicly pledged to sign SB 932 into law.

On Tuesday Zbur indicated to the B.A.R. that the bill could be fast tracked for approval since it relates to the state's COVID-19 response.

"We have had good discussions with the governor's office about supporting the bill. We are looking at ways where lawmakers might be able to take action quicker than normal so the bill gets out of the Legislature faster," said Zbur, adding that there have also been good discussions with state Department of Public Health officials about the legislation.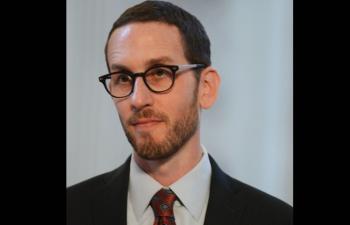 Trans services funding
On Monday the Assembly Health Committee voted 12-1, with two lawmakers not voting, to send Assembly Bill 2218, the Transgender Wellness & Equity Fund, to the lower chamber's appropriations committee. Authored by Assemblyman Miguel Santiago (D-Los Angeles), and backed by the TransLatin@ Coalition in Los Angeles, it would allocate $15 million toward health and wellness services for the state's trans community.

It is part of a $100 million budget allocation that transgender advocates had been seeking this year. The money would fund everything from SOGI data collection within the state's trans community to employment programs, housing, mental health services, and assistance to trans people adjusting back into society after being released from prison.

"As COVID-19 continues, our communities continue to be deeply impacted and face barriers to accessing care and services," noted the L.A.-based agency in an email ahead of this week's hearing.

In defending his bill before the health committee, Santiago noted that gender reassignment surgeries are only a "minor component" of what it would fund.

"Most of it is about wraparound services needed for the TGI community," said Santiago, referring to transgender, gender variant, and intersex people.

But it remains to be seen if it will make it out of the appropriations committee due to the gaping financial hole the state is confronting. Wiener, who is a co-author of Santiago's bill, warned its prospects for passage are "challenging this year because of the huge budget deficit."

As a policy matter, he noted most legislators are supportive, but "the rubber will hit the road in terms of budget negotiations." Wiener's office is in talks with transgender community leaders on different funding options that may be more palatable to his legislative colleagues this year.

LGBT priorities put on hold
The staggering budget deficit is the reason gay Assemblyman Todd Gloria (D-San Diego) and LGBTQ advocates postponed seeking funding this year for the online-based teacher training on LGBTQ issues.

Last fall, Newsom agreed to sign AB 493, the Safe and Supportive Schools Act of 2019 authored by Gloria and backed by State Superintendent of Public Instruction Tony Thurmond. At the same time, he pledged to pursue funding for it this year.

With the cost of creating the cyber teaching platform estimated to be anywhere between $2 to $5 million, the bill's proponents agreed to wait until the state's finances improved. They hope to move forward with it next year.

"Given the budget challenges the state is facing, we decided not to pursue that bill this year," said Zbur, explaining they preferred waiting rather than see the funding for the training be "whittled down to a small number."

And with the state's colleges and universities also negatively impacted by the health crisis, Assemblyman David Chiu (D-San Francisco) made the decision to punt his AB 2023 until the next legislative session. It would restrict the state's public colleges and universities from deadnaming transgender and nonbinary students on their diplomas and create a standard process for the schools to update student records so the documents accurately reflect their name and gender.

"We are definitely still very committed to the policy, but we will just have to try it again another year," Chiu spokeswoman Jennifer Kwart told the B.A.R.

Editor's note: If you liked this article, help out our freelancers and staff, and keep the B.A.R. going in these tough times. For info, visit our IndieGoGo campaign.
Comments on Facebook