News Briefs: Pink triangle plans lighted display
Wednesday May 20, 2020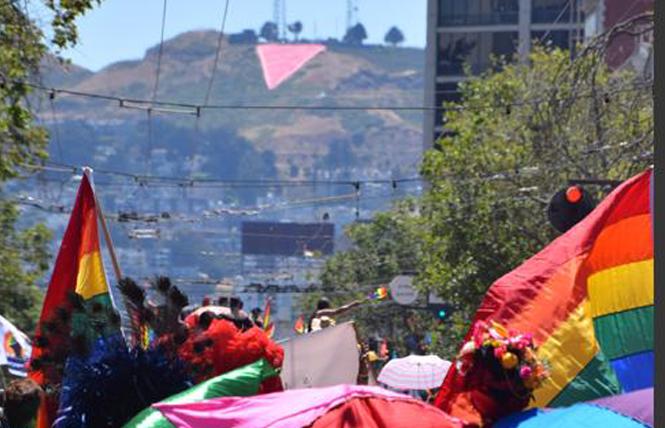 Organizers of the pink triangle installation atop Twin Peaks have launched an online fundraiser to pay for the site to be lighted this year.
For the past 24 years, volunteers have come together on Twin Peaks in San Francisco to create the pink triangle as a symbol of hope and inclusion over Pride weekend. Pride 2020 was to mark the 25th anniversary of the public art project alongside the milestone 50th anniversary of San Francisco's Pride celebrations, but with the novel coronavirus crisis raging on, plans have changed. (SF Pride's in-person parade and festival have been canceled and it will now join the online Global Pride June 27.)
In collaboration with Illuminate, the nonprofit organization behind the Bay Lights, the pink triangle and its co-founder, Patrick Carney, plan to install more than 2,700 pink LED lights to create a triangle. Unlike previous years when the pink triangle was just installed for Pride weekend, this year it will be up and lit every night for three weeks, through the AIDS 2020 conference in July, Carney told the Bay Area Reporter. (The AIDS conference, originally scheduled to be held in San Francisco and Oakland, will be virtual this year.)
Carney said in April that he wasn't sure how the installation would be handled this year, due to ongoing physical distancing requirements.
This week, Carney explained that the lights won't replace the tarps. But the hundreds of volunteers that Carney usually asks for will be significantly reduced, he said.
"There are nearly six weeks to go," Carney wrote in an email May 18. "If city officials deem it is still unsafe for a small group to install the entire one-acre display, then as a backup plan my husband, my sister, a couple other family members, and I will install just the 'outline' of the symbol, which will still be highly visible. Nighttime lighting will then take place in the center area (between the outline for bright pink sail cloth)."
The pink triangle originally was used to brand suspected homosexuals in Nazi concentration camps. It was revived in the 1970s as a symbol of protest against homophobia, and has been used to symbolize LGBTQ+ pride ever since.
Carney said that this year's installation will mark several issues.
"It will commemorate not only the tragic origin of the pink triangle, but both the HIV/AIDS pandemic as well as the current COVID-19 pandemic," he wrote. "We are a resilient community."
In November 2017 Illuminate installed a "Hope Will Never Be Silent" lighted art piece on the mantel of the commercial building overlooking the plaza that bears Harvey Milk's name above the Castro Muni station. It was part of the ceremonies that fall commemorating the 40th anniversary of Milk's historic 1977 election as the first out gay supervisor in San Francisco and the first openly LGBT elected official in California.
To successfully execute the pink triangle project without a fee, $75,000 is needed for materials, staging, and installation, according to the GoFundMe site. (The campaign lists a goal of $85,000.) According to a news release, the San Francisco LGBT Pride Celebration Committee launched a GoFundMe charity campaign to raise what is needed. So far, the campaign has raised over $20,000.
The donations go to SF Pride's pink triangle account, which will be directed to Illuminate the Pink Triangle.
To donate, go to https://charity.gofundme.com/o/en/campaign/thepinktriangle
AIDS 2020 planners to hold town hall
The AIDS 2020 local planning group will hold a virtual town hall Thursday, June 4, from 4:30 to 6:30 p.m., Pacific Time.
AIDS 2020, sponsored by the International AIDS Society, will take place July 6-10. As the Bay Area Reporter previously reported, San Francisco and Oakland were slated to jointly host the meeting, but it was changed to a virtual format because of the novel coronavirus pandemic.
A special virtual COVID-19 conference on the last day of the conference will feature Drs. Anthony Fauci and Deborah Birx, who have a long history of leadership in the national and global HIV/AIDS response and are now the scientific faces of the White House COVID-19 Task Force.
The upcoming local planning group meeting will include updates on the virtual conference. Local planning group activities will be presented and there will be a time for questions. It is the last planning group meeting before the full conference.
The town hall is open to the public. To pre-register, go to https://sfaf.zoom.us/meeting/register/tJcqdeiqrzkuHNbCcgyJT14een30MgGXQLKK
For more information on the July conference, visit http://www.aids2020.org
Breed announces Tenderloin testing site
San Francisco Mayor London Breed this week announced new COVID-19 testing sites, including one in the Tenderloin.
According to a news release, Breed and Health Director Dr. Grant Colfax, a gay man, said that a mobile testing site began operation in the Tenderloin May 20. It will initially operate at the Tenderloin Recreational Center, 570 Ellis Street.
"Today, we are taking another step toward ensuring equitable access to testing for San Franciscans," Colfax stated in the May 18 release. "By strengthening our efforts in neighborhoods that we know are most vulnerable to severe impacts of the virus, we continue to help people get the care they need and slow the spread of the virus."
The city is collaborating with Verily on the mobile testing site, which is the city's first. It has the capacity to conduct hundreds of tests per day. Online appointments are strongly encouraged, though staff from Glide church and Code Tenderloin will be on site to register individuals who have barriers to signing up online.
After serving the Tenderloin, the mobile site will move to another high-need neighborhood, the release stated.
Other testing sites announced this week are at City College's Student Health Center and in Bayview-Hunters Point.
For more information about COVID-19 testing, contact your primary health care provider, call 311, or visit www.sf.gov/gettestedSF
Craft museum announces mask competition
The Museum of Craft and Design in San Francisco has announced a mask design competition.
"Let's Face It" is a nationwide competition that seeks artists, designers, and creatives of all types and ages. With face coverings now part of daily life to stem the spread of the novel coronavirus, it's likely people will continue to use the protective devices.
Juried by Marcel Wilson, the founder and design director of Bionic, and JoAnn Edwards, the Museum of Craft and Design's co-founder and executive director, the winning designer will receive $500, the runner-up will receive $250, and third place will receive $100. A news release noted that non-monetary awards will be given for best in show, best student design, and most unique design.
The call for entries is open through May 31. All ages are welcome to enter and participation is free. Participants under 18 will be entered into the "Let's Face It: Young Designers Competition" and one winning design from this category will receive a gift basket from the museum filled with creative art-making supplies and books.
The winners will be announced June 12, along with an online community gallery showcasing all the entries.
According to the release, for each design entered, the museum will donate a new mask to the San Francisco-Marin Food Bank.
For more details and guidelines, visit www.sfmcd.org/letsfaceit
This is at least the second local mask design contest in recent months. Gay state Senator Scott Wiener (D-San Francisco) held his "Masks Are Fierce" contest in April where local drag artists Peaches Christ, Donna Sachet, Sister Roma, and Bebe Sweetbriar did the judging. According to Wiener's office, the winners were: Sarah Boll, first place; Natalie Walsh, second place; and Christina Molcillo, third place.
EQCA launches online virus help center
The statewide LGBT rights group Equality California has launched a consumer friendly website and help line to connect queer Californians impacted by the novel coronavirus and COVID-19, the illness caused by it.
The programs were announced Monday, May 18. EQCA said that the website will be expanded in the coming weeks. Offerings will include service provider directories for each of the state's 53 counties and a series of free webinars for people facing unemployment or lost wages.
"The COVID-19 and LGBTQ+ help line are roadmaps for members of our community to find the support they need from providers who know and care about LGBTQ+ people," EQCA Executive Director Rick Chavez Zbur said in a news release. "We're in this together. Whether you need to get tested, file for unemployment or a loan, find a food bank, or talk to a mental health professional, we're here to help."
For more information, go to www.covid19.eqca.org
The help line number is (323) 448-0126.
According to the release, the website and help line are made possible by grants from the AT&T Foundation and Sempra Energy Foundation. EQCA's Nevada-based affiliate, Silver State Equality, plans to launch a similar online help center soon with support from Wynn Resorts.
Editor's note: If you liked this article, help out our freelancers and staff, and keep the B.A.R. going in these tough times. For info, visit our IndieGoGo campaign.
Comments on Facebook