Business Briefs: Retailers pivot to online sales amid virus outbreak
Wednesday May 13, 2020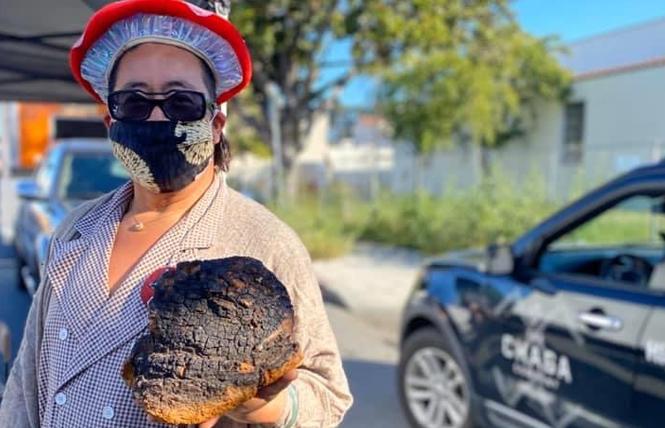 When Gavin Escolar sat down with the Bay Area Reporter in late January to talk about his expansion plans for The Chaga Company, he was mainly focused on getting his mushroom-based products into local coffeehouses and having a presence at more farmers' markets around the Bay Area.

Launched in 2017, the business offers chocolates, teas, elixirs, and tinctures infused with chaga mushrooms. The Inonotus obliquus fungus, commonly known as chaga, grows on birch trees throughout the Northern Hemisphere and is hailed for its anti-inflammatory and immune-boosting properties.

Earlier this year Escolar had formed a partnership with the owner of Fearless Coffee in San Francisco's South of Market district where he was selling "chaga charged" teas, coffees, and food items. The gay proprietor had hoped to expand the products to other independently owned coffeehouses and cafes around the city.

Then the novel coronavirus outbreak emerged, leading to the closure of such businesses in mid-March and the imposition of shelter-in-place orders for all nonessential workers. With people sequestered at home, Escolar saw his sales at the farmers' markets where he sells his products fall by more than half because customers could no longer sample his products.

"I am in a business for which sampling is imperative. I need to break that barrier of what chaga mushrooms taste like," said Escolar. "I would offer people samples of my chocolate or tea. Now there is no sampling allowed at all — zero."

With customer traffic initially dropping off at the markets, Escolar was fearful for the future of his company.

"There was moments of panic," he told the B.A.R. this week.

So he quickly pivoted his focus to selling his products online. And he teamed up with another local purveyor of mushrooms, Far West Fungi, to send some samples to vegan chef Tabitha Brown, whose online video for making carrot bacon went viral.

After she gave the companies a shout out via her Instagram account, Escolar saw his own account for the Chaga Company spike in followers. They now number more than 2,000 people.

"We blew up. My Instagram followers doubled and my sales doubled," said Escolar.

His product fits perfectly for this perilous time, Escolar noted, as chaga mushrooms have long been hailed for their immune boosting properties and other health benefits.

"More than ever we need antioxidants to boost our immunity. Especially when we relax restrictions, we want to boost ourselves of antioxidants so we can be the best prepared for our self defense," he said. "My challenge is how can I break the barrier of phobia and educate people about this mushroom that is full of antioxidants and it is really good for them to eat at this time."

Before the pandemic began, Escolar said his was a cash positive business, but he then decided to stock up on supplies of chaga mushrooms, which are mostly harvested in Alaska, to ensure he didn't run out of ingredients for his products.

"I feel the new wealth is our health and there is no better investment than in your health right now. That is where I am coming from," said Escolar.

He did receive a $1,000 grant from a program for small businesses and was approved for a payment protection program loan that Congress created to offset the economic losses small businesses are facing because of the health crisis. Sales are beginning to crop back up via his farmers' market stalls as people venture out again and feel safer with the new health protocols and social distancing requirements the markets have put into place.

"I am still growing slowly but in a different direction," said Escolar.

He is now looking to hire four people on a part-time basis to be brand ambassadors for his company and assist with expanding its growth locally.

"I think it is an opportunity for me to grow online actually," said Escolar. "I also want to even further broadcast The Chaga Company for wholesale for independent grocery partners and independent coffee shops since right now antioxidants are really, really important. If they want to carry my product, I am more than willing to give them favorable terms."

To learn more about The Chaga Company and its products, visit https://www.thechagaco.com/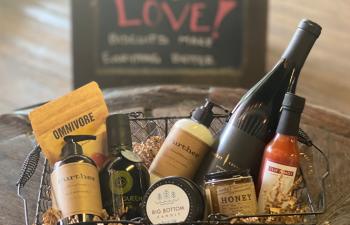 Russian River market expands online sales
The gay-owned Big Bottom Market in the popular resort town of Guerneville in Sonoma County was also forced to re-examine its business plan when it had to temporarily close its doors in March due to the health crisis. Bored at home, co-founder and co-owner Michael Volpatt turned to broadcasting brief cooking segments from his home kitchen live via his Facebook account.

It started as a lark when one day he was making his family's marinara sauce recipe and decided to use the broadcasting feature on the social media platform. It generated a positive response from viewers, so Volpatt continued with his cooking show, pairing the dishes he made with wines from local wineries.

Some recipes he tweaked from the cookbooks of friends and others, which he also featured during the broadcasts. He is now shopping a cookbook he has written based on the show to publishers, and if none are interested plans to self-publish it.

"We closed March 15 but I feel like I have been seeing my customers ever since because I have been doing my cooking show almost every day," said Volpatt, who wrote a previous cookbook highlighting the market's famed biscuits. "I recently went down to a few days a week to work on getting the market open."

It welcomed back customers for the first time last Saturday, May 9. But over the last two months, the business owners, Kate Larkin is the other co-owner and Donna Prowse is an operating partner, have focused on boosting their online sales of their various branded products. They have their own shop on Etsy where people can order such things as honey, mustard, fruit preserves, and biscuit mix.

"It did make us rethink how we manage our ecommerce. We have a lot of sales now via ecommerce. It changed our trajectory," said Volpatt, who partnered with several friends to open the specialty grocery in 2011. "We weren't pushing it very hard, we were focused on staying open."

Since the forced closure of the market, and the launch of his cooking show, Volpatt said online orders shot up from three a month to more than that in a single day. Customers are coming from all over the country, either due to finding his kitchen tutorials online or because they vacation in the Russian River and miss shopping at the market. His cookbook has a working title of "50 Days in My Quarantined Kitchen."

"My book will have recipes from the 50 days of my time in cooking in place," said Volpatt.

The business co-owners weren't concerned about losing their market since their small business disaster loan they had applied for following the devastating floods that damaged parts of downtown Guerneville last year came through earlier this year, offering them an economic lifeline.

"We did a lot of work in securing that loan. Literally the same week that the money came to us was the same week the shelter-in-place order went into effect," said Volpatt.

The money provided them a cushion so they could close for a spell rather than try to do deliveries and potentially put both their employees and customers at risk. After fielding a request from a customer who couldn't visit their mom in the area, Volpatt did delivery baskets filled with the market's food items the morning of Mother's Day last Sunday.

Due to the positive response it received from opening its doors again last weekend for the first time in two months, Big Bottom Market is now also open again on certain weekdays.

"We had a great weekend. People were very happy that we reopened," Volpatt wrote in an emailed note.

The store is currently open from 9 a.m. to 3 p.m. Mondays, Wednesdays, Thursdays, and Fridays. It is open from 8 a.m. to 5 p.m. Saturdays and Sundays.

For more information, visit https://www.bigbottommarket.com/

Got a tip on LGBT business news? Call Matthew S. Bajko at (415) 829-8836 or e-mail m.bajko@ebar.com

Editor's note: If you liked this article, help out our freelancers and staff, and keep the B.A.R. going in these tough times. For info, visit our IndieGoGo campaign.