News Briefs: Buy a plush bison, support Golden Gate Park
Wednesday May 13, 2020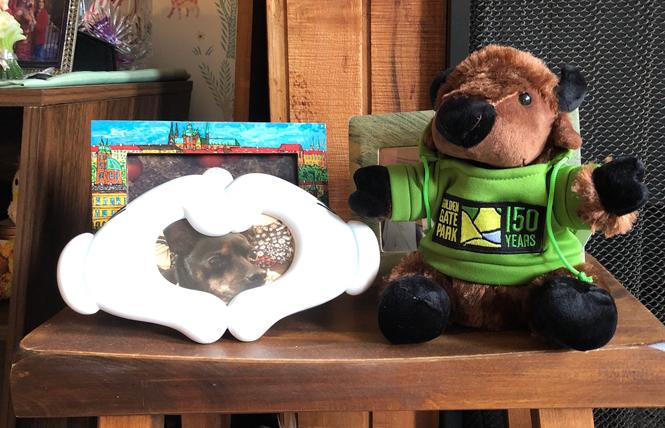 With the in-person programs celebrating the 150th anniversary of San Francisco's Golden Gate Park currently canceled over the novel coronavirus pandemic, park lovers and others can support the unique green space with the purchase of various items, including a plush baby bison.
T-shirts, beanies, scarves, mugs, and more are also available, according to a news release from the San Francisco Recreation and Park Department and San Francisco Parks Alliance.
A percentage of each sale supports Golden Gate Park programs and services. A local company, SF Mercantile, is producing the products.
Members of the Parks Alliance receive a 10% discount on all merchandise purchases, according to the release.
For more information, visit https://lynx-rose-s8xy.squarespace.com/ and click on the "GGP150 Gifts and Merchandise" button.
Agency hosts events for seniors, people with disabilities
A San Francisco-based agency continues to host a number of virtual events aimed at keeping the city's seniors and people with disabilities active and informed while sheltering in place during the novel coronavirus outbreak.
The offerings run the gamut from cooking classes and bilingual meditation classes to dance classes and online hangouts where people discuss their favorite books and movies. Those interested in history can tune in at 1 p.m. Monday, May 18, to learn about the founding of San Francisco, while pet owners and their furbabies can meet up for a social hour in cyberspace at 11 a.m. Thursday, May 28.
There is also a popular weekly Friday chat at noon with Dr. Anna Chodos, an assistant professor of medicine in the Department of Geriatrics at UCSF. She shares the latest updates and answers questions about COVID-19.
For a full list of the events and how to sign up for them, visit http://www.sfcommunityliving.org/events
Similar to a talk it held in April, Community Living Campaign will again be holding an online chat about how people with mobility issues can continue to get around the city via different transportation options. Since last month's informational session, the city's transit agency has added additional bus lines to daily service and made other adjustments to its transportation offerings.
The community group is partnering with the city's Department of Disability and Aging Services to host the talk from 2:30 to 3:30 p.m. Thursday, May 14. Cathy DeLuca with the Community Living Campaign and Natasha Opfell from San Francisco Paratransit's Mobility Management Center will discuss the various transit options and programs now available.
Registration is required to take part, and captioning will be provided for those watching online. To join in via phone, people can register by calling (415) 638-9183. For those able to take part via Zoom, they can register at https://bit.ly/3bmTrAb
Stars team up to help Covenant House
A who's who of celebrities will join in a virtual benefit for Covenant House, which has programs for homeless and trafficked youth in the Bay Area, Southern California, and other locations across the country.
"A Night of Covenant House Stars" will air Monday, May 18, at 5 p.m. Pacific time on the Broadway on Demand streaming network. Those scheduled to appear include Morgan Freeman; Meryl Streep; Diane Keaton; Jon Bon Jovi; Rachel Brosnahan; Stephen Colbert; Martin Short; Dolly Parton; Dionne Warwick; Stephanie J. Block; Tony Shalhoub; Charlie Day; Chris O'Dowd; Zachary Levi; Zachary Quinto, who is gay; and many more.
It will be co-hosted by Tony Award winner Audra McDonald. According to an article on Deadline, it is being produced by Jeff Calhoun, a Broadway director and choreographer and Covenant House board member.
Covenant House programs are located in Berkeley and Oakland, according to spokesman Jake Oliver. The programs provide services to all youth, including those who are LGBTQ.
Oliver noted in an email that "the 4.2 million young people experiencing homelessness in America (LGBTQ youth represent as much as 40% of this population) are particularly susceptible to the virus. Estimates suggest that household transmission rates are above 80%, placing youth living in congregant homeless shelters at an elevated risk."
Viewers can watch the benefit free of charge, though donations are encouraged. It will also be streamed on iHeart Radio, Facebook, Twitch, YouTube, and Amazon Prime.
For more information about Covenant House, visit https://www.covenanthouse.org/
Peninsula Pride center to hold digital mental health open mic
The San Mateo County Pride Center will hold a digital open mic night for Mental Health Awareness Month Wednesday, May 20, from 6 to 8 p.m.
According to an email, the event, which is free, will be hosted by comedian Jesús U. BettaWork. It will be a safe space where participants can share their mental health journeys through music, poetry, prose, or any other creative way they express themselves. People do not need to identify as LGBTQ to participate; allies are also welcome.
For questions, contact Lowellyn Sunga at Lowellyn.Sunga@sanmateopride.org or (650) 695-0006. To sign up, go to https://bit.ly/2AbJ9Gk. The Zoom meeting information will be released on the Pride center's social media platforms closer to the event.
The event is in partnership with San Mateo County Office of Diversity and Equity, the Mental Health Awareness Month Planning Committee, and Pride center staff.
SF launches essential worker ride home program
SF Environment has launched the essential worker ride home program to provide a reliable and safe taxi ride home from work for essential employees commuting to and within San Francisco, helping to fill the gap left by reductions in public transportation services during the order to shelter in place.
Due to the high volume of applications, priority will be given to essential workers in need of a ride home from work between the hours of 9 p.m. and 8:30 a.m. while transit options are unavailable due to emergency-related transit service reductions.
The program will cover the cost of taxi rides home for essential employees in San Francisco, up to 10 rides per month, per person, and up to $70 per ride. Participants must first submit an application to verify essential employment status, need, and intended use. Once approved, participants can take an official taxi for eligible trips and request a reimbursement, which must include taxi receipt(s) and must be submitted within 14 calendar days of the trip.
For more information and to apply, go to https://sfenvironment.org/essential-worker-ride-home
Matthew S. Bajko contributed reporting.
Editor's note: If you liked this article, help out our freelancers and staff, and keep the B.A.R. going in these tough times. For info, visit our IndieGoGo campaign.
Comments on Facebook