Political Notebook: SF census response rate trails other Bay Area counties
Wednesday Apr 29, 2020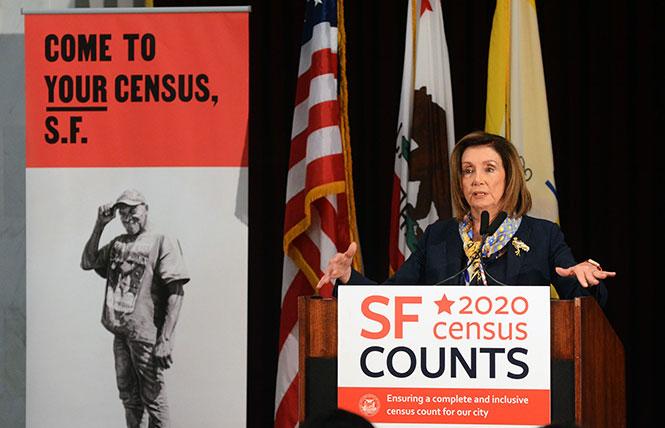 Among the 2020 census self-response rates for the nine-county Bay Area region, San Francisco continues to be the laggard compared to its jurisdictional counterparts. It is also trailing behind the national self-response rate for the decennial count of the U.S. population.
Based on a tracker routinely updated by the U.S. Census Bureau, the city and county of San Francisco had a self-response rate of 53.4% as of noon Wednesday, April 29. It put it in 23rd place among the state's 58 counties and dead last in the Bay Area region.
Six of the top 10 counties in the state are in the Bay Area. San Mateo County has the best rate of any in the state with 65.1%, and Santa Clara County is close behind in second place with 64.6%. In third statewide is Contra Costa County at 64.1%.
Alameda County is in sixth place statewide with 62.1%, Marin is in seventh with 61.6%, and Solano County is tied with Yolo County for ninth place with 60.4%. Napa County's 59.6% puts it 12th in the state, while Sonoma County is at 16th place with 57.6%.
Among cities in the Golden State, San Francisco's self-response rate puts it tied in 342nd place with Chowchilla, a small city in the Central Valley south of Merced. It is also below the national response rate of 54.3%.
California had seen 55.7% of households fill out their census questionnaire as of the Bay Area Reporter's press deadline Wednesday. Of those 48.8% had done so via the online form. In 2010, the state reached a total response rate of 68.2%.
Anyone living in San Francisco, whether they are a U.S. citizen or an undocumented immigrant, who doesn't fill out a census form will cost the city $2,000 per year for the next 10 years, according to city officials.
Mayor London Breed and House Speaker Nancy Pelosi (D-San Francisco) in January launched the city's SF Counts campaign to push residents to take part in the census. But the city's efforts around the 2020 census were upended in March by the novel coronavirus outbreak and the imposition of a shelter-in-place order that has since been extended to at least May 31.
In response to the B.A.R's questions about the city's response rate, Breed spokesman Jeff Cretan noted one challenge local leaders face is that 25% of San Franciscans don't have access to a computer or smartphone and can't access online resources at libraries and other community institutions to fill out their census forms since those facilities are currently closed because of the health crisis.
"We have until October and so we are continuing to adapt in this incredibly challenging environment. During 2010, a lot of our outreach was done face-to-face, which is obviously not an option this year," wrote Cretan in an emailed reply.
He added that, "We have a lot more work to do, and we've transitioned to phone banks, text banks, FAQs and one-pagers in meal kits for seniors and underserved communities. We will keep doing the outreach throughout this public health crisis."
The health crisis has also impacted the census count itself, which is used to apportion U.S. House seats to the states as well as distribute billions of dollars in federal funding for myriad services from food and housing to health care and other social support.
The census bureau had initially pushed back the date to finish this year's count from July 31 to August 14. But it is now seeking congressional approval to extend the window for field data collection and self-response to October 31.
The extra time has LGBT advocates and others hopeful that San Francisco and California in general will be able to hit a response rate higher than 70% by the fall. Doing so has taken on even greater importance amid the economic fallout from the global pandemic that is straining government resources at all levels.
"LGBT people, people of color, and immigrants are under counted, so that is why we want to make sure the whole LGBTQ community, especially immigrants, are counted. It is critical for us to receive federal funding accordingly," said Okan Sengun, executive director and co-founder of the LGBT Asylum Project.
The agency, based in San Francisco's LGBT Castro district, is one of a number working with the statewide LGBT rights advocacy organization Equality California to encourage LGBT Californians to fill out the census this year. It had planned to host a kiosk in its offices on Castro Street for people to come and complete their census online or get answers to their questions about the form, such as explaining to those who are undocumented that their personal information on their census forms is not shared with immigration officials.
The kiosk was in place the week prior to the city issuing its first shelter-in-place directive March 16. It led the LGBT Asylum Project to close its offices for the time being and have its staff work from home. Depending on what health officials decide later this summer in terms of physical distancing rules for public spaces, Sengun said they might be able to utilize the kiosk.
"We have all the flyers we made to hand out still in our office, and we had T-shirts to give to people," Sengun told the B.A.R. this week. "Now we have pushed all our efforts to online campaigning."
The agency is using its Facebook and Instagram accounts to promote the census, and it is training volunteers via an online video they watch before they make calls to LGBT households in the area to remind them about the importance of taking part in this year's count.
"I am hoping we, as San Franciscans, are really sensitive people to this issue. I am hoping we will definitely surpass 68% this year," said Sengun.
To assist with the agency's census efforts, email info@lgbtasylumproject.org and specify you want to be a census volunteer in the subject line.
To fill out the census online, visit http://www.my2020census.gov
Those without internet access can fill out their census by calling (844) 330-2020.
Gay ex-Pinole councilman encourages Lambda prez to run this fall
The first gay man to have served on the Pinole City Council told the B.A.R. this week that he is supportive of seeing newly elected Lambda Democratic Club of Contra Costa County President Devin Murphy seek a council seat this November.
Murphy, 26, a campaign consultant, was elected April 11 as the first gay black man to lead the East Bay LGBT political group. He has lived in Pinole since graduating from UCLA with a degree in African American studies in 2015.
As the Political Notebook reported last week, Murphy is expected to announce in May if he will run for one of the two seats on the Pinole City Council that are up for election this November. If he does, he would be his city's first out LGBTQ council candidate.
Should he be elected to the council, Murphy would be the second LGBT person to serve on it. The first was Stephen Tilton, who moved to Pinole in 2006 with his partner and was elected that fall to a four-year council term only to be recalled in February 2008 by those upset that he joined with two other council members to oust a popular city manager. (Another council member was also recalled, while the third resigned prior to the vote after enlisting in the U.S. Army.)
At the time Tilton's being gay was not widely known outside of the town or reported on in the press. And he told the B.A.R. this week that he didn't run as an out candidate, instead highlighting the fact he has worked for the San Francisco Sheriff's Department since 1996.
Today, Tilton said he is the only openly gay male captain in the department and runs its jail in San Bruno. He said he would "definitely support" Murphy should he run and fundraise for his campaign.
Web Extra: For more queer political news, be sure to check http://www.ebar.com Monday mornings for Political Notes, the notebook's online companion. This week's column dived into some of the political dish in gay politico Tom Ammiano's new memoir.
Keep abreast of the latest LGBT political news by following the Political Notebook on Twitter @ http://twitter.com/politicalnotes
Got a tip on LGBT politics? Call Matthew S. Bajko at (415) 829-8836 or e-mail m.bajko@ebar.com
Editor's note: If you liked this article, help out our freelancers and staff, and keep the B.A.R. going in these tough times. For info, visit our IndieGoGo campaign.
Comments on Facebook