SF gay couple weds amid virus lockdown
Wednesday Apr 29, 2020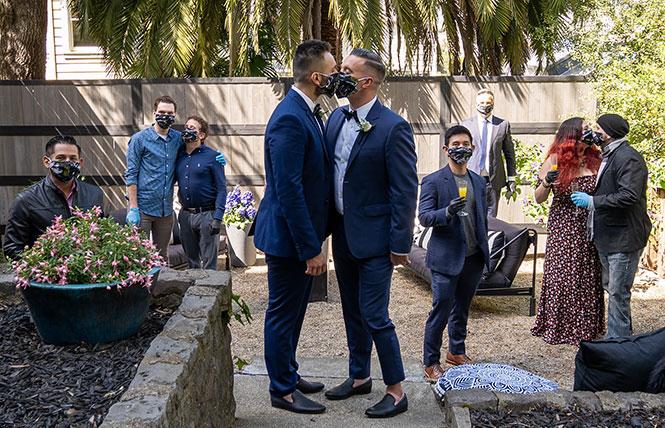 As the city, nation, and world began to hunker down amid the novel coronavirus epidemic, gay San Francisco couple César Salza and Kyle Hill realized that it would be some time before their families would be able to travel from across the country and overseas to celebrate their wedding.
So they decided to get married as soon as they could, and the couple tied the knot April 18 in the backyard of one of Hill's friends — featuring face masks and physical distancing.
"We had planned on something in June but we realized quickly with COVID-19 that it wouldn't be possible," Hill said in an April 21 phone call with the Bay Area Reporter, referring to the illness caused by the coronavirus.
The couple already had obtained a marriage license (the city is no longer issuing them, citing the pandemic) and posted a Facebook shout-out to see if anyone they knew could officiate a wedding.
A mutual friend on Facebook connected the couple with Jared Scherer, a gay man who serves as a San Francisco marriage commissioner.
"They had a couple of witnesses sign and we kept our distance and had masks on," Scherer told the B.A.R. in an April 22 phone call.
Hill said that there were 10 attendees, including the couple and Scherer, and that they wanted people to be able to participate before they potentially left town.
Salza, 34, was born in Caracas, Venezuela but is a Spanish national. He said he came to San Francisco two years ago and that he works as a technology journalist for CNET en Español, which is part of CBS Viacom.
Hill, 36, hails from Ohio and moved to San Francisco from Los Angeles three years ago. He works as an interior designer and choreographer.
"I decided I wanted a change of pace, a change of scenery," Hill said.
The couple first met because they swiped right on each other "at the same time" on Tinder.
"The question is always who swiped right first," Hill said. "We started chatting and I tend to be more shy on dating apps but we decided to meet, and we met, and here we are."
After meeting about one year ago, the couple got engaged in December.
"We took a trip to meet his family (in Spain) and we stopped in Portugal first, where I proposed," Hill said. "That way, when we got to Spain we could share the good news with his family."
The couple resides in the South of Market neighborhood, which has attracted queer people for decades.
When asked about honeymoon plans post-shelter-in-place, Hill said that they want to have a big party in Mexico.
"We decided that next summer we're going to Tulum and honeymoon there," Hill said. "Since family and friends weren't able to come to San Francisco with us, we'll be having a big celebration there."
Scherer said that he has sent the marriage documents to the city in the mail, seeing as City Hall is closed to the public.
"They were a really sweet and lovely couple," he said. "It was an honor to perform this ceremony in a time of need."
Editor's note: If you liked this article, help out our freelancers and staff, and keep the B.A.R. going in these tough times. For info, visit our IndieGoGo campaign.
Comments on Facebook